German Shepherd Dog > Von Waldkimmel In Oregon Is TOP Knotch!! (23 replies)
Von Waldkimmel In Oregon Is TOP Knotch!!
by
Jdawg
on 26 March 2011 - 03:13
About 1 week ago I got scammed of $3000 by a crook in Hungary! Now, I know there are also some very good breeders in hungary, like Zsolt who owns vac-vagvolgyi kennels in Hungary. he is a very good man and will treat you fairly. but then i found Mary Bryant who owns Von Waldkimmel kennels in McMinnville, Oregon. I spoke with mary and she had a 21 month old male available. She said he was from good blood, was oversize, had a great temperment, and had a massive head. I just received Vimo (AKA Moose) today and she hadn't been able to really tell me what a magnificent dog he really was. He is every bit 68 CM and hitting the scales almost 100 lbs. I have never seen a head like his, his temperment is great he loves everybody, and what a conformation! He is close to being perfect. I will most definitely be doing more business with mary. She is a sweet and honest businesswoman who really cares for her dogs and her customers! So, while there are some good honest breeders overseas, I think we can obtain some great dogs right here in the STATES! And oh yes, Vimo is very well blooded. He is linebred Zamb Winerau.
Johnny
by
Don Corleone
on 26 March 2011 - 03:17
Glad you're happy. Other than being oversized, what else do you like?
by
Bundishep
on 26 March 2011 - 03:27
No Kennel that sells a 100 pound dog is top notch
by
Don Corleone
on 26 March 2011 - 03:31
Bundishep, so how do you find a top notch St.Bernard?
by
hexe
on 26 March 2011 - 04:45
Let's not confuse intentionally breeding for oversized dogs with the occasional occurance of one or more oversized pups in a litter every now and then--given that Waldhimmel shows her dogs in the SV-style arena, where the breed standard is taken rather seriously, I find it highly unlikely that this breeder is purposely turning out giant GSDs. What would you have a breeder do with healthy pups that have some flaw or other that would not be acceptable in the show ring--bash them in the head with a brick?? I'm glad the OP is happy with the dog they received; it's nice to see an appreciative thread opened regarding a breeder for a change.
by
Don Corleone
on 26 March 2011 - 04:51
Hexe, I think any coherent reader will pick that up. The OP stated that the breeder said the dog was oversized. Not hiding anything or stating it is the norm. I was just curious what besides size, he/she is happy with. I think it is great they are happy. I just don't think you can shout how great a breeder is based on size.
by
lovejags
on 26 March 2011 - 07:13
DON I BELIEVE TO FIND A TOP NOTCH ST. BERNARD YOU WOULD PROBABLY HAVE TO TROD ON OVER TO SWITZERLAND, FIND A MONK AND ASK TO SEE HIS DOGS. WHAT YA THINK?
by
eoinoc
on 26 March 2011 - 10:21
i have a monster gsd and he is only 86pounds so would love to c some pictures of your dog. the big gsd are great for protection but dont move as quick for shutz but wouldn swap mine for anything and u wouldn want to take him on he could break your arm with a bite no doubt i will put some pictures up later
by
Rik
on 26 March 2011 - 11:01
Big difference in breeding for oversize and having a big one pop up occasionally. That happens.
If the OP feels the dog he got was accurately and honestly represented by the breeder, that is what counts.
Congratulations on Moose. It is always nice to hear when a dog and a home come together. And it is especially nice to hear whenever someone gets exactly the dog they were hoping for.
best,
Rik
by
vonwaldhimmel
on 26 March 2011 - 16:07
I was forwarded a link to this by the happy new owner of my "over sized" GSD.
At the vet on Monday he weighed 93 pounds. When I measured him he was 67 1/2 cm's. Both parents are V rated & KKL 1 - and yes ... wouldn't it be great if 100% of the puppies in a litter were also the correct size ;)
I would take health/temperament over size any day :) His head is double that of most German Shepherds ... making him appear alot bigger than he really is. Huge bone .. will be 2 years old in June.
PS Full sister is a level two SAR dog - look for her updates on the testimonial pages of my website.
Hugs to Moose!
by
Don Corleone
on 26 March 2011 - 16:17
Waldhimmel, I don't think anyone is talking bad about you. I can't speak for all, but it sounded like you were honest and up front, and that wasn't your goal in breeding. I knew a family that was all around 5'3. The parents were tiny. They had 4 boys, three were tiny and the forth was over 6' tall. I was just curious about the dog outside of his size. Seemed to be the only thing the OP focused on. Like I said, I'm glad he is happy. Most of what you hear here is complaints.
by
eichenluft
on 26 March 2011 - 16:41
depends on the build of the dog. My Eagle was 95 pounds when in working-fit weight, could see every rib. He could easily have topped over 100 lbs with just a little less work and a little extra weight. Easily. He was within the standard, V in conformation, KKl-1 for lifetime shown under at least 6 or 7 different conformation judges. Huge head and bone unlike most other dogs. So 100 lbs does not necessarily mean oversize "St Bernard" - big yes, but not necessarily oversize.
molly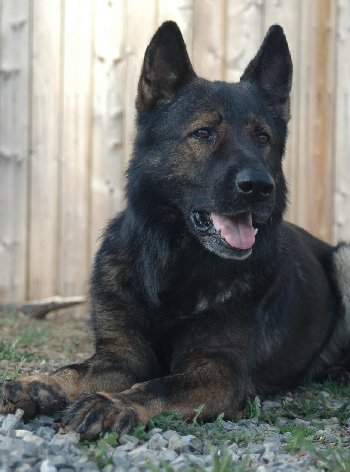 by
Jacko
on 26 March 2011 - 16:51
In the 2nd post, someone needs to read the OP again. It is pretty clear the OP stated more things they liked then just the size of the dog. Sometiimes flaming is just too much fun I guess.
by
Don Corleone
on 26 March 2011 - 16:53
Molly, my "St. Bernard" remark was joking with Bundishep that stated NO top notch breeder breeds 100lb dogs. Was just making light of the omission of "gsd" in the statement.
by
ramgsd
on 26 March 2011 - 20:32
BUNDISHEP, you are advertising a litter on here from a bitch that was bred when she was only 15 1/2 months old and doesn't have her hips done and YOU'RE questioning the ethics of another breeder?
http://www.pedigreedatabase.com/german_shepherd_dog/classifieds/115095.html
by
Tihannah
on 26 March 2011 - 21:35
Jdawg, congratulations on finally getting your GSD. I felt bad that you lost all that money to a scammer. I am getting my Von Waldhimmel pup on Monday and just as excited. Mary is a great breeder and I know that I will be more than happy with my choice!
by
SportySchGuy
on 26 March 2011 - 21:43
Don, just what in the hell is wrong with being 5' 3"????? grrrrr!!!
by
Bundishep
on 26 March 2011 - 21:53
Ramgsd you need to get your facts straight,,the breeder has said she doesnt try to breed oversized dogs and its true one can pop up in a litter now and then,i dont know her and i would think her goals are to try to produce a proper sized dog if she is involved with the proper working weight aspect of the breed and it sounds like she is,a too heavy dog is not the best for working period.there are always going to be 2 camps thoses that target proper size and thoughs that target as big and heavy dog as they can possibly get.
by
kaoboy
on 26 March 2011 - 22:33
First congrats on the perfect dog. and sorry about scammer. kinda sad how the world is soo money hungry.
and btw this thread is about a family that got a dog, but men and women arguring about oversize dogs.
if your dog is oversize are you going to drop it off at the spca. if you are then dont even have a dog. it should be like a child. love it NO MATTER WHAT.
and for Waldhimmel::
do you know marty from oregon?? he use to have shepherds, but now its into rotti. hes a helper!!
and for a big dog being in schz. doesnt matter. a 150lb dog still still get his Bh and Fh.
maybe he cant run as fast, or jump that high. but that donest stop him from trying. my yorkie is 12 lbs. and he always try to jump into my truck. everytime. and he doesnt make it. but he still trys. no matter what kind of dog or breed they will always try to please you.
congrats once again
by
ramgsd
on 26 March 2011 - 22:56
BUNDISHEP you need to get your facts straight. Once again you will be told that there is NO WEIGHT standard. It is a HEIGHT standard. Here's a link to the standard for you. I challenge you to show me where it mentions a weight max. http://www.akc.org/breeds/german_shepherd_dog/
The dog that popped out was too tall for the standard. Not too heavy. That means over 26 inches tall at the shoulder. So you can have a well muscled dog at the top of the HEIGHT standard that will go 95-100 lbs. As with all dogs, if the conformation and nutrition is right this dog will live a long productive life with no ill effects. Your quote
"i would think her goals are to try to produce a proper sized dog if she is involved with the proper working weight aspect of the breed" makes no sense.
So what is "the proper working weight aspect of the breed"? Again where is that in the standard? Who sets this up??? You??? Are you going on the misconception that a dog that weighs close to 100 lbs. can't do the work? WRONG. Molly's 24x Sch3 dog proves that. Smaller dogs are faster and easier for soome to handle. But a large dog within standard can definately do the work and we need more of them out there. Many of the German's have seen this. If the GSD is consistently bred for the medium sized "sport" dog we will end up with smaller and smaller dogs with no dogs out there to breed size back into your lines. Remeber these are supposed to be GSD's not mals.
Would you say this dog is too big because he's the top of the standard and the size I'm talking about.
If you do then perhaps he shouldn't have been a Sch3 1po3 FH1 Kkl1 dog that competed at the BSP. Get my point?
So learn the standard, train a dog, figure out what FCI hip ratings are and stop breeding 15month old bitches without hip xrays and maybe you'll have something to offer the breed.
You must be logged in to reply to posts