Need opinions??
by
todd6414
on 24 January 2011 - 20:41
MY 5 month old female GSD weights 30 lbs. She is of western show lines, SV papered and nice lineage. She was the runt of the litter. She is awesome in everyway but I am concerned that she is so small. I would like her to be 60lbs at a year but thats not looking good. Se eats 3.5 cups a day. Is this normal?
by
Red Sable
on 24 January 2011 - 21:00
Size is genetic, so even the runts will grow to their designated size, I have seen it. However, she may just be a small dog, and there is not much you can do about it.
As for the 3.5 cups a day, it totally depends on what you are feeding, high quality kibble requires less as it has less fillers. If she is in nice condition, than that is fine.
She still has alot of time to grow at 5 months, --another 7 months, - so do not worry too much yet.
She could very well get to be 60 lbs.
All the best, and keep us posted. :)
by
GSDNewbie
on 24 January 2011 - 21:59
Smaller size is not always a bad thing. Most smaller females hit like crazy on sleeve and are awesome workers. She is only five months I do not think she will be as small as you think full grown. I personally like the strong can do attitude of the smaller size and their quickness.

Then again my husband and sons who are of tall, strong, well built, type always call me their vertically challanged wife/mom as I am 5'3" but don't tell me I can't do something or I have to do it just because lol


by
todd6414
on 24 January 2011 - 22:08
Thanks for your encouragement, she is definetely fiesty as heck and has a nice full bite with the tug. I feed her Eukenuba and sometimes put some cottage cheese or plain yogurt in with her dinner.
by
troublelinx
on 24 January 2011 - 22:24
I do not thhink you can change her size by feeding more food, except to make her fat, i could be wrong though. Check into her bloodline, I know that Asko a popular stud would throw small pups. A family memberhas one 35lbs, a fur shure firecracker, crazy drives.
by
ggturner
on 24 January 2011 - 23:12
My 5 month old female weighs 55 pounds. Maybe your pup is slower at maturing or will be smaller. Here is a picture I took the other day of my 5 month old:


by
alboe2009
on 02 February 2011 - 04:05
Couple things, for me my thoughts are the first six months are so crucial for the dog forming who it will be. Training, growth, socializing, imprinting, etc. I'm not saying all those things can't be accomplished say with a rescue or older dog. But all my dogs have been pups. But I would give egg yolks with their food, one a day for the first six mos, no whites. They still get eggs now but not every day. Like the comments above, filling out, give her time.

Went to the vet today and Arabella weighed in at 47 lbs. She looks stout, I think she'll be bigger than Anastacia. But qqturner, 55 lbs. wow.

by
Jenni78
on 02 February 2011 - 22:27
This bitch of mine was only 30lbs at almost that age. She is 65lbs now. I think she weighed in at 29lbs at 4.5mos or so, if I remember right. She is still smallish, but has very solid bone and weighs more than she looks like she weighs.

www.pedigreedatabase.com/german_shepherd_dog/pedigree/528683.html


by
todd6414
on 20 April 2011 - 21:26
Thank you all for your input I wanted to give everyone an update on my Bitch. She is now 8 months old and weighs 47 lbs. SHe wont be a giant but its looking like she will be in the norm. Her obedience and tracking are subeberb, still working on her drive
by
isachev
on 21 April 2011 - 00:04
This is Ezra, she weighs 50 Lbs. @ 6 months. She's tall and lean. She's on a raw meat diet and eats about 1.5 Lbs once a day. I had a runt once and she was slow to grow, but grew to be a perfect
77 Lbs. I wouldn't worry. Good Luck




by
LadyFrost
on 21 April 2011 - 13:47
my female was
19 pounds at 3 months..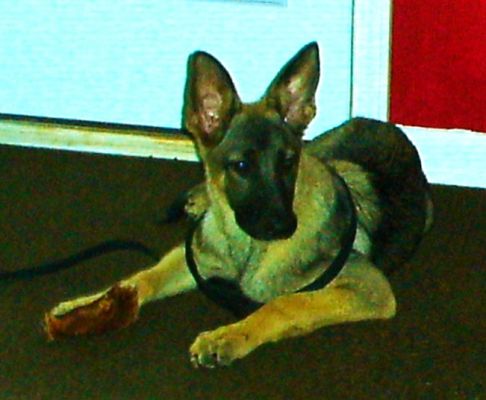 30 pounds at 6 months...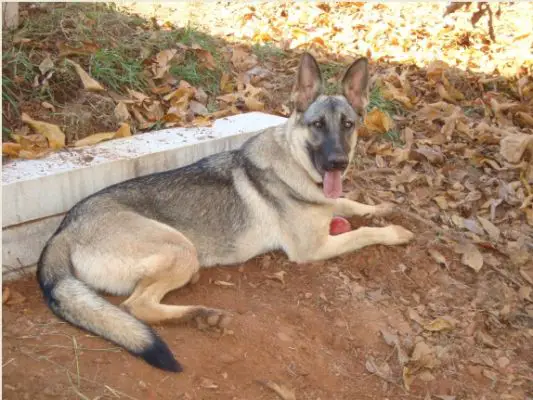 she just turned 12 months and she is 68 pounds..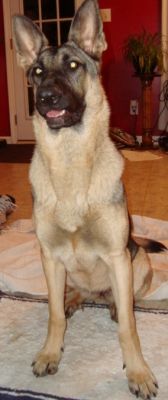 Don't worry your girl will get there....some just do it at a slower pace....i bet she makes up for her size in brains. :)
by
todd6414
on 22 April 2011 - 19:24
You guys rock!!!!!!!!
by
JWALKER
on 22 April 2011 - 19:40
Ladyfrost she is beautiful. Pedigree please.

You must be logged in to reply to posts