German Shepherd Dog > BIG heads, super dark sables, super hips. That is the problem (161 replies)
by
Prager
on 23 February 2010 - 02:53

My old dog Fox.
He had old style marking not often to be seen any more.
Prager Hans
http://www.alpinek9.com
by
GSDtravels
on 23 February 2010 - 02:58
Hans, the dog you posted from the PDB. I saw him the other day on here and was wondering if that photo was fixed. I've never seen a dog that red and thought the color was maybe tweaked?
by
Sunsilver
on 23 February 2010 - 03:09
Prager, there must be a reason for this trend. What is causing the demand?

Nice, rich pigment on my blanketback b&t male. The sun is catching his eyes, and making them appear lighter than they actually are.


by
Sunsilver
on 23 February 2010 - 03:14
Whoa! What do you mean by 'old style'? The harness markings? Ranger has those too! Was Fox a DDR dog? Ranger's parentage is unknow, and I'm always looking for clues as to what it might possibly be!

Here's a picture of the harness markings on his chest: That's my black and silver Shiloh puppy curled up beside him.


by
ziegenfarm
on 23 February 2010 - 04:06
excellent post, hans. unfortunately, there are many other demands made by show and sport folks that render a dog useless for work as well. i think we all agree that too much focus on any one trait can ultimately ruin the dog. too much emphasis on color, coat, gait, hip production and even prey drive will cause us to lose sight of all else.
by the way, i love your bitch, erin. she is lovely.
pjp
by
VonIsengard
on 23 February 2010 - 04:39
I'm not going to lie, I love the look of a "black" sable. But I would never compromise the whole dog for the sake of color, a correct dog is a correct dog of any color. Interesting to hear of working line breeders having this problem. In showlines everyone wants deep red, a dark mask, and on the upper limits of size. They want monstrously huge bodied dogs, who cares if the dog is barrel chested or brisket too deep...they want a grizzly bear. Medium dogs are sneered at by many buyers.

I do care very much about hips, but also elbows and ALL health, must be balanced with structure, working ability, and diverse genetics. Very, very difficult to do these days.

As usual, what the market wants is not always what is best for the breed!

by
Jyl
on 23 February 2010 - 05:26
Here is a picture of my Czech female. She is not a black sable. I like her conformation and her temperment.

Here is my showline male...
by
4pack
on 23 February 2010 - 05:40
Hey this trend is fine fro me, I will take all of the non black sable pups from these litters, no one else wants. Really do people ask for big heads and expect to get it in an 8 week old pick? I don't even want a sable because that is the "in" thing. They are my least fav color, but maybe I just like going against the grain. I really really want a solid black, one day because I haven't had one yet, but I'm not going to choose the black pup in the next litter I look at because of it. Someday the best pup in a litter I am interested in will be black and I will get my wish. Good things come to those who wait.
by
Kalibeck
on 23 February 2010 - 07:24
Here are my dogs, all sables, & black & tan, although Lil' Bit is a melanistic B&T! My bitch & her sable pups have those 'old style' markings, which I love....jackie harris
by
Preston
on 23 February 2010 - 07:27
I really like the looks, color, croup, proportions, angles and male type with big masculine head of Ajax vom Adlerbach. He is a very attractive, typey male and I like the look of the photos of two his sons on PDB also. This is the type of male GSD folks should breed for.
by
noddi
on 23 February 2010 - 07:57
prager,just love this thread.all these photos of beautiful looking shepherds.i am in the uk and am a show person.yes yu right,the colour of most of the show dogs here on the international type is black and gold(reddish if possible)although there are quite a few now who are using sables,which is the colour i want for my next puppy.i always had and bred black and gold.the last time i had a litter(7 yrs ago)i used a sable male as i wanted a sable bitch.guess wot,i got only 1 sable and great it was a bitch,then slowly the truth dawned on me,SHE WAS A LONG COAT.guess i was being rewarded for all those years of breeding only for b/g.i did keep ,yes yu,ve got it ,a b/g girl,but she has rewarded me big time.she has won at top level and has nearly got me a champion title(2 Challenge Certif0.yu need 3 of those in the uk.to make ones dog a champion.this will be her last year as she is now 7 and i dont intend dragging her round the show ring next year looking for her 3rd cc if she dont get it this year.please keep the pics coming.thank yu.Carole.p.s. i too think that reddish coloured dog has been tweaked.did hear a rumour that they were dyeing the dogs in germany.how true it was,dont know????it just doesnt look right to me.
by
Jyl
on 23 February 2010 - 08:25
I am with you 4pack....I REALLY REALLY want a solid black male. I am crossing my fingers that I will get one from my next litter. If I get one GREAT!!!! If I dont, then I wont pass up all the other pups because I didnt get what I wanted. My main goal is for a nice all around pup. My main concern is drive, temperment, conformation.


The black sables are VERY nice looking and I really like how they look. But to me there is more than just the "color" of the dog. The dog must have a good pedigree, good conformation, solid temperment, good hips and elbows...etc. But the dog must have good pigment...whether that be the black sable DDR dogs, the black/red showlines, or the darker sables and blacks from Czech or west working. We all have our preferances on color but must not forget the "whole picture". Afterall, this is a working breed first and formost and we must not forget that. When I say "working" I am not just saying Schutzhund. There are other things that the dogs can do.....whether it be tracking, obedience, rally, agility, SAR, PSA, Ring Sport, Police K9, etc.

When breeding the breeder MUST not just breed for one thing. We all have our preferences on what we breed. For me, I prefer the Czech dogs. For others it may be DDR.....WGR workinglines....WGR showlines...etc. Yeah the dog might be a big blocky headed black sable racoon-eyed dog....(not putting them down, I actually really like the look)....but can the dog, whether it be a male OR a female, produce that consitantly and also produce pups with sound temperments, good hips/elbows, nice conformation, and good working drives, and also pups that have no genetic faults(color, longcoats, bad hips or elbows, bad temperments, etc)???
by
VomRuiz
on 23 February 2010 - 08:32
Good post Hans! I didn't care what color ANY of my dogs were when I ordered them. And I don't care that my very small (60 pound male) at 3 years old doesn't have a huge head, or that he's not a dark, or black sable. Or the heaviest bone structure... He is fast!!!
And he loves to work. Amazing drive and a fast learner. AND he has a super stable disposition ;-)
That's my boy Galan with my 3 year old son in the first picture
I have to admit that I was somewhat disappointed at first when my 5 month old bi color female has started getting a lot of gray in her coat, but she has such a full, calm grip for a puppy and smarts! I wouldn't trade her for the richest colored dog out there! Indi is in the second picture -Stacy



by
steve1
on 23 February 2010 - 11:52

Goran. No dark Sable, But a little Cracker all the same, Hips A normal
Steve1
by
steve1
on 23 February 2010 - 11:56

Izzy 8 month old again no Dark Sable but has all the apptitude for working that you could want in a Pup
Plus i think everyone breeding these dogs should make the Question of top Hips and Elbows of paramount importance in there breeding program
Steve1




by
melba
on 23 February 2010 - 12:16


Melanistic B&T on left and Sable on the far right.
Syd and Haley

Melissa

by
mirasmom
on 23 February 2010 - 13:35
Here are Virgo, pre-limb good hips(ofa), Sam, good hips according to 3 diferent vets that have done tons of hip x-rays, Theo fair hips(ofa), Mira good hips(ofa)--I am also checking eyes, thyroids, hearts and testing for DM.
I like a nice stable temperament in a dog, everyone can greet people that come over, without needing to hide them away, Theo had a ninety year old lady give him a bear hug & put her face right into his,he's a therapy dog, that's what I'm looking for, yet if you come in my yard unannounced, you will get bit in your butt, unless they know you, then you can just throw a stick to them!

I like dark pigments, dark eyes, good ear carriage, I dislike seeing white toes or have a white foot, and big white spots on their chests.

Mira is 9 years old and her mom (Millie) is 12 years old still going strong.....




Better picture of Virgo, she has nice rusty color to her legs & face, she's the smallest GSD I have ever owned,
weighing in at 65 pounds.




Tessie's son "Rollie" at 6 months




(I could go on & on so there's way more pictures on my site...)


www.vonryansgermanshepherds.com

Below, Tessie close up,



by
gagsd4
on 23 February 2010 - 14:35
I have discussed this recently with fellow dog enthusiaists. If we aren't careful, we will end up with snub-nosed brachycephalic dogs. But at least they will be black sable with DDR lines.

And hips I think are such a big deal, because they are the one thing that buyers can get a simple yes/no on. Are they A-stamped/OFA'ed or not?
and since we are posting pictures... here is my DDR/Czech puppy (whose father and full brother are black sable)....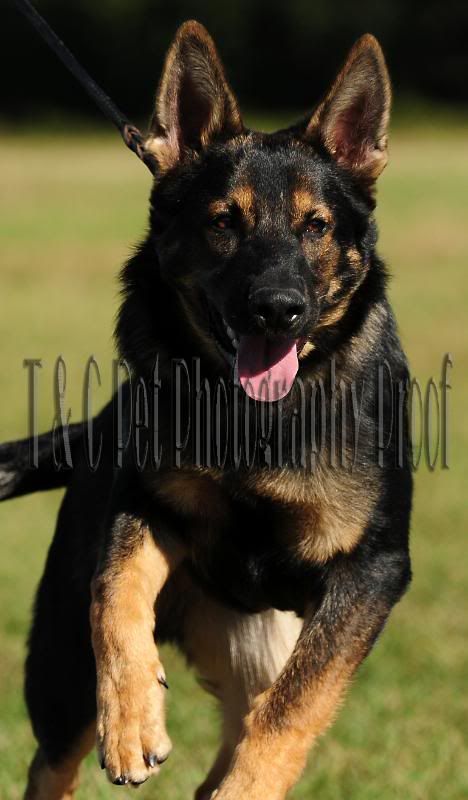 by
Avery Hill Kennels
on 23 February 2010 - 15:10
gagsd4, I agree I call them Grinch dogs because they remind me of the Grinch movie with Jim Carey LOL I agree with you and Hans, we only run in to trouble when you breed for one or two traits that are the fad at the time. It doest take long to destroy what was a great line with poor breeding choices JMO
by
duke1965
on 23 February 2010 - 16:36
esco gila van de duca vallei( amigo zamatXgila waji)

You must be logged in to reply to posts