German Shepherd Dog > House breaking? I already forgot how I did it the first time around!? (16 replies)
House breaking? I already forgot how I did it the first time around!?
by
mockbam5
on 30 January 2010 - 20:53
Wow, I just realized I forgot how I house trained my last dog, its been 15 years now. What is the proper way to house break the puppy so he understands the rules?
by
Aqua
on 30 January 2010 - 22:03
It's easy to do, the forgetting from one pup to the next. I know I have to think about it each time and form a battle plan.

They sleep a lot. Whenever puppy wakes up take him outside immediately (carry him), put him down in the same spot every time and give your 'go pee' command. Ours is "Mach Gassi". As soon as puppy trickles, give mega praise using the pee command. In our case, it's 'Good Gassi, good boy!' I always include some phrase such as 'Let's go outside', emphasising the outside to help him make the connection.

Play with him for about 10 minutes, then take him outside. They're good for 10 minutes at a time at the beginning before they start to leak. Feed him, then take him outside. I always carry my pups out so there's no chance of them lingering in the house to do the deed.

It's very helpful if you can pick his bathroom spot in your yard. He'll recognize it, for one, and he'll ikely use the same spot for the rest of his life - unless he finds one he prefers, which happens.

If you've been less than vigilant and he needs to go but you're not right there to take him, don't shout at the dog. Scoop him up, say something like, "No, outside," and take him to his pee spot where you'll give the pee command. Clean up accidents without comment. Remember, he's not messing in the house to annoy you. He did it because he didn't have access to the outside when he neded to go.

For the most part, house breaking is a sequence of learning for both of you. You need to learn to anticipate (after naps, feeding, and play) and he needs to learn to connect outside with eliminating. This shouldn't take much more than 4 weeks. It helps very much if puppy lives in a crate for the first several months.

Best of luck!

by
Red Sable
on 31 January 2010 - 00:30
Aqua did a great job of explaining it. When the puppy gets a little more mobile, I put them of a leash and lead them to the door and out to the yard so they associate going through the door with potty.

I also crate them when I can't watch them to minimize mistakes. It's amazing how quickly they catch on!
by
muldoon
on 31 January 2010 - 00:43
I agree, Aqua has summed it up excellently. I simply take our pup out every time I let him out of the crate. To begin with I had to carry him over the back step, but now he just goes straight to the door, even when he's half asleep (bless!).

Don't laugh, but having got past the 'outside' and 'be quick' (which is my command for 'go pee') we had a problem being sure when our pup was needing out because we can't see him when he's at the back door because of the way the seats are in the living room (sometimes he wanders into the kitchen to get a drink and just comes back etc; although he is in his crate a lot, we do allow him 'freedom' for a few hours every day). He's figured out that if he hits his nose or paw off the keys on the back door, which have tiny little bells on them, that as soon as we hear them, we take him out!
by
mockbam5
on 31 January 2010 - 01:00
Wow that was a perfect explanation. Everything just rushed back into my brain lol. My previous dog learned by him self to open the door when he was about 6 months by watching us open the backyard door. These dogs are the best!
by
Turk
on 31 January 2010 - 01:12
if you have a working line gsd and need advice on housebraking I think you may be in over your head. You tell me?

by
muldoon
on 31 January 2010 - 01:23
Mockbam, I agree, they are so clever. Some days I think my dog should go to work for me (and do a better job than I do!) and I'd happily have his life!
by
GSDtravels
on 31 January 2010 - 19:42
Another tip, don't ever let them watch you cleaning up after an accident. Remove them from the room then clean thouroughly with an enzymatic cleanser to remove all traces of odor. When you clean in from of them, they have a tendency to think you're playing (down on their level, swishing a rag around = play) and this will bring attention back to that spot. As mentioned above, they get used to the same spot outside, no different inside, so it's best to keep it as low key as possible. If you follow Aqua's advice it shouldn't take long. Being able to read them is very important. You can see body language associated with having to go. I've never had a GSD that took more than two weeks to housebreak.


by
mooonie
on 31 January 2010 - 23:37
The only thing I can add to the other comments is, when you do have to clean up a mess....use paper towel and take the soiled towel outside and leave it where peeing has been done already.

Electra wasn't housetrained at 5 months...Annie wasn't housetrained at 11 months when she came here. Having a grown up human male around...sent out to a corner of the backyard helped out once or twice.
The older the puppy, the harder it seems to get the idea to click.
Old habits die hard. It seems to be a lot easier when a pack can set a good example.

by
GSDXephyr
on 01 February 2010 - 20:33
I do an hour up, supervised, and an hour crated all day long, then I can get things done when I don't have to be supervising pup and puppy isn't practicing mistakes! Take out: after drinking, after eating, after playing hard, and when first waking up. Usually I keep on leash until the potty, then release to run and play, or take treats out with me to reward right away while naming "go potty." Then they learn to do their business first before they start playing and get distracted outdoors. I agree, I think shepherds are the easiest to housetrain! It does take longer with the older fosters I get in, but still not too long!

Heather
by
mockbam5
on 01 February 2010 - 20:47
Thanks everyone again. 2 more days and I cant wait!!
by
ziegenfarm
on 01 February 2010 - 22:40
i was laughing to myself---
eat.....potty
drink.....potty
play......potty
sleep......potty
start all over again
potty
potty
potty.
and if you think you can sleep thru the night, watch your favorite tv program
or even eat a meal uninterruped.......forget it!

god, we love 'em though; don't we?

pjp

by
mockbam5
on 01 February 2010 - 23:49
Sleep is very important to my sanity :), with that being said my puppy wont be peeping after a few weeks of training :P
by
Kaffirdog
on 02 February 2010 - 13:34
I have to say i find the title to this thread amusing as "Housebreaking" has a much different meaning in UK and it conjours up a picture of Mockbam5 wearing a mask and striped burglars jumper, complete with an "L" plate on the back and a sack with "Swag" printed on it


Margaret N-J
by
GSDXephyr
on 02 February 2010 - 18:42
margaret, what do you guys call it?

Heather
by
Kaffirdog
on 02 February 2010 - 19:17
Hi Heather

We call it "Housetraining" and "Housebreaking" is burgling someones house (breaking and entering)
.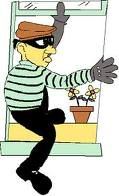 Margaret N-J
by
mockbam5
on 03 February 2010 - 05:45
I'll beg to differ lol, the puppy will be doing a lot of house breaking until he is house trained :)
You must be logged in to reply to posts