German Shepherd Dog > Were is the DDR show-line (37 replies)
by
Jyl
on 21 June 2009 - 08:40
Here is a DDR dog in one of my dogs pedigrees. This dog is DDR and VA rated.
http://www.pedigreedatabase.com/gsd/pedigree/26777.html
by
vfg
on 21 June 2009 - 18:11
I am glad that I opened this subject because I learned a lot from most of you (only one person tried to twist the subject to make it a discussion of show vs. working line.)
Thanks,
PD: By the way the DDR had an excellent and very complete format for "breed survey". Worthwile doing some research and reading it.

by
Gustav
on 21 June 2009 - 18:17
Schbabe and Chris, I agree with both of you in that many of the East breeders did evolve into West lines and make the tranformation to the Western show world for the financial gain. Also, the DDR dogs were not strong in prey drive as they were in defense drive. This often led to slower development of protection routine, more handler sensitivity, as the lack of prey drive would not give easy recovery from corrections. As the sport world evolved into a prey dominance, these DDR dogs didnot appeal to those who wanted big grips, early development, and high prey. Today, many Sch clubs donot have TD that are very effective with this low prey, high defense, handler sensitive dog. Even moreso, many people get these DDR dogs because of their physical characteristics(dark coloring, big heads, massive bone, balanced conformation), and then become disillusioned as they train in clubs with other dogs(both workinglines and showlines) that have higher prey and progress faster in early training years. Couple this with TDs that are more effective with the "prey" type and judging that caters to the "prey type" and many DDR dogs are first time acquisitons and then people switch to a west dog.
by
Sunsilver
on 21 June 2009 - 19:19
"Here is a DDR dog in one of my dogs pedigrees. This dog is DDR and VA rated."

ttp://www.pedigreedatabase.com/gsd/pedigree/26777.html

...And his grandsire was Don von Rolandsteich!


The more I hear about Don, the more impressed I am!

Another reason the DDR dogs have fallen out of popularity.... Owner have to be more careful with dogs that have high defense or civil drives, and in our sue-happy society, some would rather not take the chance of owning such a dog.
Vfg, it was never my intention to drag the discussion off topic. However, I have some pretty strong feelings about current showline dogs, and couldn't let your comment pass. I probably should have held my tongue, or in this case, fingers...but you were the one that brought the subject up!

It's unfortunate these great dog are becoming just a part of history now. Let's hope that if they cease to exist in their original form, their genes can at least do something to strengthen the West German dogs in body and temperment.
by
Gustav
on 21 June 2009 - 22:21
Actually, I think it is good that these dogs have faded into other lines. They were starting to bottleneck and the same ills that come with bottlenecking was occurring to them. The DDR dogs that I have seen today are not as strong healthwise or temperamentwise as the dogs that were introduced to the country in the late eighties. Dogs like Quindt and Quant vom Barutherland and Jim Neuman, Bodo Grafental, were strong dogs that made great impacts when they came West and had nice progeny that intergrated into the then West dogs. We see this same phenomena with the Czech breeders. Many of the smart international breeders are mixing Czech lines with West workinglines. This is producing some really nicetop sport and police dogs. In Holland and Belgium if you look at top working pedigrees you will see many DDR/West mixes in the third,fourth and fifth generations. In all these cases breeders realize that certain good traits from the DDR or Czech or West working were needed in their respective lines to bring balance back to their lines as they became too typey. (this typey could be too much "D" for the DDR, or too much "prey for the Belgium/Holland, or too much "civil" for the older Czech dogs.)

by
Rik
on 22 June 2009 - 01:53
Sunsilver, I gotta ask, what dogs have you bred, bought, borrowed or stolen that make you an authority on anatomy.

Please post links on PDB. I'm thinking that after the dust settles, you are in the same backyard with Uber and Maggie.

JMHO,
Rik
by
Pharaoh
on 22 June 2009 - 03:42
Yes Sunsilver,

Don Rolandsteich was quite a dog and threw his good genetics very dominantly.

Baldo was a grandson of Don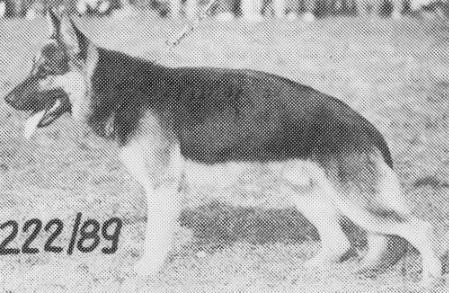 For comparison, here is a black and white of Don Rolandsteich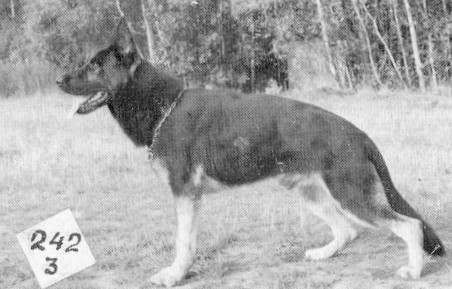 Michele


by
wuzzup
on 22 June 2009 - 03:59
You have the best photos Pharaoh ,as always thanks for sharing . Such beatifiul dogs they are .
by
Pharaoh
on 22 June 2009 - 06:09
Thank you Wuzzup.

I was researching for two years when I finally faced the fact that my beautiful Shadow would not be long for this world. He was 1/4 DDR, a grandson of David Nebelholz (Don Rolandsteich son). I bought Shadow in 1993 at a backyard in Cloverdale for 250 or 300 dollars. He was my first dog. I knew nothing except that my nieghbor told me to go look at these dogs. They were stunning-from a pet kennel in Southern California that was breeding their very fine old style American and West German working line offspring dogs to David.

1992 Schulenhaus ad in Dog Fancy

I called Don Simon (David's owner) in the mid nineties. That is where some of my pictures come from, they were so sweet and sent them to me. That is how I knew that Shadow's mother looked like a female version of David and Shadow looked just like his mother and grandfather. Someday, if I can find his mother's pictures, I will post them.

David Nebelholz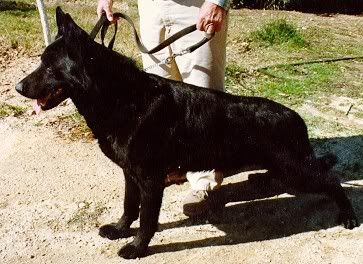 David Nebelholz at three

This is me and my Shadow in 1994, he was 13 months old but you can see the resemblence.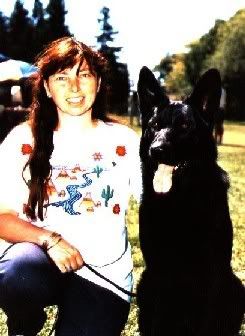 Needless to say, I could not find descendents of David Nebelholz so I started researching Don Rolandsteich and eventually found my beautiful Pharaoh vom Banach. I am going to make an effort to get some pictures of him properly stacked. He will be two years old in September on the same day that I will turn 61 years old. I sure hope I get a really good OFA for my birthday!!!!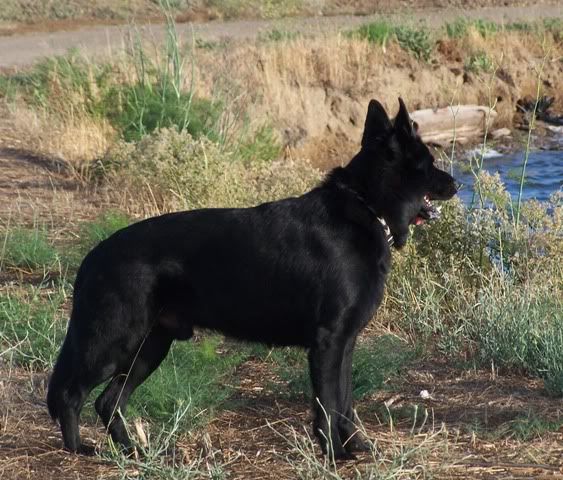 Michele



by
Sunsilver
on 22 June 2009 - 14:49
Michele, your dog is beautiful! What's his pedigree again?
Rik, you think I'm going to break my promise not to bring that issue up again? Get a life! I'll send you a PM.

Edit: finally got it to go through, after splitting it in two. Don't be afraid to read it. It's in no way a personal attack.
by
Rik
on 23 June 2009 - 06:51
Geez, Sunsilver, you can't really believe I am afraid to read a PM. By the way, it was a very well thought out reply and if you are sincere, I did apologize to you.

However, I don't think the dogs you posted pics of are DDR. I will, however, defer to posters who have actually seen top German S/Ldogs in competition in Germany.

Rik
by
Sunsilver
on 23 June 2009 - 09:00
[scratches head] Um, Rik, that's the whole reason I got some people upset. The dogs I posted were German SHOWLINES, in response to a comment vfg made about showline structure!
by
salinasam22
on 01 July 2009 - 00:35
Hi guys. I liked this thread a lot and have a few question being new to pedigrees but especially ddr/czech. I have a dog listed here http://www.pedigreedatabase.com/gsd/pedigree/597250.html I would like to know if she has ddr and I have tried to learn about her pedigree but not with much luck. I am doing sch. with her and so far she is doing really well way better than I ever expected after not being touched the first 8 months of her life. Any help would be appreciated just thought some of you seem to have good input into this history:) Thanks!

by
salinasam22
on 01 July 2009 - 00:53
I will also add I found this website which helped some but not much and it seems as though the forums are no longer working or they just will not let me in!!!! :)

http://www.ddrlegends.com/

by
Pharaoh
on 01 July 2009 - 21:32
Salina,

I clicked up your beautiful Check dog's pedigree. I looked at the 7th generation and there were 24 DDR dogs, many of the greats, in her pedigree. There may be more because there were many gaps in the 7th generation. This is not unusual from what I have been told.

She is a beauty, and, from the little I know, has a very nice pedigree.

Michele

by
DS_Lady
on 18 July 2009 - 02:04
I apologize if this has been brought up in a different thread, but I'd like to do a little bit of a thread hijack.

My question is this: with the old East German GSD breeding kennels, which particular kennels bred for:
a) herding?
b) sport work?
c) sentry/civil-aggression police work?

I'm familiar with the (well known) old kennels' names that were around back in the DDR, but not what traits they specifically bred for.
You must be logged in to reply to posts