German Shepherd Dog > Dogs That Catch Your Eye (132 replies)
by
Prager
on 21 November 2009 - 04:28
spartshep
What dog is that ?
Prager Hans
by
Jyl
on 21 November 2009 - 06:19
Prager
That is Puck vom Grafental
by
Jyl
on 21 November 2009 - 09:16
Here is one of my Czech female.....

by
4pack
on 22 November 2009 - 19:25

Saturn Eqidius



Hanach Jipo-Me



Ox z Jirkova dvora



Pard z Jirkova dvora
by
4pack
on 22 November 2009 - 19:35

Reno Jipo-Me



Tina Jipo-Me

I also love Quanto, one of my favorite dogs to look at of all time but a few of you have already posted his pics.
by
4pack
on 28 November 2009 - 21:36


Bosco Hagenmuhle
by
Liesjers
on 29 November 2009 - 01:14
I'm not totally sold on the heads, but I very much like the rest of these two (Francesco and Frederica Anrebri)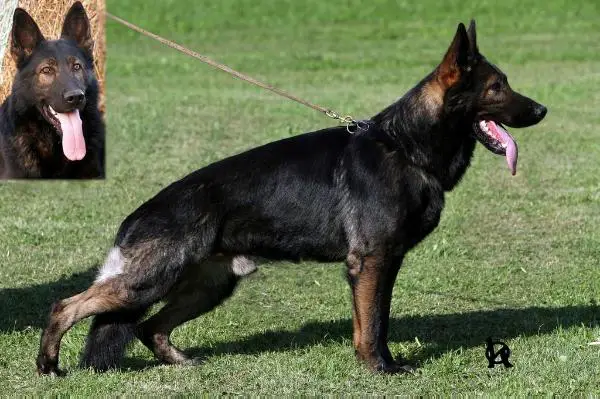 What's not to love about Ozzy?

by
Jyl
on 29 November 2009 - 08:19
I second that on Ozzy!!!!! I love that male.
by
tigermouse
on 29 November 2009 - 10:00
AJAX VOM ROHNSALER BACH @ 6 yrs old.


by
Sunsilver
on 30 November 2009 - 00:50
To the person who made the comment about Dallas having 'a nice head for a bitch', please remember Dallas is an American lines GSD. For an American line dog, he has a good, masculine head, and I love his expression in that photo. Its one fault is his ears could be a bit longer.

Let's try to keep this positive, okay? I'm finding it very educational as well as interesting. It's interesting to see how people's opinions are influenced by their experience, and the type of dog they are used to seeing. I think it's great that we're getting contributions from just about the whole spectrum of the GSD world: American, Czech, showline, working line, etc.

As this thread is getting so long, and is taking forever to load, I'm going to start a new one. PLEASE keep your pictures around 400 pixels, so as not to bog the thread down too much! Also, when inserting multiple photos, please press 'enter' after each photo, so they line up one underneath the other instead of side by side, which stretches the page and makes it hard to read.

A couple of posters haven't identified the dogs they've posted by name. Please name the dog, so we can check its pedigree, if we're really interested in it.

Thank you all for your contributions, and for keeping the thread civil!


Link to the new thread:
www.pedigreedatabase.com/gsd/forum/21404.html

by
KKR_Gsd02
on 02 December 2009 - 05:52

i liked all of the photos so far, well most of them, but i'm blinded by my loving dog
by
Sunsilver
on 02 December 2009 - 14:16
Please post any future contributions in the NEW THREAD:

http://www.pedigreedatabase.com/gsd/forum/21404.html

This one is getting too long!
You must be logged in to reply to posts