German Shepherd Dog > Rosebudgsd and Solo vom Kottersbusch (15 replies)
Rosebudgsd and Solo vom Kottersbusch
by
Dude
on 18 August 2009 - 00:36
I am just home from one of the best weekends of my life I took my male Solo to compete in the 2 Day National, very nervous and maybe up until a hour before the class wasn;t going to show him, and even happier to win the CC , I met so many people and all so nice, BUT ONE maybe jealous of me or my dog, will the person that tampered with Solos information on this data base please leave me and my dog alone,

I would like to Thank team Antilli, G-Force,Barbro Lindquist, and big thanks to Neil for a super job, My son Craig, and brother David. and to every one that has wished us well.

Kenneth Duggan Happiest man in the world,
by
fda
on 18 August 2009 - 01:18
Ken , many many congrats , Solo looked tremendous. It was a privilege to have him exhibited in the UK. I missed the Irish Sieger and particularly wanted to see him :)
(I will send over all his fotos to you tomorrow )
Headshots taken after Solo had run his class and challenge etc.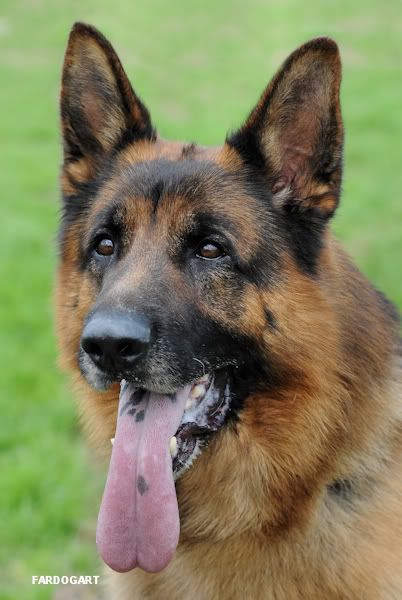 Lin :)
www.fardogartfoto.com


by
Stavros
on 18 August 2009 - 06:29
Ken,
congrats on winning the cc at the 2 day, and i know you and your team will have many more days like you had in Wales,,,,
he,s a great dog and thanks to you and paul for bring him to Ireland.

by the way while he was winning he became a dad again to 9 pups (6 females & 3 males) hope it,s a good oman for the future,,,,,
well done again ,,,,,don,t let them get you down,

from stavros and the lads at tendyk


by
Jean Duff
on 18 August 2009 - 10:52
Well done from WIllowdale always great to see an Irish dog do so well good luck for the future. Jean and Jackie
by
mick9922
on 18 August 2009 - 12:01
congrats to you ken and the rest of the rose bud team on your outstanding win over the weeknd
by
gsm44
on 18 August 2009 - 12:04
Well done Ken and Solo,remarkable achievement considering Solo had an injury and wasn't fully fit.
Best of luck for the British Sieger.
by
missbeeb
on 18 August 2009 - 12:14
Well done! I can't remember when I last saw someone so thrilled with their dog's win... nice to see!
by
Heather
on 18 August 2009 - 12:32
Huge congrats Ken, he fully deserved the CC on the day, well done to all the team and I am sure the next 2 won't be long in coming :-)

Heather & David
by
Alyson R
on 18 August 2009 - 13:16
Wonderful to be part of your day Ken - I think Solo's performance was only outshone by yours - never seen such athletic prowess! And thank you so much for your help with our dogs - you are a real friend!

Alyson
by
BESS
on 18 August 2009 - 13:18
Ken & Team "Solo"
Many congratulations on a great result.


Glad to hear you enjoyed the weekend.

All the best
David & Sharon
Lararth

& The Officers & Committee of the GSD Club of Wales
www.gsdwales.co.uk

by
XITAHAUSBERG
on 18 August 2009 - 18:33
Ken

First chance I have had well done really pleased for you, great result just the one of many ahead of you

Walter
by
Penny
on 18 August 2009 - 21:39
Really miffed at missing Solo - but hope to see him at the British Seiger, and very very many congratulations to you Ken - I was told by phone how brilliant he looked as I couldnt be at Wales..... great reviews were flooding back - very well done, and much more of it for you...
Mo and all at Mascani
by
NikkiF
on 18 August 2009 - 21:45
Congratulations Ken and the team he looks a stunning dog and was sorry to have missed him. I look forward to seeing him at the British Sieger. Nikki and Syd
by
S.C
on 18 August 2009 - 22:33
A massive WELL DONE

Susie & Joe
Ruasden GSD
by
Jago
on 24 August 2009 - 17:38
VERY well done to you both, certainly a well deserved win. I am sorry that someone tried to ruin your day by trying to sabotage Solo's info. Unfortunately, there are some sick and jealous individuals amongst us and I hope they get what they deserve. Karma has a habit of biting you on the ass when you least expect it. Thankfully not all in GSD are out to do petty things as the kennels you have mentioned have shown.
Regards
T
by
hamza166
on 25 August 2009 - 14:47
Well done for you. By the way what are the black splodges on his tongue?
You must be logged in to reply to posts