Some Drawings
by
hamza166
on 24 May 2010 - 15:41
I had some spare time yesterday, so i thought i would try drawing some more GSD's.

Here are 2 drawings i have done so far. (they are scanned, so the quality is not as good as the actual drawing)


If you would like the non watemark versions, please PM your email adress and i will send them
by
hamza166
on 24 May 2010 - 18:35
here is another one i just made:




I seem to be having problems drawing sable GSD's. Also i am miserably failing at drawing GSD's doing schutschund. Do you have any tips for that? All help is welcome. Thank you

I think that now i will try and put backgrounds on these pictures, so it looks like a full picture instead of just a dog on grass

by
Rugers Guru
on 24 May 2010 - 22:22
It works better for me if I use pencil.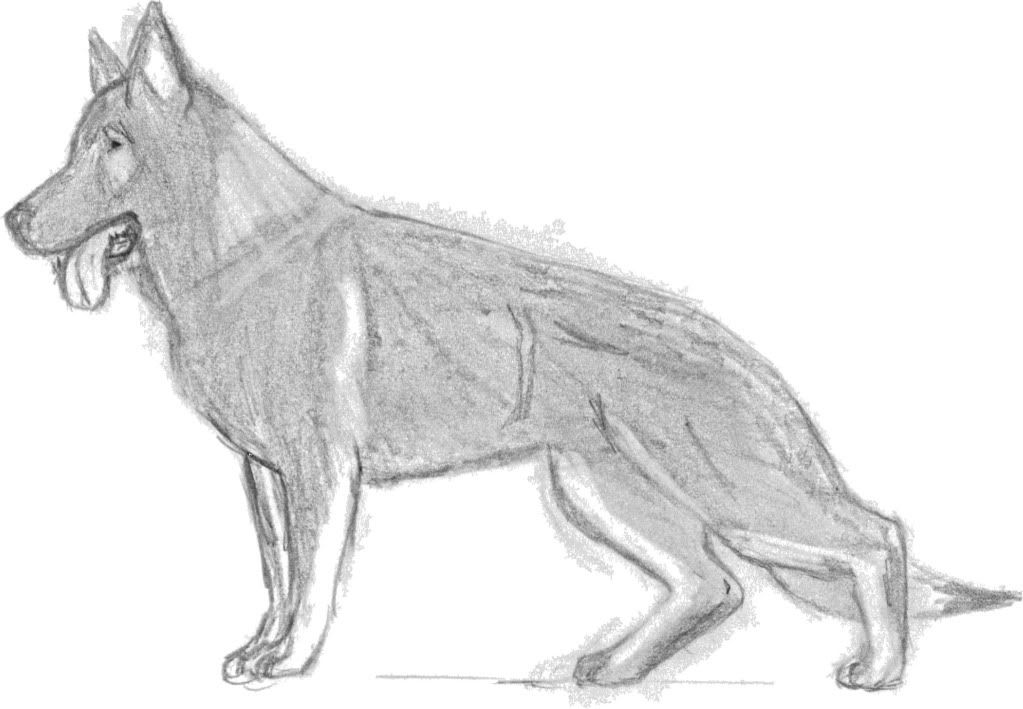 by
gsdland
on 24 May 2010 - 23:01
Very nice, you both are very talented indeed!!
by
Rugers Guru
on 25 May 2010 - 01:45
Its not the best, but it will give you an start. I could have spent an hour on it and got more detail, but I have a puppy to play with.... :-D

by
Nans gsd
on 25 May 2010 - 01:55
They are beautiful, keep going. Do more; be sure to post for us to see. Nan
by
DebiSue
on 25 May 2010 - 03:08
I tend to sketch with a pen while at work but have used a pencil too. I rarely find time to sit down and seriously devote time to it. The puppy singing is actually about 2 inches high, the heads are about 4 inches and the eyes are a section from an acrylic portrait of our old girl, Airin. The heads I did in 1990, the pup about a month ago, the portrait about 2 years ago. Not my best efforts but all I could get my hands on at this time since I really haven't been practicing my art for years. Wish I had the time to devote to it...I really love to sketch.


by
Ruger1
on 25 May 2010 - 03:15
Wow...You both really have some talent...Hamza166, the dog on the bottom of the first post is really very nice....
Ruger Guru, I like the bite-work drawing is it a drawing of the dog in your avitar it looks very similar...?

Ruger1
by
Ruger1
on 25 May 2010 - 03:34
DebiSue, those are some very nice eyes........Those eyes are saying something ,,,,,but what?????

Ruger1
by
VonIsengard
on 25 May 2010 - 04:46
Beautiful work, all of it!
by
Rugers Guru
on 25 May 2010 - 05:09
Here is one I made for VomMarshal, her boy thay just went to a PD.
I know how proud she is of him, so I drew it for her this morning.

by
VomMarischal
on 25 May 2010 - 05:22
...and you got his eyes just right! Thanks so much!!!
by
steve1
on 25 May 2010 - 08:37
Can you draw one of Izzy Bitch If you can that is one i would like to keep and Frame, Plenty to choose from on her Birthday Thread on the General Side Page 6
Steve1
by
Doppelganger
on 25 May 2010 - 10:44
Thanks for sharing. I have no artistic talent at all, and really envy those who do. Imagine being able to make your living doing something like this that you are good at - I wish I could.
by
1doggie2
on 25 May 2010 - 12:49
Very nice, I can not even draw a stick man.
by
DebiSue
on 25 May 2010 - 13:01
I have the talent but not the time...wish I could make a living at it...you can tell by my pics of myself on different threads I ain't no starving artist! LOL

Very nice puppy drawing Ruger!

Hamza, love your conformation in your drawings.
Airin's eyes were saying she loved me of course. She was the gentlest soul ever.
by
hamza166
on 25 May 2010 - 15:40
Thank you everyone for the compliments & help/advice.

Plus love all your drawings as well.

I will practice schutschund drawing

by
hamza166
on 25 May 2010 - 15:42
Steve i shall try to draw one of her.

by
Rugers Guru
on 25 May 2010 - 15:53
I'll give it a shot too! It will be fun!
Steve1 can I have a link to her page please?
by
hamza166
on 25 May 2010 - 16:51
Yes let's have a link please

You must be logged in to reply to posts