German Shepherd Dog > PREY DRIVE: ACTUALLY A FAULT? (96 replies)
by
Scoutk9GSDs
on 27 December 2009 - 19:01
Thanks Alpha! I dont train for sport though. You are correct on the defense as well.

Daryll,
Its not mine to prove.... but yours to discover!

by
darylehret
on 27 December 2009 - 20:30
I'll hold off on that. I'd prefer a mal-like gsd over a gsd-like mal any ole' day.
by
ALPHAPUP
on 28 December 2009 - 00:30
Freemont. -- to reply to you .. look at the behavior , barking, running , chasing , eating, biting , attacking , pouncing, ambushing , protecting territory , .bringing something back [retrieving] guarding. look at what the dog is doing. look at the context the behavior is offered in . and figure out what the dog is thinking . BTW GSDs can inductively , not deductively think. the dog itself TELLS us EVERYTHING about itself. another yarn . my friend wanted a police GSD . he looked at a kennel's video and said you have to see this dog. So i see this dog forward on a leash being strongly agitated and then goes into a bark /hold. my friend said wow. the dog is really driven for a bite ! Great drive you would say ??? . which drive freemont would you say ??? [ and BTW if you said defense , is the dog defending you or itself?] . i turned to my officer friend and stated " this dog is not working to my standards" and this is not the best dog for you ". three other people said to me ..oh no .. I said NO. play the video again . the dog is not sure ! looks to be working extraordinarily BUt .. it is not sure [ i didn't talk about DRIVES]. well. as the dog was doing an aggressive , serious , animated bark/ hold they missed the dog's ears tucked way back ! I want to see the dog leaning forward with nice erect ears .. i want to see a picture of confidence and the feeling that the dog thinks it is in control , not vulnerable !, calm cool and collected. ! this is how i talk dog. accroding to the dog and iut's behavior. the way the itself dog communicates
by
Scoutk9GSDs
on 28 December 2009 - 01:37
I want a Mal-like Mal and a GSD-like GSD.
Ill take both..... thank you very much.







by
darylehret
on 28 December 2009 - 03:56
A mal-like gsd of today is probably more typical of a gsd-like gsd of the early 20th century. But if I say I want a gsd-like gsd, who the heck's gonna know what I'm blathering about but me? It's simply another term, which has irrelevant meaning, except in modern context for conveying an understanding, and effectively enough with the use of fewer words!
by
Jenni78
on 28 December 2009 - 12:43
Daryl, are you speaking of today's Mals or yesteryear's Mals when you say a Mal-like GSD is probably more typical of a GSD of the early 20th century?

I vehemently disagree, as many of today's Mals lack versatitlity and balance in favor of over the top "prey/play", and in my romantic mind, I picture the GSDs of yesteryear as nothing if not versatile.


by
Scoutk9GSDs
on 28 December 2009 - 13:22
Daryll, I doubt you have ever seen a good Mal. As for the dogs of early 20th century and the end of the 19th century none of us were there so we are going by what we have read or been told and by speculation. Having said that....the dogs back then were more alike in structure, temperament and working drive. The GSD was meant to be a versatile dog from the beginning. Over the top obsessive prey drive would (and does) make a GSD less versatile. Malinois with over the top Prey drive would not be desirable either. I have a pretty good idea that they didnt use the term "prey drive" back in those days and any dog that acted over the top and obsessive compulsive as some Mals do today would be culled. Thats really what we are talking about here. The obsessive compulsive behavior that in our own species is regarded as detrimental not beneficial.

by
darylehret
on 28 December 2009 - 15:37
I guess you both forget I've said nothing of "prey drive", but disagreed with your opinion of which breed is better suited for work with livestock.

"the dogs back then were more alike in structure, temperament and working drive"

That, I would agree, and it's part of my point. The mal of the time was also not as obsessive and "prey driven" and probably could herd and tend much better than it could today. GSD's were much lighter and leaner, and IMO far likely more athletic than they are today.

"never seen a good mal", boy that's a loaded question. Guess it depends on what you like. One from my club made the US team for DVG and competed in Germany last year. I've seen nice enough mals, to know that I prefer german shepherds, because of their temperament.

Here's some examples of gsd structure from a book published in 1917, when the German Shepherd was already considered among "the oldest of breeds" and more refined than its dutch and belgian cousins. Typical weight for males was 55 to 60 lbs, slightly less for females.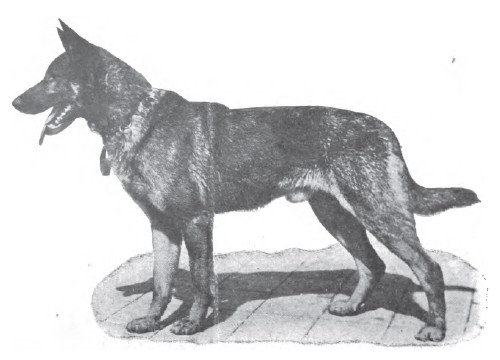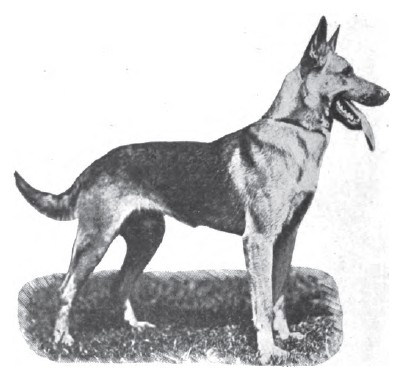 by
darylehret
on 28 December 2009 - 15:44
See, I haven't lost my copy/paste skills, anymore than you two love the sake of arguing stupid shit.
by
Scoutk9GSDs
on 28 December 2009 - 16:11
I would hope you don't lose your only skills.

I would agree with most of what you said and I suppose one could argue that what make a good dog is highly subjective however the example of a Mal making the US DVG team is my whole point. That type of training, breeding and competing is EXACTLY what makes Mals into the idiots that most people see today. The same goes for GSDs.......which you have never seen a good specimen of either (a bit presumptuous perhaps but likely, based entirely on your internet ramblings).
by
darylehret
on 28 December 2009 - 16:18
Which ramblings gave you that idea?
by
freemont
on 28 December 2009 - 18:09
Alphapup- I have to hand it to you, you are making me think harder about behaviour. Perhaps my game of checkers is turning into chess?
by
give that dog a job
on 29 December 2009 - 15:06
For the guy who is apparently invincible to mali's.

http://www.youtube.com/watch?v=SABjzj2JzYk

As for GSD vs Mal's and Dutchies:

Both breeds are versatile working dogs. They are " jack of all trades master of none". High end dogs of all 3 breeds possess the Mental ability, and the physical ability to excel in many areas or the working dog community. I personally am
a proud GSD owner. However I work all three breeds and have found phenominal dogs out of all three. But the key is proper knowledgable breeding and a sound selection for the purpose the dog is desired to complete.

As far as drives are concerned:

I would prefer a sound dog with a strong balance. A dog that is over the top in anyone area either needs molding to be versatile or will be used as a single purpose dog. The breed is meant to complete a wide array of tasks assigned and to complete those tasks equally efficiently you need a balance.

I feel people put to much emphasis on drives alone. They are necessary. However I want a total package with mental/physical soundness, little to no handler softness, strong will and desire to work, overall confidence/ courage, and a balance of drives. Most of these traits can be molded in a variety of dogs however this is what the breed was founded on. But a dog that is close genetically is prefered.












by
ALPHAPUP
on 30 December 2009 - 00:49
Freemont -- i can share with you : i have done Sch . a little belgium ring and a lot of french ring [ with mals and GSDs]. I spend a lot of time on bite development.. a lot. my ring friends say they want a ' dog with over the top drives' . [ ??? whatever that means to them ] and they don't care how the dog bites the bite suit.,,,, all they want is the dog to take the helper down [ you get automaitc full points for the exercise at trial]. i think different [ old habits i guess die hard even with me at times]. Why do the germans who taught me , say : " the bite " and is it couragous and pronounced at Sch trial? [ BTW is it a drive evaluation they look at ?]. BECAUSE ... ' THE BITE" says everything about what a dog wants , desires , is motivated for, what it is feeling , thinking etc etc. ... you need a dog with good high motivation , non-stressed , confident , feeling skillful etc etc . -- so i don't argue with my ring friends .. let them talk 'over the top drive' .. but give me a dog that with a FULL MOUTH BITE , bite the he... out of the opponent. to be redundant. i learned from the belgiums . french and the germans [ all wonderful folks !] look at the behavior. e.g the BITE
by
freemont
on 30 December 2009 - 01:42
Alphapup,

I will post here instead of PMing because maybe someone else reading this thread may gain from it. My GSD does SAR and not any protection work. I look at and analyze her behaviour non-stop to better her efficacy in the field. I work with her because lives depend on it AND for the pure joy of working with a dog (which is also very beneficial).

I don't have the benefit of looking at her bite. Interestingly, I sometimes would love, love, love to put her on a decoy and see what she is made of as if it would let me see into the core of what kind of dog she is... but I digress.

I am just wondering if you have any words for me regarding a sar dog and looking "at the behaviour".

Thanks,

Freemont.
by
ALPHAPUP
on 31 December 2009 - 00:21
Hello Freemont.... SAR . a few words..... to be repetative. 1. everything is predicated on two factors : 1. who and what is the indivdual dog and from that ,2. the function of our relationship to each owner /dog. We cannot make the dog what it is not. you have to know the potential and the predisposition of the dog. IF YOU DO NOT KNOW THE DOG [ stress level tolerance , need for social l contact , dependency /independency , urge to chase , bit/ capture / guard /eat , a thousand more etc. .... - all and any attributes [ not all dogs have all attributes ,like people] that result in behavior..... then HOW can we ever hope to communicate effectively and work as a team ? i won't ramble about 'THE RELATIONSHIP [ which is just as important] . For example .. even before you take the pup for SAR -- did you see the pup love to scramble towards people... and was it relaxed and wanting to interact vigorously ? did the pup go away from you toward others and then without prompt return to you ? did you test the dog to see if it wanted to use it's nose and go to the source of what interested it ? ddddddid the pup give up easy at task or did it go and go and go to find what it wanted / did it quit [ i would even look more into the pup ] . .... ... look at the feelings / thoughts /wants / needs motivations .. of the pup even before you choose it.... WHY ???? -- for SAR : you need a pup that wants / affinity towards people but then when it finds a person is willing and motivated to return to you for indicating ?? you want a dog that wants to find a person . a dog wiliing to go to a source tells me about it's motivation to find what it wants. [ these are examples ../attributes that i would look for . it may be there in varying degrees .. but like a retrieve .. GSDs dogs with very very low retirieve: many trianers do a force retrieve " to Make" the dog .............. .. at best the dog may comply but you will see a very very poor work attitude in many of these . So for SAR ... you want the exact opposite traits than you would want in a dog for protection ! [ my comment about ' the bite ' refers to a dog doing protection work .. it tells about the make-up of the dog in regards to that behavior /endeavor .. you do not want a SAR dog motivated and having fun at biting someone ! even if it non-serious as opposed to pers. protection . you don't want a dog to think that he is lording it over a helper. even though i think the GSD is the most /best versatlie canine .. the traits that exempify what you would like .. is in a blue tic blood hound ! that is what you want to see in a GSD / mal for SAR... Diiferent traits and a manner to evaluate the dog in respect to traits for a herding dog... that is why i think it is foolish to say ' prey drive ' needed for a herding dog .... do you want the dog to run down / capture and bite livestock . the dog needs to be independent to work from you and like SAR , don't want a dog needing daddy all the time. herding dogs must also have the heart to want to look to you for orders /direction ... do you understand why i preach // look at the dog and the resultant behavior rather than drive.. the behaviors protecting/ SAR / Herding .. we all look and evaluate the dog by what behavior we want. a dog doing protection with a half bite is deplorable .. a SAR dog that won't indicate a lost person is pitiful. aand a SAR dog wanting to find to bite .. keep that one home[figuarively].
by
Scoutk9GSDs
on 31 December 2009 - 01:41
I want to now why an SAR dog cannot be protection trained? Specifically.

Why would a stable dog bite someone who was not a threat? Especially if the handler had not commanded the dog to do so.




by
ALPHAPUP
on 31 December 2009 - 12:37
scout ..... a dog can learn two skills ... BUT .. and contrary to most police depts... a canine should have 1 job ... and excell at that job.!! [ people will argue .but that's ok] therefore IMO it's BEST to have a canine that holds all the ness traits for it to perform as best as it can in ONE endeavor/task and then again ... you have a dog to 'go [find' ' and have a dog to go [send in reagrds to apprehending] ... now you are out in the field and " find/ send the dog" ... so what is the dog to do when he comes in contact with the person ? is he supposed to come back and indicate the find when he should have apprehended or does it accidently apprehend when it should come back and indicate ? how many dogs have been sent in protection [ whether sport or for real] and instead of doing a bark /guard or hold / guard , they actually sneak in a bite ? ......and vice -a verse .....send a dog to apprehend and it gets confused and it goes back to the handler ? .....OK -- the thread was about " DRIVES" .. my point is to not think 'drive' but bbbut tto look at the canine itself -- a canine's wants / needs /thoughts , feelings , motivations that result in behavior.. i am not here to argue but share a way of thinking .. on that note .. each should decide for themselves ... about how they view a dog and how it behaves
by
give that dog a job
on 31 December 2009 - 14:27
Now I have a question Alpha.

In regards to your comment of guard his prey (tug ball etc...) where exactly are you saying this comes into play in training/assessing a dogs avenue for work. I may not be reading efficiently but could you clear that up?

I personally do mostly a formal force fetch/retrieve. Comes from some of my back ground in field/gun/service dogs. So i dont know that i would agree with you on force fetch equating to an unhappy sulky retrieve. I do think it has everything to with the dog i agree on that though as i do with 99% of your previous posts. But now is the question. As you have some insight on reading into your assessments deaper than most, how do YOU assess/ facilitate/direct a dog retrive drive?

The reason I ask is think it is something very easily messed up and or can be misread. Handler often do things in there tug games and drive building that create possessiveness in a dog. That changes his mind set of return to handler and wants to play keep away. such as allowing him to carry it after he won, leaning over petting the dog while holding it. They see this in protection and think its what to do in there game. This creates that possessiveness. And there are ways to regain it obviously. So I am curious if you were to assess a pup or green dog what exactly are you looking for when you assess for retrieve drive.





by
ALPHAPUP
on 31 December 2009 - 16:33
GTDAJ -- all points taken .... that is exactly my position .. not all things as they are and seem to be .. each canine is unique.. and another reason i don;t use 'drive '---- because if one reads the dog instead of absolute , limmited words like drive thinking ... you would not have created the possesiveness as sited in your example to begin with .. in regards to force retieve .. not every siituation is 100 % percent . but two comments . 1 I have learned from my master years ago various force retireves... all dogs respond differently .. but the vast majority have the UMPH snuffed out in that way of teaching .. again maybe not all.. depends on the dog [ ability to handle stress amoungst , the ability to recover from pressure --just two factors to consider . point two ... within any behavior [ sit, down , jump] : IF the DOG DECIDES on its own accord TO DO something .. it will be more of an ingrained behavior and becuase it comes from the heart. and essence of the dog i will almost guaratee it to be jopyful in it's performance . Not rocket science here .. put yourself in the dogs context.. would you be happier and more willing if I MADE you do something ?? .. and the more force i use the more some would be resistful ...or ,think about this ... ... : ....some / many dogs hold this emotion : to become resentful ! Not what personally i desrire about my relationship with ANY of my dogs ! You know - [ Ying /Yang] - dogs are just like people yet simultaneously very different -- if one can comprehend this good for you .. and IMO -- if yone doesn't ... then consider not being a trainer. one will never ever be able to ' see within your dog ' and one will continue to always want words / techniques that descibe eveything like a book , one will be like a trainer that needs a leash to be able to work the dog rather than using one's heart and mind to get into the dog's heart and mind. Just an opinion .. ok to disagrwee . i'll respect that ...
You must be logged in to reply to posts