by
Ibrahim
on 01 May 2012 - 09:41
Mr Donald,

You have more than enough-for-you experience and knowledge, so it might not be that important for you but it is very important for me and many others, it is a chance to learn from you and please take into consideration that English is not my 1st language and sometimes what I say isn't very clear to everyone, also please be as direct as you wish, learning the right thing is what really matters to me and I wouldn't be ashamed if I'm making a mistake, here is what I'm saying, the subject dog's skull plane is parallel to his muzzle's plane and this is a good feature of the subject dog.
As a matter of fact this specific trait of GSD was brought to my attention from your study when you talked about domed and out of parallel heads, and here I quote you

Heads

The heads are the same in fi gure 1 and fi gure 2 and depicted as

being close to the ideal but I do reiterate my earlier comment

about the strength of heads and relationship to the teeth.The

old adage that says 'show me a dog that has a refi ned head

and throws refi ned heads and I will show you missing and

underdeveloped teeth' stands true.

I have also observed quite a few dogs, generally males and

interestingly nearly always associated with a distinctly

masculine head, where the planes of the skull and foreface

are out of alignment, out of parallel, creating a dish faced

appearance – see photo. Given this, I have to say that I found

it both curious and surprising that the Standard's requirement

Figure 1 Figure 2 © 2011 Louis C Donald A Discussion Paper on the Structure of the German Shepherd Dog 7

for parallel planes of the skull and foreface has been deleted

from the most current Standard - December 2010 SV / FCI

/VDH.

On a final point I mention that people should keep an eye on

skulls that are too round, almost apple shaped. This can be

seen not just when viewed from the front of the dog between

it's ears but in side profile

End of quote

And you used two pictures of two dogs to highlight "out of parallel and domed heads" but I couldn't copy those pictures. I find it easier to determine whether the two planes are parallel or not when dog's mouth is closed like in below diagram. But subject dog doesn't have a domed head and he is not out of parallel, if I'm mistaken please correct me and Nadeem excuse me for using your dog for a learning purpose.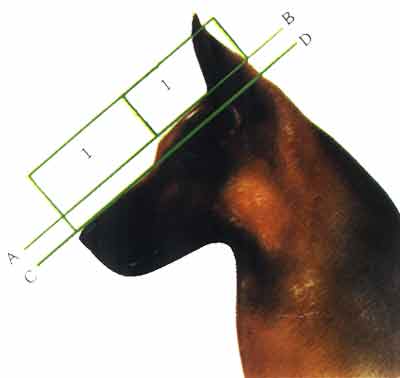 The cranio-facial axes (cranial axis AB and facial axis CD) are parallel in the German Shepherd. Any deviation from the parallelism represents a defect of varying degree. The right cranio-facial ratio is 1:1
by
Louis Donald
on 01 May 2012 - 23:28
Perfect! Nice to hear your comments and I appreciate them. Pleased that you have read my paper on structure. Not an easy read but worth the effort.
Half the questions I see being put in this forum are answered there.
Just as a matter of interest the two heads I used are current VA dogs.
Keep well Ibriham and always maintain your open minded and non combative attitude.

Louis


by
Nadeem6
on 02 May 2012 - 01:40
This pic might be more helpful since his mouth is closed. And no worries on using my dog for ullustrative purposes Ibrahim, i enjoy the learning experience especially with my own dog.

And very interesting article Louis Donald, i downloaded it and hope to read it soon.



by
Ibrahim
on 02 May 2012 - 05:11
Mr. Donald,

I read your paper 4 times, I spent long hours making sure I understand the diagrams and illustrations, I now memorize by heart several parts of it, it is a great thorough sincere study, I find the best part the one where you explained the front parts and front reach with special appraise for the role of front arm length, no one did this before I think, in a scientific/engineering way, you've done an excellent compilation of findings, info, analysis and results and you corrected some of misunderstood things, not only those misunderstood by the average person but the dog experts, I find your explanation how the angles of shoulder should be correctly represented and measured the most accurate, many experts do not agree how they should be measured, I think your knowledge of dogs in general gives you a plus in understanding the GSD as a specific dog breed.
Still remains for me how to correctly apply the theoritical knowledge practically on the dog, I am working on that and tell you what I'm enjoying myself.

Ibrahim
by
Ibrahim
on 02 May 2012 - 05:19
Thanks Nadeem for the additional picture
by
Rik
on 02 May 2012 - 05:21
Ibrahim, the theoritical knowledge

can only be learned by seeing and doing.

best to you and your quest,
Rik
by
Ibrahim
on 02 May 2012 - 05:36
Thanks, Rik, just to let you know, you remember how you explained to me how to feel and check by hand the bones and joints of the shoulder? Combining that with Mr. Donald's shoulder diagram I now can represent the bones and joints by using tape on the dog's shoulder to a very very good degree of accuracsy, lol. The sad thing is very few dogs come close to a good shoulder.

Ibrahim
by
Louis Donald
on 03 May 2012 - 21:45
Ibrahim here is a theoretical way of understanding what happens in the forehand in relation to the shoulder and upperarm during movement;

Cut up some 15/20mm wide cardboard strips that are the length of the ideal scapula/upperarm/foreleg. Cut their length to the actual scale of say a 64cm dog.You can work out these lengths from my paper.Then pin them onto a pin board using pins and set them at the ideal angles of 45 and 53 degrees. Refering to my paper make a mark where the fore foot would land in such an ideal configuration. You can rotate the parts to simulate various changes but you can also make some new strips that are cut shorter to represent a short upperarm, short shoulder and short foreleg.
You can overlay these onto the ideal.
The value of this is best demonstarted as follows; I ask you the 'theoretical' question - if you had two dogs that were both anatomically identical but one had a correctly angled upperarm that was 10% short of ideal and one had an upperarm that was of the correct length but 10 degrees less than the ideal which dog would you place first on the basis of you being a judge who uses as a fundamental benchmark the principle that the GSD is a working, trotting endurance dog? I would suggest like many people you would not 'know' the answer. You might well try to work it out in your head or give an answer based on what your gut tells you but I am talking about 'knowing the answer as a fact'. If you don't know the answer now you will and not only on this question but you can now configure all sorts of fore hand situations - short fore leg, steep shoulder, forward placed shoulder, steep upperarm etc etc and actually calculate in quantifiable terms the reduction in fore reach.
Oh I must add - for those who may want to jump in to say something like; this doesn't account for things such as the dogs willingness to run - we know that - or what if the dog had hip dysplasia' or 'what if he is blind in one eye' - please don't! Just read the intro.

Louis



by
Ibrahim
on 04 May 2012 - 07:30
Very interesting, I need sometime.
by
Ibrahim
on 04 May 2012 - 11:08
This is my theoretical answer,

I would place the one which had correct length of upper arm but 10% steeper angle than ideal (the 10% makes a 5.3 degree making the front upper arm angle 58.5) as it can cover better reach than the one which had correct angle bet 10% lesser length of upper arm than ideal.

Increasing the angle of forearm (making it steeper) has lesser negative effect on the reach than decreasing the length of front upper arm but that is true to a certain amount, after too much steepening of the angle then no matter how much you increase the front upper arm length you can not have good reach as that of correct equilibrum between angle & length of upper arm. That is theoretically when judging a working dog for better trot and reach, if one considers breeding and genetics aspects I am not sure which is more difficult to produce good length of upper arm or good angle

. When I find a clip board I will try the strip experiment.

Ibrahim
by
Louis Donald
on 05 May 2012 - 22:00
Good response. Maybe I should have posed a tougher question; One dog has forelegs that are at a ratio of 45% of the dogs height, the other has a shoulder that is of correct length but set at 50 degrees and the other has an upperarm that is the correct lenght but set at 60 degrees. Place 1st to 3rd?
Regarding the upperarm question. Putting aside specific breeding partners, their parentage and in general terms modern lines, short steep upperarm have always been an issue in the breed. The length has improved more than the angle over recent years. The answer is therefore a relative one.
For interest, my observation is that in an historical sense using Siegers as a measure the first good length appeared with Dido v d Werther Konigshale in 1968 and good lengtht with good angle in 1973 with Gundo v Klosterbogen and consolidation in a breeding sense occurred in 1983 with Uran.
Both are hard to fix, harder to consolidate and difficult to perpetuate with consistency and when even when it is consolidated over many years because of its history within the breed both can dissapear very quickly.

Louis


by
sonora
on 11 May 2012 - 00:55

Hi Ibrahim,
I like this thread, for I think it has contributed to my learning experience ,
thank you for all the imputs.Thank you Ibrahim for your kind words.
I always wondered if those who read my critique
and the way I describe the various areas really knew how to analiase what was written.
For some who request for critiques,
may not be able to participate in shows due to whatever reasons.

As such I try to give a critique covering most important points in the dog.
I could be wrong at times.For I comment as I see it.

For what we like and what the Standard states may not be the same.
the opinion and contribution of everyone is respected.

To me Understanding the Standard and why it was written so is very important.
As well as the demands made on the G S D, in the various activities.
i e. Conformation, Schutzhund, P P , S A R ,etc.

Louis, good to see your imputs,thank you.

A croup situated on the dog, to me is either ,
correct, slighty steep with good length, slighty short with good lay or short & steep,slighty short & slighty steep.
I'm guided by the standard, the proportions of the dog and the length of the back
as i see them.

The whole evaluation of the shoulder's angulation and the length & lay of the upper arm ,
is based on correctly identifying the point of shoulder. Sometimes this is difficult due to a few reasons.
If the point of shoulder is not identified correctly,the evaluation may not be correct.

So how do we identify the point of shoulder?.

And how do we identify,if a dog is standing strait in front or not ?
by
EuroShepherd
on 11 May 2012 - 02:52

What a nice looking dog! Stunning color and I love his coat.
To my eye his front feet seem just a tad flat.

Because he is so dark and his coat so thick I would prefer to feel his structure with my hands before giving a critique. But he seems to be a well-balanced dog, I really like his presence :)

As far as his head goes, I'm personally not a huge stickler to the planes of the head being so correct. For me, if the head has a pleasing appearance, good expression, and there are secondary sex characteristics then thats good enough. The head doesn't interfere with it's working ability (given that it has a correct bite and no weak jaw.) To me, this dog's head has a pleasing appearance and good expression. My personal preference would be for a head that was a lil heavier/stronger and more masculine.

You must be logged in to reply to posts