S-litter von Ehret
by
darylehret
on 10 April 2012 - 11:48
The litter will be five weeks old tomorrow, showing lots of drive and temperaments being revealed. I'm planning to keep a male from this litter, probably the one who I've named "Sensei" (lit. trans., "person who was born before the others") who is the black one at the bottom, with the little white fu man chu.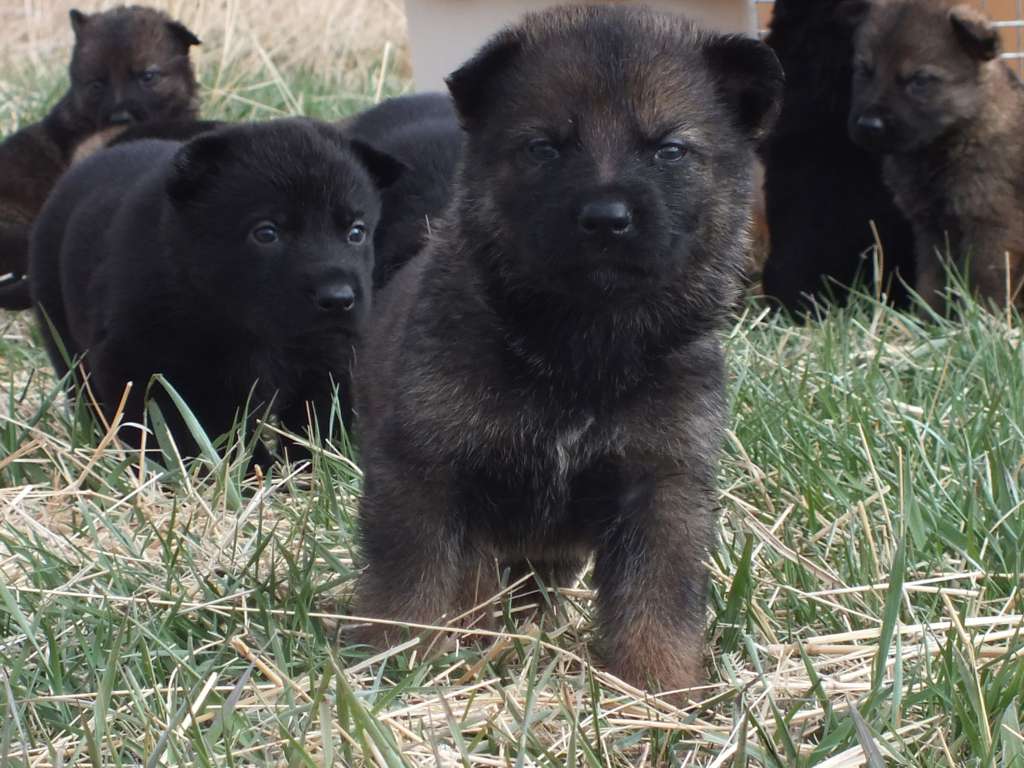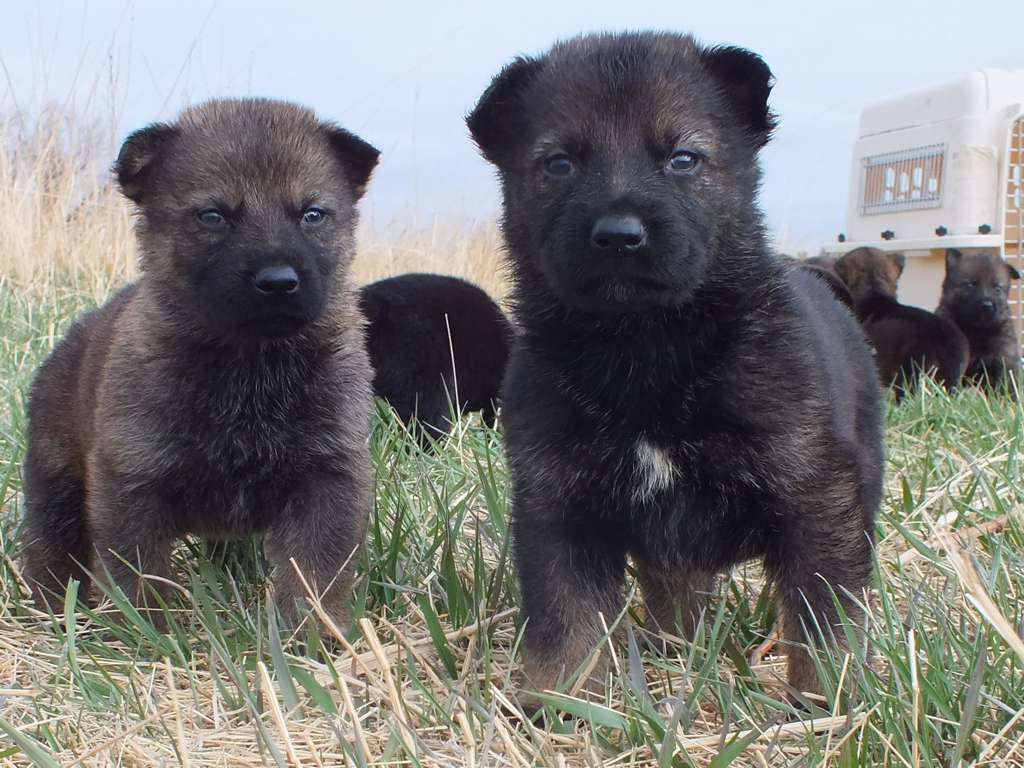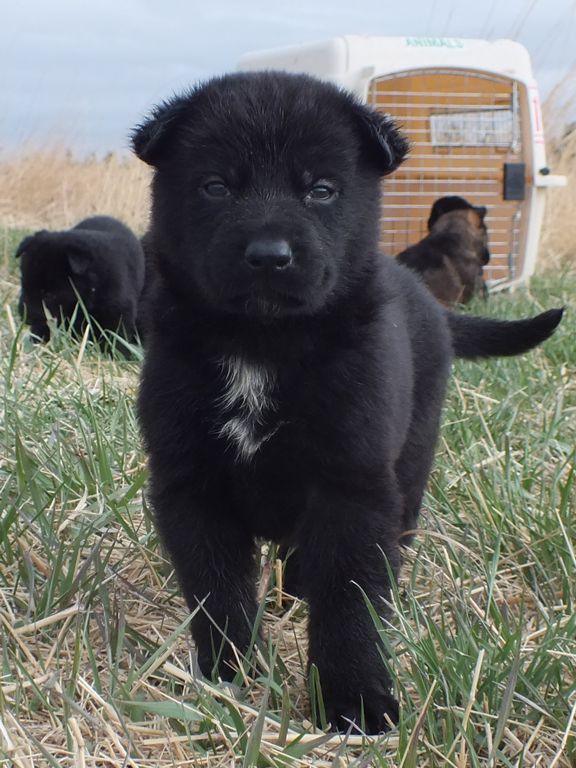 by
kitkat3478
on 10 April 2012 - 12:14
I like the little black one on the bottom .Looks like he's thinking,"you talking to me". Nice pups!
by
Ibrahim
on 10 April 2012 - 12:34
Nice puppies, lots of drive at this young age, I think at two months age they will need double the space they have at the moment, lol. I like the sable in the 2nd picture, he has a strong expression in his eyes whereas the black in the bottom has a rather dreamy look.

Ibrahim
by
beetree
on 10 April 2012 - 12:42
Nice shots, some real tough guys, LOL Cute, too! You must have been on your belly to get those shots!
by
myret
on 10 April 2012 - 13:14
Very nice sweet pups beutiful ones
by
Conspicuous
on 10 April 2012 - 13:23
At about 1:15 mark the black pup who kept running and falling was making me LOL for real. Puppies are nuts, they have no idea what they're doing. lol

So cute, very nice pups. Looks like you've got your hand full with those guys! :D
by
Bob McKown
on 10 April 2012 - 13:35

Nice looking litter daryl, Whats the pedigree on them?
by
darylehret
on 10 April 2012 - 14:32
You're somewhat correct about the black one, Ibriham. He is rather aloof, but strong and confident. The darkest female is very outgoing and good social attraction, with no inhibitions about biting sleeves, hands, and whatever available.

The little sable runt is a male, "Spunky", and he most definitely is. The little black runt is a female, and I think the whining one you hear near the video cam. I haven't named her, but "Stevie" is the buyer's name, so I'm going with that for now.

I was on my belly for the photos, and the video cam was resting on a 1 ft. tall tripod, with a gate just in front of it to keep the puppies from licking the lens.

Pedigree is the same as my R-litter, with some linebreeding on Nick and Yoschy.
by
Nans gsd
on 10 April 2012 - 14:40
OOOOOOOOOOOOOOOH. too cute. So if this is a repeat breeding, I take it you liked the R litter very much. Nan Beautiful shots of these babies. Love them all, and yes love that black boy. Yummy.
by
darylehret
on 10 April 2012 - 14:46
Yes, I've kept four of the eight pups in the R-litter. Wasn't my plan, but there were too many nice females. I was going to only keep one male and one female.
by
SitasMom
on 10 April 2012 - 21:36
nice advertisement
by
eichenluft
on 10 April 2012 - 21:43
nice advertisement indeed - I hope anyone who might be interested in this litter of cute puppies, inquires about the parents' health testing, hip/elbow x-rays/ratings, and title/temperament testing - and see proof of these important things with their own eyes before taking one of the little darlings home.
by
darylehret
on 10 April 2012 - 21:44
Screw you, you're ALWAYS making plugs for your own and Eurosport. I've been asked several times to share puppy pics and videos here, and never have. Notice there's no pricing information, information about parents, number of pups, genders and so on, or if any are even available at all! If it offends you, talk to the moderator. I've never sold a pup to anyone on OR through this site, and I don't mind if it stays that way.
by
darylehret
on 10 April 2012 - 21:46
Oh, and the queen of self promoters herself...
by
Jenni78
on 10 April 2012 - 21:53
Nice looking pups, Daryl. Nice pictures, too.

LOTS of people post puppy pictures here, every couple months (or weeks!). Why does someone have to turn a nice photo thread into yet another scandal?
by
Ibrahim
on 10 April 2012 - 21:57
Daryl,

At what age do you start introducing food to the puppies?
Which do you think is better for preserving the puppies from diseases, early weaning or late weaning. A breeder told me early weaning triggers the immune system faster but I find this hard to swallow, what you think?

Thanks
Ibrahim
by
laura271
on 10 April 2012 - 22:04
Daryl - I always love your photographs.
by
darylehret
on 10 April 2012 - 22:13
I don't know if early weaning does so or not. I've introduced solids, canned pedigree, at two weeks age for the last few litters. It usually takes a couple days for the whole litter to get into it, around day 16. Mothers have been weaning their litters off fairly completely by five weeks. Often by five weeks old, they're able to render whole pieces of chicken, bones and all.
by
CMills
on 10 April 2012 - 23:47
This is a lovely litter! I especially noticed the one sable "bully" that went from one pup to another, picking a fight! What a dominant pup it is> I see NO problem showing your pics/video here, everyone else does! Why does one person always have to spoil the fun for all us others? Shame on her!
by
Ace952
on 11 April 2012 - 00:02
great pics. Nice looking litter.
You must be logged in to reply to posts