another hip discussion
by
sachsenwolf
on 08 April 2012 - 18:11

The following is a 2 year old girl. What do you think of the positioning? What do you think of her hips? What do you think the OFA would grade this dog? The SV?? Thanks for your input.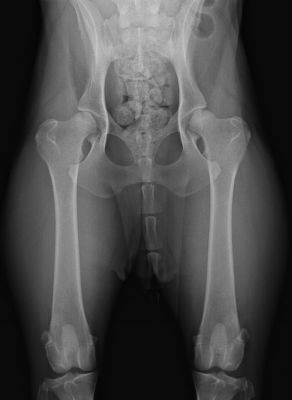 by
Nans gsd
on 08 April 2012 - 19:44
I am thinking possibly fair to mild. Conformation of femur heads does not look very good to me; left side of the screen (right hip) shows some remodeling, also could be seated into the socket better. Left hip or right side of our screens could also be better; positioning looks good. BOL Nan
by
trixx
on 08 April 2012 - 22:28
i think they would go mild Hd maybe borederline at best.

Noch ( A3) for A stamp.

position is very good .

i also see changes too ,on the left side. ( looking at this xray)- same as nan said.
by
mirasmom
on 09 April 2012 - 00:38
Right hip won't pass..
by
sachsenwolf
on 09 April 2012 - 02:59
Good eye guys! To me they looked Fair, assuming the radiologists are in a good mood ;) To my credit the image seems less blurry/pixelated in my file on the computer, but posted this way which makes it look even worse. The OFA went with Mild, only subluxation though. I wanted to see what others thought before saying what they got. If anyone cares to, please circle or say what indicates the remodeling to you. I've seen different hips that have similar "odd" features that passed the OFA, so I'm just trying to pin-point what exactly is off about these, besides the obvious looseness. Thanks!

by
Nans gsd
on 09 April 2012 - 15:28
For me I see that the fit of the femur and socket is somewhat shallow; the femur itself is rough around the top of the head with a gap there; the left side not so much remodeling but does this bitch jump? Flattening of the femur head with not such a tight fit, that hip could be fair but due to (left side of our screen probably the right hip socket) is why she got a mild. So sorry, very disappointing I know. Nan
by
sachsenwolf
on 09 April 2012 - 16:17
Yes, disappointing whenever OFA gives bad news. But these hips should be perfectly fine for a pet or working/sport dog, and the dog doesn't know she didn't pass OFA, so it's not all bad. One thing pointed out to me was the thin white line on the head, on the flattened part, but I've seen this on even dogs that go Good. Is this normal for some dogs?

Is the white line excessive in the following x-ray? (Different dog.) What are the opinions on this set of hips? I believe someone once said that the squareness can be from a dog doing a lot of jumping, and the dog these are from thinks she's part Jack Russell. This dog was just coming out of heat about 3 weeks prior, and the positioning is off, but it's a pre-lim so I thought it will suffice to see how the joints look since it's not going to the OFA. Thanks again for input!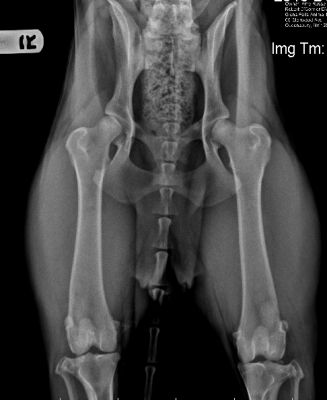 by
sachsenwolf
on 09 April 2012 - 17:33
Going to try reposting these smaller so they aren't so blurry/pixelated.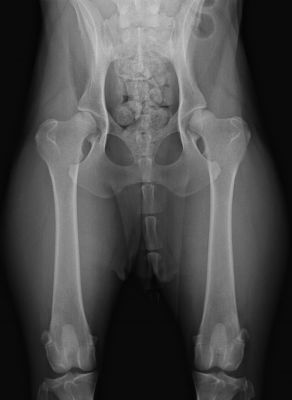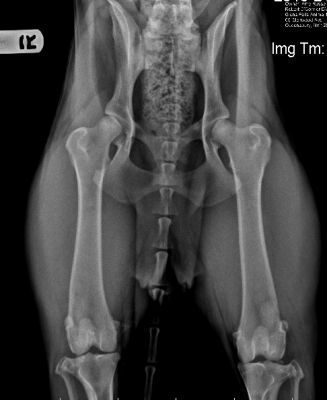 by
Blitzen
on 09 April 2012 - 17:49
How old is this dog and was she sedated for the xray? I think the flat spot in the center of both heads are normal, it's where the ligament attaches. There is some flattening at the top of the right head and the rim of that socket is beginning to show some wear. It is no longer "C" shaped, the cranial edge of the rim is starting to "cup". Left hip look deeper, but I think that rim is starting to wear too which could indicate a loose fit. Best guess is - borderline, re-do waiting for 2 months after a season and having her sedated for the film.
by
sachsenwolf
on 09 April 2012 - 19:26
Just under 15 months, with only physical restraint. I don't like how the right hip (left side) doesn't show much coverage... but the positioning is slightly off in a few ways, and one can be hopeful that has much to do with it, along with some laxity due to the heat cycle and/or age. But of course I don't want to fool myself. If she passes OFA as an adult then she certainly deserves it as she does not know what it means to take it easy. Thanks Blitzen for pointing out the signs of wear... keeping fingers crossed they don't get worse.
by
sachsenwolf
on 09 April 2012 - 19:27
For those who might know, would these (the second one) go A2 through the SV or NZ??
You must be logged in to reply to posts