German Shepherd Dog > Conformation Critique please?? (13 replies)
Conformation Critique please??
by
melba
on 22 February 2012 - 23:02
I'm still learning to stack, and I think I'm getting better :) Dog # 2 is just for grins and giggles because that was the best pic I got of the goofy dufus. LOL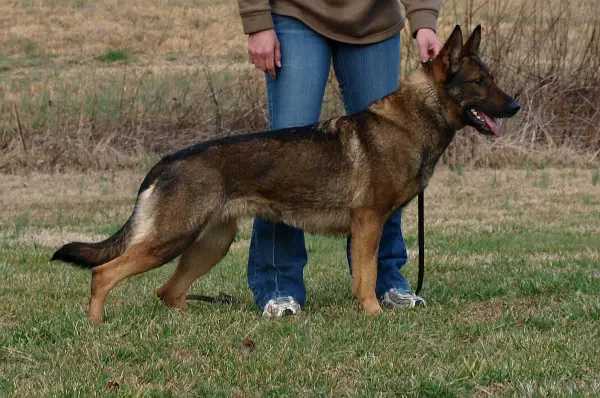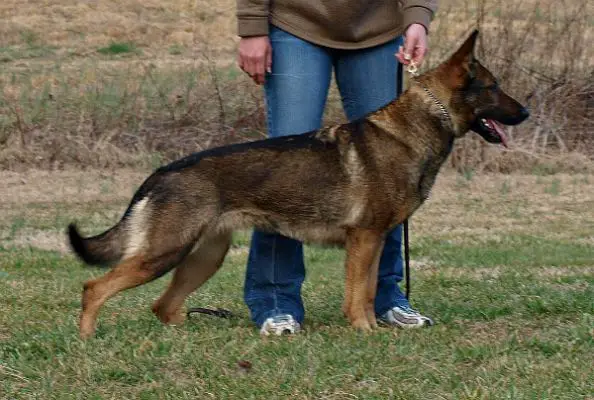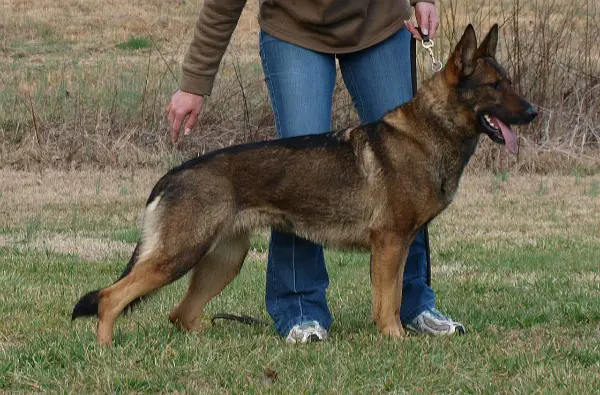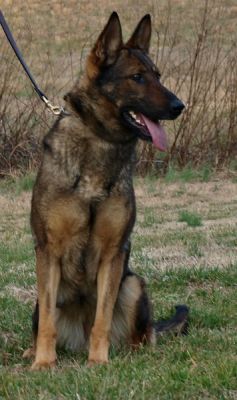 And her half brother, same mother different father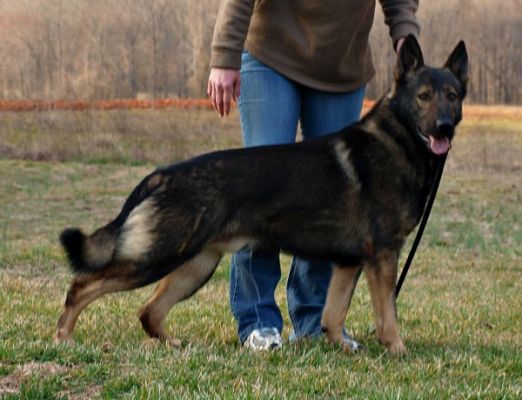 He looks huge, but there is no fat on him. He does 5 mile runs 2X per week and 10 mile runs 2X per week. I didn't realize how huge he looked until I saw pics :)

Melissa
by
Nans gsd
on 22 February 2012 - 23:26
And how old is the girl? Love them both; beautiful color; reason I ask is I would like to see a little more rear angulation on her, like his, but he looks older. Don't know if she will acquire that with more maturity and muscle. Both a tich long in back but still acceptable, both should COVER SOME GROUND flawlessly and with ease; more to come. Nan

Both have BEAUTIFUL length of neck which bring lovely layback; beautiful heads and expression, not a bad stack job either. If you can work around a full length mirror so you can see them yourself or ask someone to video tape you stacking them that way you can see what you are doing. Overall beautiful dogs, and a pretty good stack. Show off their beautiful neck length and pull them up a little more as they will relax back on their own. Nice job. Nan
by
melba
on 22 February 2012 - 23:30
She is 3 yrs old at the end of this month. Deuce is 18 months old.

Thank you,
Melissa
by
Nans gsd
on 22 February 2012 - 23:39
Wow, I had that backwards; well she is probably what she is going to be; lovely. By that I mean some mature earlier some later; she should be fully mature at 3 or 3 l/2. Best of luck with them both. Really nice dogs. Nan

PS: do you have any puppy pic's of them: I am curious what their conformation looked like as puppies, both if you have. Any puppies in the future for either of them? Nan
by
melba
on 23 February 2012 - 00:49
I don't have many of Cera. She just came back 2 weeks ago :)

Well poop, I can't find any on this pc. I do have a video of when they were 5 weeks old :) She is the one humping my leg. LOL

http://www.youtube.com/watch?v=ooCm-BVPX-I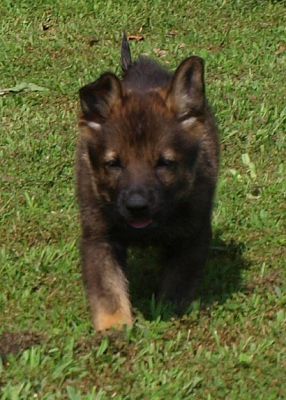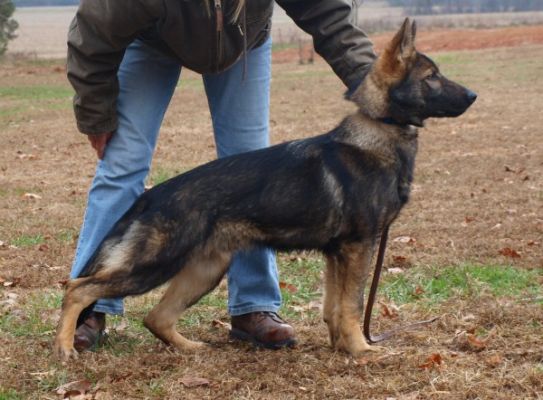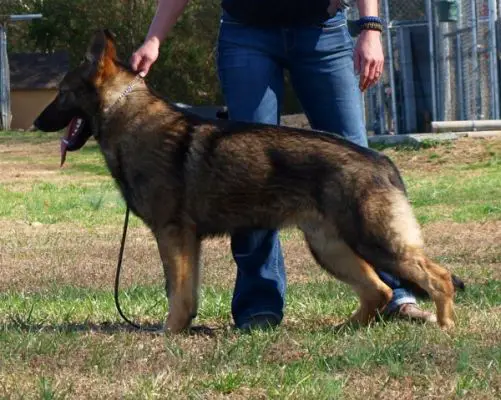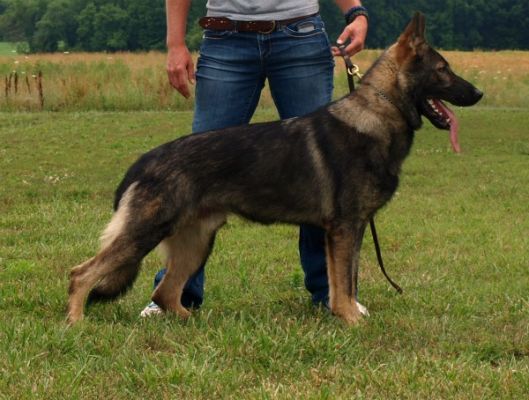 Those of Deuce are at 7-8 weeks, 5 months, 8 months, 12 months and then the current at 18 months.

Puppies? I don't know. Not from Deuce as his sire's owner failed to get his import paperwork transfered to AKC... he was imported from the Netherlands, so Deuce does not have papers. That doesn't mean I'm not having a blast training for Schutzhund with him. He's one hell of a working dog.

Cera? Maybe. Again, dependant on a few things. We need to have hips/elbows done and I'd like to put at least a BH, AD and be well on our way to a SchI before I even consider it. We're waiting for a trial for her AD and she needs ALL of the Ob for a BH so far. Lots of work before I can make a decision, but.... maybe LOL If she produces half as much drive as she and her brother possess, then they'll be terrific working dogs. I actually wish she had just a tad less at times LOL

Thank you,
Melissa
by
Char Pazin
on 23 February 2012 - 00:52
Love them they are beautiful
by
EuroShepherd
on 23 February 2012 - 04:48
Both of them are beautiful dogs, lovely stacking job on your female. I know how hard it is to try to get a dog to stand like that sometimes.

Personally I like her angulation just fine, yes for AKC/SV show purposes it could be a lil more. But truthfully I'm so sick of seeing over-angulated dogs and real working shepherds (I mean the REAL ones, who were bred from working sheep-dogs and live their whole life tending sheep all day every day) are not angulated like show dogs. Truthfully that structure that is supposed to make a tireless, efficient gaiting dog is never actually used for tireless, efficient gaiting for hours on end in a real job (ok, so maybe one show-structured dog out of a million has an all-day, every day job, MAYBE)

I love their structure, I wish I saw a lot more dogs structured like yours. I bet they would champion and grand-champion easily in UKC.
by
Jenni78
on 23 February 2012 - 04:54
She has nice structure and plenty of angulation for a wl. He is also nice and has good proportions, overall, but seems a bit long. I suck at stacking, too, so it could be the stack or the pic or a combo of both;-)

Nice dogs.
by
melba
on 23 February 2012 - 09:21
I think they are both a bit long :) Deuce is a bit huge too LOL. I was hoping he would stop growing about 20lbs or so ago honestly. I have a pic that doesn't look as long,
but h looks kind of scrunched up, IMO.

Given an open area Cera does gait for hours with a ball in her mouth. Her gait is very open and does she ever cover some ground LOL.

Deuce is well, Deuce. My goofball. His gait is very open as well, when his nose isn't on the ground.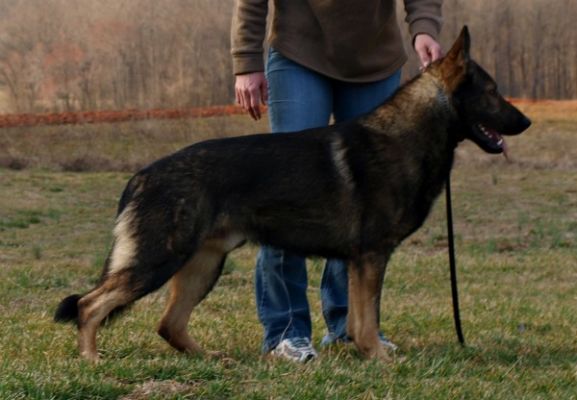 Thank you all for your comments!

Melissa


by
Nans gsd
on 23 February 2012 - 16:21
Thx for the puppy video; was just curious if you could see that beautiful neck on her as a puppy and YES you could see it well. Really love them both; have fun and enjoy them, he's quite handsome. BOL Nan

As far as the angulation goes, what I look for in conformation merely is balance. That is what catches my eye, both look great for show or work; attitude is of course hard to tell by photo's but both seem to be having fun, love that attitude. Nan
by
Blitzen
on 23 February 2012 - 16:38
IMO they are very nice dogs, very athletic looking, not overdone in any way. I can imagine them tending a flock 24/7. I like all of them; I think dog #1 is my favorite. Job well done!
by
Ibrahim
on 23 February 2012 - 17:37
I like both the dogs, outstanding high long withers & shoulder lay in both, very good front upper arm lengths but angle in both is steep, both have short croups, the fist one has better croup lay, the second one has better thigh and better hind angulation, both have super head proportions and planes and both could use a little more stop. Beautiful dogs I like the second one's expression and self confident look, also the pride in his eyes .

Ibrahim
by
Red Sable
on 23 February 2012 - 17:50
Very nice looking dogs Melba! I'm with Euro on the hind angulation thing :)

I love the look of your male, just gorgeous!
by
melba
on 23 February 2012 - 23:01
Thank you all for your honest opinions :) Just trying to see their faults as not to become kennel blind. I love them for what they are,
working dogs.... good looks and an ok stack job is just icing on the cake.

Deuce has been training in Sch. for a few months and going very very well. Cera just started this past Saturday and did really well
IMO. Deuce is almost ready for his BH, yay.. and is ready for an AD. Cera is ready for an AD and probably not her BH in time for our
next trial. Maybe in the fall. I'll have more time to work her once we get past Nero's AKC ob trial in March and our club trial in April...
def one BH, possibly 2 and 3 ADs.. (how I'm going to convince my friends and family to help out on that one, I don't know!!)

Again, thank you all very much.

Melissa
You must be logged in to reply to posts