German Shepherd Dog > Don't Pet My Puppy...confused? (56 replies)
by
Slamdunc
on 18 January 2012 - 20:14
Momo,
I think many of us said that the dog should be well socialized. I know that I stated a well socialized, confident dog, exposed to all kinds of people and places will make a better, sport dog, companion dog, pet, and working dog. I absolutely socialize my dogs, but I do it safely and correctly. I do not allow strangers to run up and grab my dogs, pet my dogs or feed my dogs. My dogs are under control at all times and it is just as easy to tell someone "No, I prefer that you didn't pet my dog right now" as it is to say "yes, sure you can pet my dog." I decide based on the actions and demeanor of the stranger and my dog.

Jim




by
momosgarage
on 18 January 2012 - 21:40
In my experience people don't ask. Also, if its someone in authority over you, it may not be in your interest to make recomendations. Hence my point "You never know whom that might be or what power they have over your life. Best to let the dogs get to know these types of people BEFORE they get in the way, because you never know when and how your life will be changed"

However, I don't want to get into the specifics of what I mean by "authority over you". I know why I have that perspective and I hope others won't have to experience what I have. But I will say it again, in todays common sense-LESS enviroment within the USA the "Don't Pet My Puppy rule" is only acceptable for working dogs where the owner derives monetary compensation and legal recognition from handling a dog raised by the "Don't Pet My Puppy rule". My point is, if thats not you, don't bother with the "rule" because you are setting yourself up for a legal liability of some kind. If you don't have any idea of what the possiblities are, check out the stupid "rubber hand test" that folks like Victoria Wells swear by. All it takes is for one of her kind from animal control to come by your house based on a complaint. Will your dog survive the "evaluation" that someone like her makes with "rubber hands" etc? I know mine will.

Also, I am not talking about general socialization. I think today so few people are familiar with dogs, that those of us who do own them need to be on the defensive. But, defensive to me means having a dog that will take an unwanted clumsy hug from an idiot, as long as I am not reacting negatively to that person. It obvisouly does not mean the same thing to you.
by
destiny4u
on 18 January 2012 - 22:09
been looking for this answer but does not letting strangers pet and play with your dog make it more aloof?
by
Slamdunc
on 18 January 2012 - 22:31
Momo,
First off the owner is in charge of their dog and has the responsibility to the dog and stranger, the owner should agree to the dog being petted or not. I have plenty of people in "authority" over me and they will ask before petting my dog. Perhaps, I am not understanding your post. For those of us that own dogs we need to be responsible owners. We need to keep our dogs in fenced yards when not supervised, not out in an unfenced yard that another dog or stranger can enter. We need to have control over our dogs and our surroundings. We need to protect our dogs from well meaning strangers and others who want to pet our dogs. Whether or not someone pets your dog is entirely up to you as the owner. If you feel that the dog is uneasy with someone or it is a rambunctious child that may pull on your dog's ears you simply say "NO." If you have to leave. If your dog is not accepting of strangers or is sharp then you need to be extra careful.


But, defensive to me means having a dog that will take an unwanted clumsy hug from an idiot, as long as I am not reacting negatively to that person. It obvisouly does not mean the same thing to you.


I agree that in today's litigious society we need to be very careful in most things we do, especially with our dogs. I am not going to let any clumsy idiots hug my dogs. My female would love it, my male not so much. It might be a self correcting mistake if done to my male. I am confused by the "authority over you" comment. If it is your dog, even for a landlord they do not have to pet your dog to see it is has a sound temperament and is not aggressive. Not every dog likes to be petted by strangers.

Destiny,
Have friends, neighbors, relatives and their children play with your puppy. Choose people you trust and let them help socialize your dog. It doesn't have to be strangers. If you have enough people socialize your dog it will be well adjusted, it still may be aloof, but confident and well adjusted.


Jim








by
destiny4u
on 18 January 2012 - 22:49
d Jim how is your patrol dog with vets? is he ok with them? My dog seems to trust vets much better than a stranger on a street? I thought it was because vets and vet techs must know what they are doing better and probably because i let them give my dog treats and i wont let a stranger ever give my dog a treat. Plus they seem to know how to act much better and non dominating around my dog while a stranger wont know. SHes good with both but she adores the vet and shes good with strangers but keeps one eye on them.
by
momosgarage
on 18 January 2012 - 23:00
Well Slamdunc, I'll give you a simple legalese answer. In some states and localities landlords only have to give notice of entry, no later than 2 days, AFTER they have already entered the occupied rental property. What if an animal control officer wants to touch your animal without your permission, go ahead test out the results when you try and stop them? Use your imagination to determine the likely result of such circumstances with a dog trained exclusively with the "Don't Pet My Puppy rule".

I don't feel like giving a hundred examples, but I got plenty more of the same to add. The only thing that can defend you from the above and similar is MONEY and the lawyer that takes the money from you. If you didn't get what I meant by "authority over you", then we will just have to disagree. I tried to be clear without being verbose.
by
Slamdunc
on 18 January 2012 - 23:04
Destiny,
My dog is so so with the vet. He doesn't like being handled, stood over or poked and prodded by strangers. He listens and will stand to be examined, he will tolerate the vet touching his paws only because he is told too. The vet has me handle him and I am present during all procedures, even surgery if needed. The vet techs do not touch the dog, I do basically everything they would to assist the vet. The dog is muzzled at the vet, the vet really appreciates that. Even in a muzzle the dog can still do some serious damage. I'm fortunate that our vet is good with all of our dogs and understands their temperament. He actually likes my dog and has a couple of good stories from him.

Jim



by
Slamdunc
on 18 January 2012 - 23:11
Momo,
Where is the "don't pet my puppy rule?" Who said that? I guess I am dense and need the long version. I have never had animal control try to pet my dog, if they wanted to I'd say he is going to bite you. As long as my dog is contained in my yard and under my control the dog can be aggressive. He just can not bite people when he feels like it or be loose in my front yard or allowed to roam the streets. There are plenty of dogs that will bite if you enter their yard or home, I would think AC would know this. Please go back and read my posts regarding socializing dogs, then we can decide to disagree.

Jim



by
destiny4u
on 18 January 2012 - 23:13
one more question slam are most police patrol dogs like yours or are most ok to be pet by a stranger as long as the strangeris respectful ?



By respectful i mean a lot of german shepherds or at least mine if someone trys to rough handle them or is rude to them when u first meet them will make them turn on sometimes.
by
Slamdunc
on 19 January 2012 - 02:45
Destiny, we have some very friendly sociable dogs and some that aren't. Then we have several Malinois and they can go either way, depending on the dogs mood and lunar phase. As a rule, we do not let any citizens pet our K-9's even the super friendly ones. We do a lot of demos and for liability reasons we do not allow people to pet our dogs. It is easier to have a firm policy and to stick with that.
by
yellowrose of Texas
on 19 January 2012 - 03:56
Destiny:

I have never seen any policemen I worked with just let STRANGERS or even the city council men pet their dogs.

IT is known in any community that An apprehension pd dog is for that. IT is known that a Trained Patrol dog is just that.

THE sign on my truck says CAUTION K9 on all doors and my tailgate..WHY///because I do not want strangers petting my dogs..

Reason: ALL my dogs are socially well trained but the people petting the K9's I own may not be trained/????

FUNNY? to me yes. I am sure Jim and ANYONE here with dogs that are completely trained, all know what I mean..cannot count how many time unleashed dogs, kids screaming and people who do not know how to pet a german shepherd , walk fast as they can up to one of our dogs, and get stopped by me, with " I am sorry but OSCAR is not to be petted..HE is a trained k9 and he may bite if you do not honor or respect his wishes..".

You know why?? Most strangers or people out and about think you go pat a dog on top of head...and some people have fear in their approach and our dogs smell it and sense it and it could and would not be wise to let JUST ANYONE you personally do not know pet your dogs. Puppies do not need to be out in public to be petted unless they have their shots completed and then be selective.

ANIMAL control would never ever ask me to touch any dog I own...I am known and my dogs are known in any community I am in,,,my reputation is enough that no Animal Control has reason to touch my dogs. THE only reason any animal control would touch a dog would be to remove it with a net or a tranquilizer gun if it was rabid or bit someone.

My dogs are muzzled for my safety at the vet..Even though only two males I have would maybe turn up a lip or two. I do not want the responsiblity of my dogs biting the hand that would heal them

YR


by
destiny4u
on 19 January 2012 - 04:48
YR i had no idea u are a k9 man


how many dogs do you have?
by
yellowrose of Texas
on 19 January 2012 - 05:39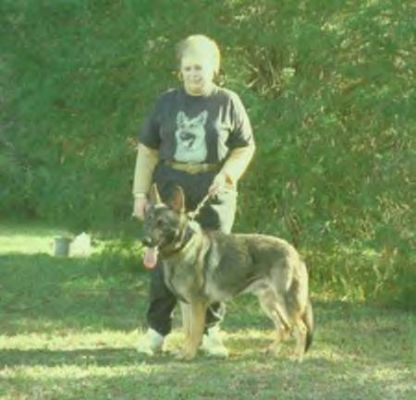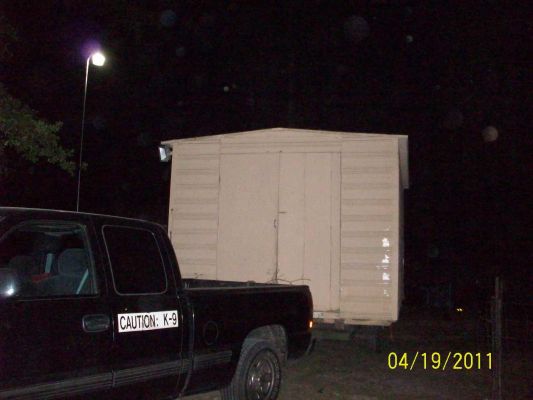 Destiny": I am a lady....I worked with gal Co SO in their dog program under Head K9 officer, and with Harris Co SO> and my dog Konig above was on Consignment with the dog Trainer, who stole him and we prosecuted him along with 3 felonies involving Deputy of Gal Co SO who had stolen from him 4 of my pups we trained for selling to a dept.
I worked with a Detective Agency out of Houston after I spent 3 yrs training and working along side many apprehensions, night trackings , with me going in my truck ,which above you see one of there signs supplied by SO for my welfare and others..Many times , after training, we would stop at stores for refreshment or on the way out of park...older people or kids would run up to our vehicles and once an older lady claimed she fell in a hole and sprained her ankle because our dogs jumped in cages and at the window of our trucks when inside the cab.

The K9 officers were supplied with magnetic signs for all our vehicles and me included..

I spent 5 yrs and when I moved to East Texas I trained with the Captain of Shreveport Fire Station 4, retired now and former dog trainer of many years..He knew Larry Filo who I imported my foundation female from

I continued training here with officers of Local dept who have one of my dogs in a personal home not on force.

I have 8 germans left of which 3 are trained fully and the others are trained in same venue everyone elses dogs are....my body guards and companions..

I was never certified by the PI company because I have 4 spinal vertebraes that kept me from passing any kind of over the fence , under the bar and hurdle a 8 foot A frame or scale a wall..

SO I just enjoyed the part I did do and I sure learned a lot.. I was taught to track with a certified Texas Narcotic officer in the Harris CO SO.. Robert Dodd...he taught me more than I could have learned from any sport club, which I did train in for 2 yrs in Houston , Spring Valley..

Being single for all these years I have learned from many schutzhund trainers, breeders and one or two of them ride this board.
No matter what you do with your bloodlines, there is a place for everyone to learn from so many people but I do not recommend learning from anyone that has not gotten the Schutzhund background and served in some kind of Police Training program. I bred three of my females to Camerons Gator who is the son of Orthos v Tiekerhook of our great member of PDB Greg Mominee., and a recipient of many top National Police DOG championships, and was the Aprehension K9 for Gal. CO. SO.

Now you know a few more things about K9 YR.. I am known back home as the K9 lady and the HAT Lady...

YR
by
dutss
on 19 January 2012 - 12:06
let people pet your puppy. Be happy it is confident enough to approach peopple. Just dont correct it for jumping up on people or pushing them around.

When the dog matures you can ask people not to pet your dog. More than likely it will become more alloof on its own.

Over 90% of people who start sch do not stick with it for more than a year. Much of the remaining people only do it socially. The serious people who keep thier dogs away from people from a young age are still probably just pattern training their dogs as obedience for the protection portion anyway.

Yeah, let people pet your puppy, you dont want to end up with problems later.







by
magdalenasins
on 16 April 2012 - 17:04
I think it depends on the puppy. Generally no one pets my puppy that won't be around my puppy (in laws, friends) and almost always kids who seems respectful and ask (or ones that don't and I teach to ask first their parents and then a dog's owner). I have had puppies that had no pets from anyone (but met a million people) grow into dogs who wanted to leap down people's throats and lick them to death and puppies who were pet by everyone stay generally aloof and puppies in the middle. Different breeds, different dogs, different temperaments.
by
fawndallas
on 16 April 2012 - 19:40
Just my 2 cents

Rose is trained both ways; "there is a time for work and there is a time for socialization/play." She clearly understands the difference.

If the harness goes on, it is work time. No matter how tempting, everyone is ignored. Now, we encounter the occasional person that cannot/will not read the harness ("Service dog in training") and come running up and start petting without asking. Rose accepts this easily, but acts bored the whole time.

If there is no harness on, everyone is her best friend. I have taught her though not to push or demand attention, as there are people who do not appreciate a dog coming up sniffing. Talk is always wagging though.

That said, she is not trained for protection and I would not expect any agressivness from her. Her protection is mostly "sight." "That is a GSD; they are mean." I do not encourage or discourage this thought pattern.
~~~~~~~~~~~~~~`
Flip side: My male is also not trained for protection, but he has also not been socialized outside the family. Based on his reaction before, I have no doubt he will eat a strangers lunch if needed.

Although, he got loose once when we were gone. The neighbor come down to her pasture across the road and Baron explained to her that this was his area and to leave. The neighbor gave him a firm command "go back home." Baron got quite, went back towards the house and sat down to watch her. She said that was the funniest thing she had ever seen.
You must be logged in to reply to posts