Tebow
by
freecalkid
on 07 January 2012 - 16:34
We have the "blue" dwarf from Montana Rescue - thanks Steph! He has so filled our lives.

We named him Tebow - after Tim Tebow. They said he couldn't make it and continues to excel. So our "Tiny Tim Tebow" is following his mentor's footsteps. Football followers understand.

He is doing well... lost a couple of pounds but I'm sure it is from being on thyroid meds... thanks Steph! He has been rechecked and the doseage is correct. He had a skin issue and we decided to
go the anti-biotic route to clear it up and that has worked well.. he gets yoghurt regularly to help the bacteria issue. He appears to be starting to grow some patches of real hair. His bald elbows have white hair growing and his back leg where there was one tuft of real hair, now has little patches around it of black hair. There are various places on him where he is getting little patches just starting to grow.

My only concern about him is he is showing cervical problems... stretches the neck and can't bend down to reach his foot, then stretches with his nose to the ceiling, then tries for his foot again. I will continue to monitor this situation... anyone know anything about this? I have heard that some have cervical spine non-closure issues. I'll get it checked out next week to see what's going on.

He is settling in well.. takes over the couches and does what he wants. He loves to take the blankets out of the kennels and then proceeds to shred them! Typical puppy stuff
who needs to learn house manners. Housebroken but has a few little poopies once in a while ... but with the new diet he will adjust. It is too cold to leave him out long enough is the problem I'm sure.
I insist on one of us being with him as we live in the wilderness... no eagle or coyote will get my boy. He is is awesome!

He loves to fetch his toys and waits till we throw them again... he is doing well on leash training and has "sit" and "stay" down already.

His skin issue he arrived with is now corrected and he is on supplements for that... I'm giving him fish oil 2x day, CoQ10 (1x day) and Vit E - every other day till we see how
he tolerates it. He is eating Taste of the Wild in the AM and raw at the PM feeding. Tolerates the diet well.

There is a facebook group now for dwarfs - a book is planned to help owners... some really dedicated owners on there.
by
GSD Admin
on 07 January 2012 - 16:47
Please post pictures when you have time. I am sure everybody would love to see some new pics.

Good luck with lil Tim and thanks for rescuing him.
by
Jenni78
on 07 January 2012 - 17:04
Oh, that poor little dog.

I would take him to a chiropractor. I have seen excellent results in my dogs and you can head off a lot of problems later on. They're not terribly expensive, either, and you can often avoid costly surgery and medication.

I would get/keep him on a POTENT probiotic designed for dogs. Yogurt is not strong enough. I use this one, but there are others.
http://probiotics.mercola.com/probiotics-for-pets.html

by
freecalkid
on 07 January 2012 - 17:34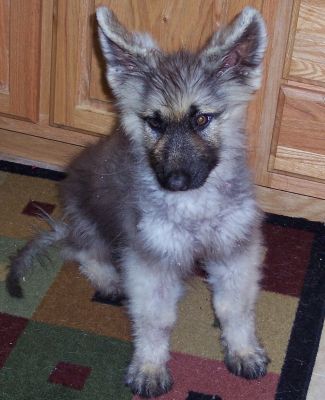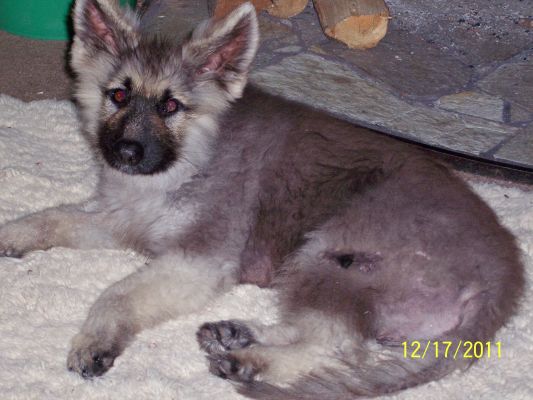 #
by
freecalkid
on 07 January 2012 - 17:36
Thanks Jenn for the link. Order placed.
by
Dawulf
on 07 January 2012 - 19:30
Aww, he is too cute! Glad he has a home! :)
by
Carlin
on 07 January 2012 - 19:57
Cute puppy! Let's hope he ends up a much BETTER dog than Tebow is an nfl qb. :-)
by
yellowrose of Texas
on 07 January 2012 - 20:34

That was not nice Carlin!!

I love it you named him Tebow!!

He is adorable..and he fits his name well...He is adorable in his Referee looking vest..lol

manly outfit!!

YR
by
yellowrose of Texas
on 07 January 2012 - 20:47
FreeCalkid:

YOu remind me of Tim Tebow who takes things of helping those who are unfortunate in lifes paths out with his time he devotes to both nfl and other things...a former Heisman winner in 07 this was released today...

Your Tebow will become the Light of the Dwarf gsd world like this little 9 yrs old looks to Tim Tebow for his light at the other end.....''


Tim Tebow has a hero – a terminally ill 9 year- old with a bucket list
by
yellowrose of Texas
on 07 January 2012 - 20:53
Freecalkid and Steffy:


Congratulations on doing such a great job with little Tebow from

You to Steffy in Montana Rescue also..

Both of you deserve the best. for 2012

Keep us updated with pics and reports.

I have never seen a dwarf or knew of one to learn about so this will be exciting for all of us to chime in and watch Tebow grow..

YR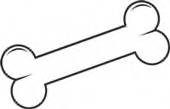 by
Blitzen
on 07 January 2012 - 21:05
I have a bottle of about 750 0.1 mg Thyroxine L /levothyroxine sodium tabs, expiration date 4/12. If you can use them for Tebow, PM me here.
by
Judy P
on 07 January 2012 - 23:02
That is certainly one freaking cute puppy!
by
Blitzen
on 07 January 2012 - 23:59
The K-9 Tebow must be about the most adorable dog I have ever seen. He has a great home now so the world is his oyster. How could anyone not spoil him?
by
yellowrose of Texas
on 08 January 2012 - 01:28

Freecalkid:

Buy little Tebow a football dog toy...so he can learn to throw it..lol

YR
by
Krazy Bout K9s
on 08 January 2012 - 13:27
Kathy,
I am so glad you are enjoying him, he is a sweet and fun fellow...Tebow/Ewok, did do some stretching here, but I didn't notice anything wrong with the way he did it. I use a doggy chiropractor/acupuncturist here, on some of my dogs, that could do a treatment and see what she thought. Dr. Linda is awesome. We could haul him back here and do a treatment. Let me know. I don't think you have anyone up in that area...

Went down to Leadore, Idaho yesterday to take in a 4 month old black GSD pup, looks like maybe some lab in him....sweet pup, poor guy has been there since before Christmas, can't understand why anyone wouldn't want him. He is smart and willing to learn...
Hugs, Steph
Here is Jackson....before he came here, now his ears are flopping from teething...if you know of someone looking...;-))))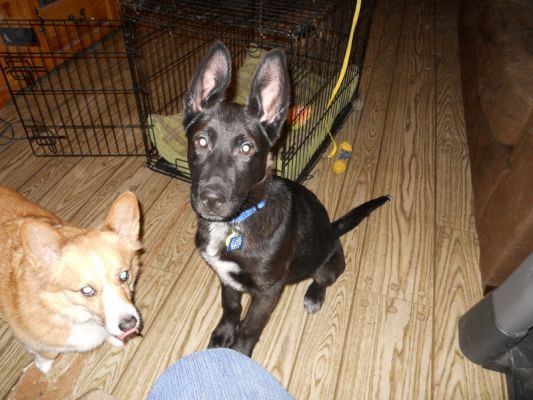 by
GSDPACK
on 08 January 2012 - 23:09
you guys gave me great laugh, thank you!
And I am happy for MR CUTE to find a very good home!
by
mentayflor
on 09 January 2012 - 00:19
I love Tebow, I want to tell you that I rescued one of my dogs (Memé) from a shelter, the other from the street. That kind of dogs are magical. Now, I can't understand correctly because I do not speak english but you said he move his head toward the ceiling, I wonder if it could be because he has a lung problem, and cannot breath. Please show the picture when she do that if you can. Goood luck with your angel!
by
yellowrose of Texas
on 09 January 2012 - 01:55
Little Tebow is sure proud of his namesake today...........


yr
by
yellowrose of Texas
on 09 January 2012 - 01:59
I sure hope little Tebow is barking and knows what happened today???

YR
by
ggturner
on 09 January 2012 - 21:05
Very cute puppy and I love his name!
You must be logged in to reply to posts