German Shepherd Dog > Worried about female weight. Almost 10 months (20 replies)
Worried about female weight. Almost 10 months
by
jrmullenax
on 27 September 2011 - 16:08
My female german shepherd, Ryder, is almost 10 months old and she weighed in a week ago at 51.5 pounds. She is very healthy and very athletic, but seems to be small for her age. Will she continue to grow? Her vet said last week that she would most likely get to 65 pounds, but what are your thoughts?
by
GSDguy08
on 27 September 2011 - 16:32
She probably will end up at 65 lbs....I would be totally ok with a female GSD who ends up 60-65 lbs. 51.5 at 10 months for a female is a nice medium size dog for that age. I wouldn't worry too much about it. Remember female GSDs aren't meant to be overly tall, heavy dogs, they're meant to be a medium size working dog. How tall is she at the shoulders?
by
VTcoach
on 27 September 2011 - 16:32
Can you post a picture?
That weight doesn't seem too bad for an average female of that age.

by
BoCRon
on 27 September 2011 - 17:53
My female is 9 mos old and weighs 49lbs as of last week. To me she is a great size, I'm guessing she will end up in the 60-65lb range which is perfect.

Annette

by
HighDesertGSD
on 27 September 2011 - 17:54
Unless she is very skinny now, she likely will not reach 65 pound in ideal weight.

If she is at ideal weight as a pup at ten months, she will likely be about 60 pounds even at two years of age, IMO.

This is an OK size for a female. Not really small.
by
jrmullenax
on 27 September 2011 - 20:38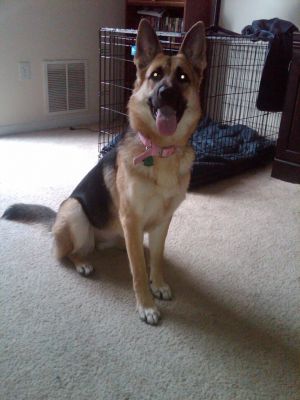 This is her two weeks ago.
by
jrmullenax
on 27 September 2011 - 20:40
and one more with Tennis ball in her mouth. haha.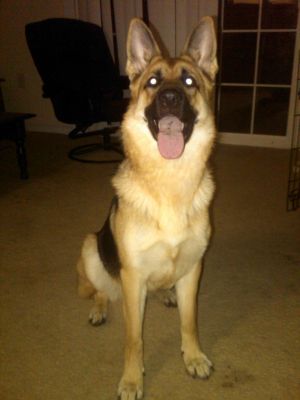 by
vonissk
on 28 September 2011 - 00:45
I think she is very nice and a very nice size. My girl turned 2 in April and she weighs 60.6 #s. She is very agile and very fast. I like a nice sized female like that. Like someone above said they are supposed to be a medium dog.
by
Slamdunc
on 28 September 2011 - 01:17
She looks just fine and a female GSD should be around 65lbs when full grown. GSD's typically don't fill out until they are 2 to 3 years old. Don't worry about her weight or size, make sure she has a waist line and you can run your fingers down her side and feel her ribs.

Please do not pay any attention to anyone who says she is too small or they had a 120 lb GSD. A 120 lb GSD is a fat, poorly bred dog. It really irritates me when people start talking about their huge GSD's. A GSD is medium sized dog and an adult female should be around 65lbs. Your dog looks great and very happy.


by
Ace952
on 28 September 2011 - 04:13
i wouldnt worry about it. my boy turned 1 year old in july and was 59in lbs. the weight will come on for sure.
by
Siantha
on 28 September 2011 - 04:53
you dont want them too big my female is 82 lbs and she is over the height in the standard. i like a good 60-70 lb female is perfict the heavyer and bigger the dog the more prone to getting hurt in protection work or agility.
by
Six13
on 28 September 2011 - 06:09
My female is 6 months and weighs 52 pounds. doesn't look like she is going to be a massive and does not carry any extra weight. what is the normal weight and height for a female once she is fully grown?
by
Donnerstorm
on 28 September 2011 - 06:30
I wouldn't worry about the weight she appears to be at a very good weight right now, she may get a little bit taller, she may fill out a little bit more but she is beautiful as she is, enjoy her and remember to tell her how pretty she is, you know us women flattery will get you everywhere!

by
Two Moons
on 28 September 2011 - 06:41
Ryder looks fine,
If you feed her a good diet and give her that exercise that keeps her athletic she will mature around age two and will reach her genetic potential.

No crystal ball will tell you what that may be at ten months.

Look to her bloodlines, perhaps older siblings for some guidance to compare her with.

You could stunt her with poor care, but nothing's going to make her any larger or smaller than her breeding and genetics have already decided.

Be less concerned with what a scale reads and look at her form, structure, muscle tone, amount of fat under her skin.


Don't worry so much.

Moons.
by
Felloffher
on 28 September 2011 - 06:43
I have a small 1 year old female that is only 50lbs. She's a little firecracker, tough, very agile and a ton of drive. Enjoy her there are many benifits owning a smaller GSD.
by
Tarakiwa
on 28 September 2011 - 11:03
I would not worry about weight and size......worry about nutrition, excercise, training and just being healthy. She looks a medium sized bitch, which is perfect...people say " I have a dog which is 80lb in weight", like if its a good thing !! Medium sized GSD are perfered over oversized, so do not worry !!
by
Jyl
on 28 September 2011 - 17:45
I agree with what everyone says, she looks great. She is a good weight.

My female, the one in my avitar, is on the upper end of weight for a female GSD.. well at least how I feel. My female is about 23.5 inches tall and weights 72 pounds. She is very fit and has endless energy.
by
SitasMom
on 28 September 2011 - 19:44

your girl is perfectly fine .... top weight of a femal is only 72 lbs per the breed standard...... don't worry.

by
MVF
on 29 September 2011 - 04:26
She looks great but she will not get to 65 lbs until her middle age, and only if she becomes matronly. Some females are close to final weight at 10 months and others gain a little. She will be 55-60 and that's fine.
by
MVF
on 29 September 2011 - 04:31
Six: 52 lbs at 6 months is fine. She will grow another 5cm (2 inches) at the withers (one between 6 and 7m, and then one inch after 7m). She will gain considerable weight after 6m, however. Typically, females gain 20% (males, 25%) between 6m and a year, and then a little more after that. So your girl may be 60-64 at 1y and in the high 60s at maturity. If she has been starved until now, and is fed well later, of course she will grow more. If she is fat now, less.
You must be logged in to reply to posts