German Shepherd Dog > Just a picture from today. (29 replies)
by
yellowrose of Texas
on 06 September 2011 - 06:03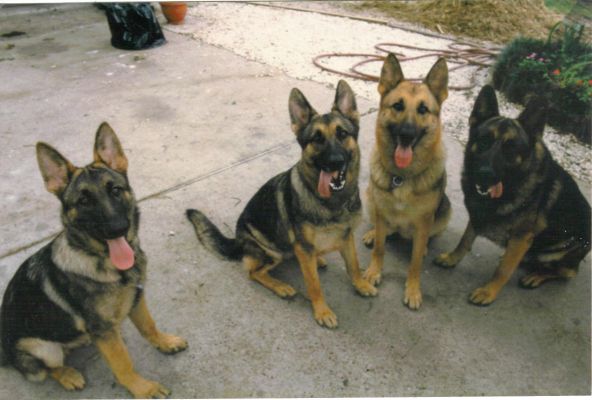 I found a few Sables also... Zu and three of her FLUSS TAL/SteinigTal/BuseckerSchloss kids.

YR

I n my driveway before we went to Jack Brooks Park to swim,
by
Justk9s
on 06 September 2011 - 18:44
Great picture. Gorgeous dogs. Kim Justk9s
by
LadyFrost
on 06 September 2011 - 19:28
GSDPACK.... :) absolutely gorgeous (not that you didnt know that already..LOL)...great job getting them all to stay together...
by
hunger4justice
on 06 September 2011 - 20:18
Great pics! You all should submit them to a GSD calendar!

I think GSDpack and YR are too modest to say they are great trainers and that is how they can get their dogs to pose so attentively.


Rico, nice grip and nice dog...who is he?
by
Rico
on 06 September 2011 - 21:13
Hello hunger4justice

The name of the GSD is YOSHYI VOM HAUS DEXEL. Thanks for the compliments.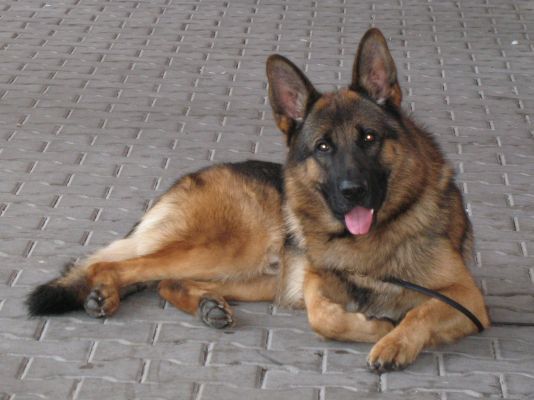 by
Gildaf
on 08 September 2011 - 21:18
BEAUTIFUL GSDPack!
Just beautiful!
by
Donnerstorm
on 09 September 2011 - 08:58
I have yet to decide if picture taking is an exercise in training, patience, or sanity because all seem to be be tested! I do believe that is where all of mine earned such wonderful nicknames like butthead! Especially when they are younger, they are just like 3 yr olds with ADD and IQs of 140 when the camera comes out, everyone wants to ham it up, as soon as you get one to do what you want somebody else seems to think "hey she's got her hands full she can't do anything to us". And if they do lay down together when I look at the pic you can almost hear the conversation like the back seat of a station wagon in rush hour "she's touching me" "he's looking at me". The worst part is the only way to stay sane is to laugh at them and mine seem to know exactly how to look at me to get that reaction! When they have to they all listen well, there isn't a one of mine that will disobey an out or make me give the command more than once, on the rare occassion there is a tuff in the group all I have to do is give one command and they all drop to a platz. I can walk in a room clear my throat and they all lay down. But they have the ability to read me like a book and if it's a situation that they can do it and cause me to errupt in laughter they are all for it!! Nothing like knowing you just got outsmarted by your dog!

by
yellowrose of Texas
on 10 September 2011 - 21:19
Your are absolutely correct , Donnerstorm and I agree Hunger4Justice:


<Many times I have walked around my property for 1 hour with camera in hand and shot 39 plus pictures , deleting and redoing..

Just to get a picture..THE first pictures were of my foundation kids and they loved posing. THE man that took the picture of the Three Muskateers, Yap, BOZO and Bali, all ZU and Konige kids, was scared to death.
He was a professional photographer, and I drew a huge crowd getting those there and four more posed.

BUT that group of kids, was ultimate obedienced. Back then I was in a schutzhund club , attended all the time and was working on strictly on obedience and FOCUS>

MY dogs had intelligence and focus with capital I and F...so It was very easy for me then..

I started them at 4 to 6 weeks old.

Do not laugh..In the parking lot of Hutto Trial , I ran into one of our former USA team participants from years back and she is my age, and she had a 5 week old pup , training focus..

SO it begins then....

YR




by
yellowrose of Texas
on 11 September 2011 - 07:45

Hunger 4 :
I found this tonight in Ohio on a long stay , on a trip , in an unfamiliar place. I always tried to train my kids in very unusual places , keeping them focused on me for any commands .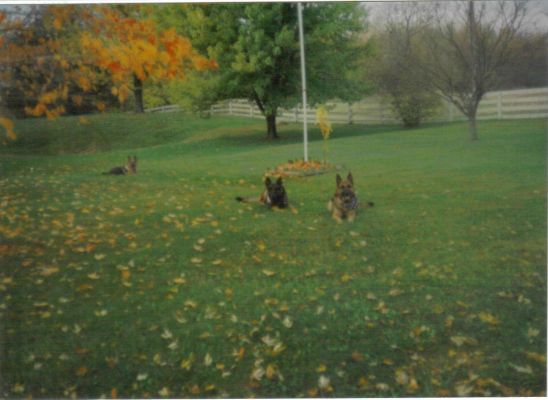 TITLE of this picture is FROM a Distance!! Fall in Ohio
by
Wanda
on 14 September 2011 - 00:47
Gorgeous! Yes, definitely calendar worthy!
You must be logged in to reply to posts