This is a placeholder text
Group text
V1

 Otti von den zwei Steinen IPO1, BH, AD Kkl 1 
Sire Born: 12. September 2007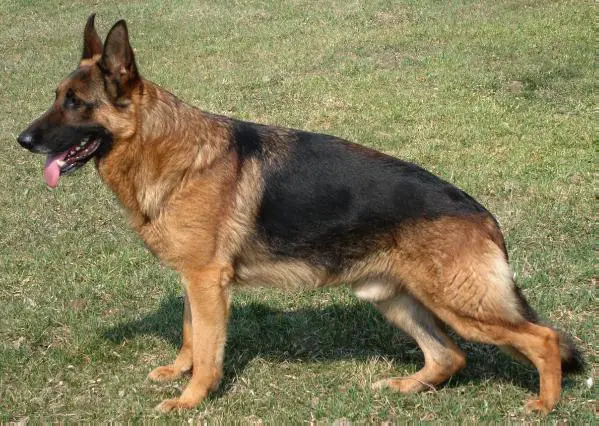 SZ:  2210494
Hip: SV: HD a-normal (a1) - Elbows: Not known
Jump to comments
Breed report
Großer, mittelkräftiger, schwarz-gelb-brauner Rüde Rüde mit guter Pigmentierung, besitzt einen kräftigen Kopf mit korrekten Ohren und dunkel Augen, hoher Widerrist,fester Rücken, gut verlaufende Oberlinie, Kruppe leicht abfallend, korrekte Front, gute Brustverhältnisse, Vorhand könnte idealer gewinkelt sein, der Vortritt freier, die Hinterhand ist betont gewinkelt, könnte jedoch in der Bemuskelung und Festigkeit der Sprunggelenke besser sein. Körmeister: Frank Goldlust Angekört 2012-2013 Groß, mittel kräftig, gutes Verhältnis, harmonisch aufgebaut, guter Ausdruck, fester, gerader Rücken, korrekte Kruppe, gute Vorhand¬struktur, sehr gute Winkel der Hinterhand, Brustverhältnisse sind ausgewogen, gerade Front und Trittfolge. Zeigt kraftvolle, sehr raumgreifende Gänge. TSB ausgeprägt; läßt ab. Körmeister: Wilfried Scheld
Linebreeding
SchH3
2004
SZ 2149992
HD-SV: HD a-normal (a1)


Sire







Groß, mittelkräftig, gehaltvoll, sehr gut pigmentiert, trocken und fest, in sehr gutem Verhältnis aufgebaut, ausdrucksvoller, kräftiger Kopf, betont hoher Widerrist, gerader Rücken, sehr gute Länge und Lage der Kruppe, sehr gute Winkelungen der Vor- und Hinterhand, korrekte Front, korrekte Schrittfolge, betont kraftvolle, weit ausreifende Gänge bei sehr guter Gesamtfestigkeit. TSB ausgeprägt; läßt ab.

SCHH3
2001
SZ 2084333
HD-SV: HD a-fast normal (a2)


Sire






SCHH3
1998
SZ 2033448
HD-Normal


Sire






SCHH1
1997
SZ 2006164
HD-SV: HD a-normal (a1)


Dam






SCHH1
1999
SZ 2049399
HD-SV: HD a-normal (a1)


Dam






SCHH3
1997
SZ 1998887
HD-SV: HD a-normal (a1)


Sire






SCHH2
1993
SZ 1879423
HD-SV: HD a-normal (a1)


Dam






SCHH2
2004
SZ 2139101
HD-SV: HD a-fast normal (a2)


Dam







Groß, mittelkräftig, leicht gestreckt, trocken und fest. Hoher Widerrist, gut verlaufende Oberlinie, Kruppe normale Lage, leicht abfallend, korrekte Front, sehr gute Winkel in Vor- und Hinterhand mit schwungvollen Aktionen. TSB ausgeprägt; läßt ab.

SCHH3
2000
SZ 2062960
HD-SV: HD a-normal (a1)


Sire






SCHH3, FH
1998
SZ 2010154 (AKC DN10902401 10-05)
HD-SV: HD a-normal (a1)


Sire






SCHH1
1996
SZ 1983812
HD-SV: HD a-fast normal (a2)


Dam






SCHH2, BH, AD
2000
SZ 2064405
HD-SV: HD a-normal (a1)


Dam






SCHH3, FH
1994
SZ 1919865
HD-SV: HD a-normal (a1)


Sire






SCHH3 FH1
1995
SZ 1953858
HD-SV: HD a-normal (a1)


Dam



Picture galleries
By happy dog - 12.1 years ago
Körung, Kkl.1, Richter SV - Wilfried Scheld, TSB: ausgeprägt; läßt ab (Überprüfung)14.08.2011 in UA, Bila Tserkva.
By happy dog - 12.5 years ago
User comments
This is a dog pedigree, used by breeders and breed enthusiasts to see the ancestry and line-breeding of that individual dog. The pedigree page also contains links to the dogs siblings and progeny (if any exist). For dog owners with purebred dogs this is an excellent resource to study their dog's lineage.
---
---
Contact information
Disclaimer
Privacy Statement
Copyright Information
Terms of Service
Cookie policy
↑ Back to top