This is a placeholder text
Group text
V

 Ajax vom Haus Sönke SCHH1
Sire Born: 19. July 1969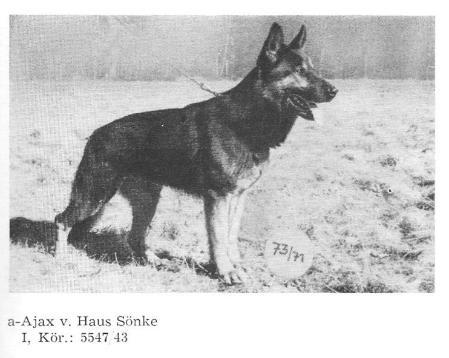 DDR  44918
Hip: Not known - Elbows: Not known
Jump to comments
Breed report
DDR Kör.: 554 6/44 - V . Mittelgroßer, betont mittelkräftiger Rüde mit markantem Schädel und sehr gutem Ausdruck, vorzüglich im Gebäudeaufbau , wenngleich in der Mittelhand etwas gestreckt, sehr gute Winklungen der Vor - und Hinterhand und mit bodendeckendem Gangwerk. Im Wesen sehr sicher, nahe am Wesensideal mit guter Schärfe und betonter Härte.
Linebreeding
SCHH3 FH
1966
DDR 30928
HD-


Sire




DDR Kör 5535 - V Mittelgroßer , betont mittelkräftiger, fast kraftvoller Rüde, der einen sehr guten Typ verkörpert. Recht guter Gesamtaufbau, fest und geschlossen, gut gewinkelte Vorhand und im Knie nicht zu betont gewinkelte Hinterhand, gute Gänge. Im Wesensideal stehend, sehr sicher mit sehr guter Schärfe und ausgeprägter Härte. Medium-sized , markedly medium strong, nearly powerful male, embodies a very good type. Correct good overall structure, firm and closed, good front angulation and in the elbow, not too markedly angled rear quarters, good gaits. In Ideal temperament, very sound with very good sharpness and pronounced hardness.

SCHH3
1963
DDR 19591
HD-a-zuerkannt (normal)


Sire






SCHH3
1961
DDR 13397
HD-DDR a-zuerkannt


Sire



SCHH2
1959
DDR 9807
HD-DDR a-zuerkannt


Dam



SCHH3 FH
1962
DDR 17191
HD-


Dam



SCHH3 FH2
1959
DDR 9589
HD-zuerkannt


Sire






SCHH3
1955
DDR 1533
HD-


Dam



SCHH 2,
1966
DDR 32267
HD-DDR a-zuerkannt


Dam




DDR ZTP: 5447/33

SCHH2
1963
DDR 19684
HD-Normal


Sire






SchH3, FH3
1959
DDR 09592
HD-zuerkannt


Sire






SCHH1
1958
DDR 7780
HD-DDR a-zuerkannt


Dam



SCHH 3
1963
DDR 21852
HD-DDR a-zuerkannt


Dam



SCHH3
1960
DDR 10988
HD-


Sire






SCHH1 FH
1958
DDR 07437
HD-


Dam



User comments
This is a dog pedigree, used by breeders and breed enthusiasts to see the ancestry and line-breeding of that individual dog. The pedigree page also contains links to the dogs siblings and progeny (if any exist). For dog owners with purebred dogs this is an excellent resource to study their dog's lineage.
---
---
Contact information
Disclaimer
Privacy Statement
Copyright Information
Terms of Service
Cookie policy
↑ Back to top