SG1 (USA)

Fyrd von Barak BH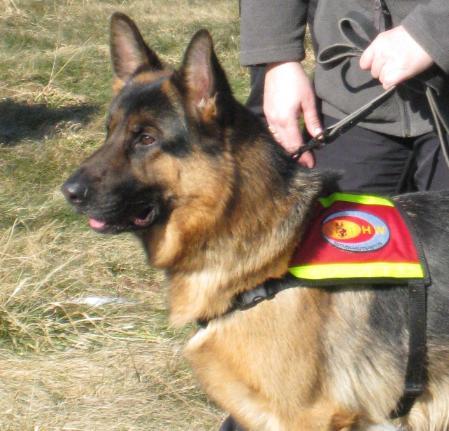 Hip: OFA: Good - Elbows: Not known
Breed report
No breed report has been submitted
Linebreeding
SCHH3
1998
SZ 2020273
HD-SV: HD a-normal (a1)


Sire







Übermittelgroßer, mittelkräftiger, sehr typ- und ausdrucksvoller rüde, der in einwandfreiem Verhältnis aufgebaut ist. Hoher Wiederrist, fester Rücken, sehr gute Kruppenlage und -länge Sehr gut gewinkelte Vor- und Hinterhand, harmonische Brustverhältnisse, korrekte Front. Hinten und vorne geradetretend, ist das Gangwerk weit ausgreifend mit sehr viel Raumgewinn. TSB ausgeprägt; läßt ab.

SCHH3, FH
1994
SZ 1919865
HD-SV: HD a-normal (a1)


Sire






SCHH3
1990
SZ 1769704
HD-SV: HD a-fast normal (a2)


Sire






SCHH2
1992
SZ 1839291
HD-SV: HD a-normal (a1)


Dam






SchH2
1994
SZ 1890244
HD-SV: HD a-normal (a1)


Dam



SCHH3, FH
1991
SZ 1823760
HD-SV: HD a-normal (a1)


Sire






SCHH3
1991
SZ 1833491
HD-SV: HD a-normal (a1)


Dam



SCHH1 LBZ
2000
SZ 2084684
HD-


Dam






SCHH3, IPO3, FH2
1997
SZ 2016102
HD-SV: HD a-normal (a1)


Sire






SCHH3
1995
SZ 1945049
HD-SV: HD a-normal (a1)


Sire






SCHH3
1995
SZ 1955361
HD-SV: HD a-noch zugelassen (a3)


Dam








1998
LOI 9937503 (SZ 2084616)
HD-Normal


Dam






SCHH3, FH
1994
SZ 1919865
HD-SV: HD a-normal (a1)


Sire






SCHH1
1995
GT 621631
HD-SV: HD a-fast normal (Italien)


Dam



Picture galleries
By cherub - 9.8 years ago
Training with Schaferhund Schutzhund Club, NY...helper Bob Frampton.
By cherub - 9.8 years ago
By cherub - 12 years ago
Photos age 6 weeks to 6 months
User comments
This is a dog pedigree, used by breeders and breed enthusiasts to see the ancestry and line-breeding of that individual dog. The pedigree page also contains links to the dogs siblings and progeny (if any exist). For dog owners with purebred dogs this is an excellent resource to study their dog's lineage.
---
---
---
---
Contact information
Disclaimer
Privacy Statement
Copyright Information
Terms of Service
Cookie policy
↑ Back to top