This is a placeholder text
Group text
Nino vom ICER 
Sire Born: 22. November 2017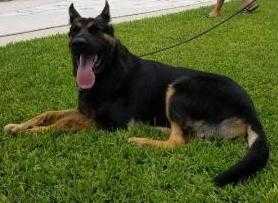 AKC  DN52580201
Hip: OFA: Good GS-104277G28M-VPI - Elbows: OFA: Normal GS-EL45458M41-VPI
microchip: 941000022023025
Other health issues: DM Homozygous N/N, Clear GS-DM8643/10M-PI
Jump to comments
Breed report
No breed report has been submitted
Linebreeding

2010
SZ 2256254 (AKC DN31032501)
HD-OFA: Good GS-87296G27M-VPI


Sire






SchH3
2001
SZ 2085021
HD-SV: HD a-normal (a1)


Sire






SCHH2
1996
SZ 1953717
HD-SV: HD a-normal (a1)


Sire






SCHH2
1997
SZ 2015129
HD-SV: HD a-normal (a1)


Dam






SchH1
2008
SZ 2217283
HD-SV: HD a-normal (a1)


Dam






SCHH3 FH
2002
SZ 2105214
HD-SV: HD a-normal (a1)


Sire






SCHH3
2004
SZ 2155873
HD-SV: HD a-normal (a1)


Dam








2012
AKC DN33658008
HD-OFA: Good (GS-90807G28F-VPI)


Dam








2010
AKC DN29112401
HD-


Sire






SchH3
2007
SZ 2201593 (AKC DN28283601)
HD-SV: HD A Normal (A1)


Sire








2006
AKC DN14955106
HD-OFA: Good (GS-82746G47F-NOPI)


Dam








2008
AKC DN23030003
HD-


Dam








2005
AKC DN12915703
HD-OFA: Good (GS-78545G26M-PI)


Sire








2005
SZ 2170304 (AKC DN15418401 )
HD-


Dam






Picture galleries
By Guanabo - 3.9 years ago
Nino babysitting.
By Guanabo - 3.9 years ago
By Guanabo - 4.3 years ago
March 31, 2018 Vet's visit
User comments
This is a dog pedigree, used by breeders and breed enthusiasts to see the ancestry and line-breeding of that individual dog. The pedigree page also contains links to the dogs siblings and progeny (if any exist). For dog owners with purebred dogs this is an excellent resource to study their dog's lineage.
---
---
Contact information
Disclaimer
Privacy Statement
Copyright Information
Terms of Service
Cookie policy
↑ Back to top