This is a placeholder text
Group text

by Q Man on 30 April 2022 - 09:04
I am the Breeder of "Muck vd BleuHaus"...I'll PM you...

~Bob~
by GSCat on 01 May 2022 - 01:05
Thank you, Hundmutter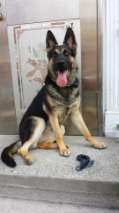 by alexnds05 on 04 May 2022 - 19:05
Working Titles are explained below:
AD (Ausdauerpruefung) Endurance Test, Approximately 12 Mile Run with Obedience Test At the End
BH (Begleithund) Companion Dog, Temperament and Obedience Examination
SCH/VPG (Schutzhund) Includes 3 Levels (SchH1/VPG1, SchH2/VPG2, SchH3/VPG3) of Disciplines in Obedience, Protection, and Tracking IPO (International Prüfung) Includes 3 Levels (IPO1, IPO2, IPO3) comparable to Sch/VPG
Titles using International Rules ZVV (Czech Republic) ZVV1, 2 3 comparable to SchH/VPG 1, 2 3 SCORES FOR SCH/VPG/IPO V (Vorzüglich) / Excellent – Earned 286-300 points SG (Sehr gut) / Very Good – Earned 270-285 points G (Gut) / Good – Earned 240-269 points B (Befriedigend) / Satisfactory- Earned 220-239 points M (Mangelhaft) / Insufficient –
Earned 0-219 points FH1 (Fahrtenhund) Advanced Tracking Title FH2 (Fahrtenhund) Superior Tracking
So if your dog has ZVV1 titles on the ancestors, you have a dog from Checkslovakia.
Title PH (Polizei Hund) Police Dog HGH (Herdengebrauchshund) Herding Dog Title BIH (Blindehund)
Guide Dog for the Blind ZH (Zollhund) Customs Dog DH (Diensthund) Service Dog Show Ratings
SIEGER 1st Place Champion Male of National Show SIEGERIN 1st Place Champion Female of the National Show VA (Vorzuglich Aulese)
Excellent Select Show or Performance Rating, Awarded at Seiger Show, Highest attainable Award V (Vorzuglich)
Excellent Show SG (Sehr Gut) Very Good
Show G (Gut) Good Show A (Ausreichend)
Sufficient Show M (Mangelhaft) Faulty Show U (Ungenügend) Insufficient
KOERKLASSE (KKL1) Breed Survey Examination, Recommended for Breeding, the best breed survey classification given (KKL2) Breed Survey Examination, Suitable for Breeding HIP RATINGS ("a normal")(A1) Normal – OFA Excellent to OFA Good ("a fast normal")(A2) Nearly Normal – OFA Good to OFA Fair Show/
Show titles for Showlines
Trial Classifications BSZS BundesSiegerZuchtSchau – National Breed Show BSP BundesSiegerPrüfung – National Working Trial LGA Regional Show Or Working Trial BLH BundesLeistungsHüten – National Herding Trial WUSV The World Union for the German Shepherd Dog – World Level Working Trial
In addition, the dog's registratino tells you the country. For example, DN always means American AKC.  NHtB always means Holland and so forth.
---
---
Contact information
Disclaimer
Privacy Statement
Copyright Information
Terms of Service
Cookie policy
↑ Back to top