by Maddmacc on 16 June 2020 - 20:06
When I put in site it says father not know but when I do a pedigree search it comes up with pedigree how do I correct?
by GSDHeritage on 16 June 2020 - 21:06

by Hundmutter on 17 June 2020 - 03:06
Maddmacc was probably entering the dog's name with spelling mistakes.

Honestly, how can someone be looking at a page which says "Not known" and still render it as 'not none ?' (topic title) and 'not know' (OP text) ???

Before anyone jumps on me, I doubt this is dyslexia ! Every dyslexic person I ever knew always goes to great lengths to NOT do things like this post.

by Western Rider on 17 June 2020 - 04:06
Hund maybe they don't have a native grasp of the language, maybe they are trying to learn/speak English.
by GSDHeritage on 17 June 2020 - 09:06
Waiting to hear back from the member to help them. I do not believe it is a language problem as many times duplicates are created
by a dog's name not showing up that is spelled correctly. The system does not always recognize the name for some reason when you type it into
forum to enter sire of dam. At least this member checked before entering a duplicate.


by Hundmutter on 17 June 2020 - 12:06
Yeah, I guess. Just that this sort of mistake seems SO unnecessary. I have sometimes tried to write things in languages other than my native English; I do not do this sort of thing, in particular, though: if I have words in front of me to copy, I COPY them !

Suppose I got out of bed with my impatient head on, this morning ...

by Western Rider on 17 June 2020 - 13:06
Hund I am around many who speak like this, they try so hard to fit in and really try to use the English language, there are some who won't try because they feel shame when critiqued.

by Hundmutter on 18 June 2020 - 03:06
Not discussing 'speaking', though, are we ? Where it's entirely excusable. We are talking about writing in a foreign language, you know: where you have some time to think, and copy, and edit ...
Nobody really notices (or shouldn't, much) if you SAY 'know' rather than 'no', or 'none' rather than 'known' when you speak to them in an accent. But we do not write in foreign accents - I can excuse all sorts of spelling and grammatical errors in posts when the author is going 'stream of consciousness' and developing their argument on something. There they have no 'right' version to refer to. But this example ??? Not trying real hard, in my opinion. (But, yes, it is JMHO ....)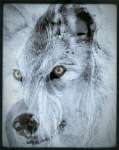 by Fantom76 on 18 June 2020 - 04:06
---
---
Contact information
Disclaimer
Privacy Statement
Copyright Information
Terms of Service
Cookie policy
↑ Back to top