by ValK on 30 August 2019 - 19:08
not sure if this even worth to be discussed. changes introduced into this branch (SL) are final and irreversible and was just first move in an attempt to screw up GSD breed.
unfortunately all of that hadn't stopped. today very actively similar work goes with offshoot, which since split was remained for practical purpose as a working dogs. sure they do not resemble dogs of SL by phenotype but by their temperament not much differ. and sadly this trend goes exponentially.
by Mackenzie on 30 August 2019 - 19:08
I also heard from someone in the US that Schumann was not the strongest character and it showed in his pups. He is a pretty dog. I am not suggesting that Kaspar is weak in his character but what are his litter mates like? Anuschka was not sound behind whenever I saw her.

Mackenzie
by Klossbruhe on 30 August 2019 - 20:08
Hard to know what his litter mates were like. Two went to Kazakstan the other to the Slovak Republic. All titled and koered for what this is worth.

Looking at Win Sys at Anuschka's progeny, virtually all listed there have IPO titles which, if you look, by comparison to several other Dams, is pretty good. Usually only about half are titled. So she cannot have ruined the working ability of all these dogs. Of course, the father comes into it, obviously.

Just as an aside, some years ago, I had a female who was not comfortable around people and was nervous in the blind. Though I showed her from the time she was 6 months old, I did not own her until she was 19 months. She was a kennel dog up until then. Both parents were SchH with very strong protection work. For her SchH1, as I said, she was very nervous in the blind...not backing out, but holding on to the sleeve, being dirty. Two years later, by the time she got her SchH3, she was a living terror on the protection field, and a very friendly dog which I could take anywhere.

My point, what was the dog's life like as a young dog. Dogs with really strong personalities are not fazed by anything. Others, with average temperaments may spook themselves and later come out of. Environment does play a role. Over the years in my club I have seen many dogs start out weak and grow into self assured adults later on because they were homed with good handlers and trainers. Many, many factors can be involved, not just genes. Who knows what Anuschka experienced prior to your meeting...
by Mackenzie on 30 August 2019 - 20:08
As you know a dogs character at any age is influenced by its owner/trainer and the bonding that takes place, A trainers skills in the way he practices those skills can improve a dogs character enormously. I think that we are on the same page with that hymn.

One thing that I can say is that the kennel where I saw her had many dogs with a poor character.

Mackenzie
by Klossbruhe on 30 August 2019 - 21:08
Shame on the breeder or person who had a kennel like that. In my experience, large kennels with many dogs do not produce sound temperaments. All the barking 24/7, little personal attention, usually poor sanitation, and god knows what else.

In Germany, the better breeders will have people for nearly every dog to hold and train, almost as if they owned it. But I have seen plenty of large kennels in Germany and the US and have not been impressed with what I saw. Many of these places are for all intents and purposes, puppy mills...


by Mackenzie on 31 August 2019 - 05:08
Klossebruhe - Anuschka was not with the breeder. You have hit the nail on the head. In fact the person that she was with, after many years in the breed, has never trained a dog in his life.

Mackenzie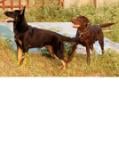 by aaykay on 06 September 2019 - 07:09
Back to the OP, I believe it will be more of the same. If the GSD showline need to be rehabilitated, it will need a complete re-do......probably 99% of the existing showline dogs will not make the cut, and should be eliminated from the GSD gene pool.

Pretty black/red dogs with a floating gait (a structure which is unsuitable for any real work) should never be the criteria to select a champion/sieger. This is the classic situation of the emperor who is not wearing any clothes. The entire outside world is laughing at the showline GSDs, while the showline aficionados continue to do exactly what they have been doing all along.....continuing to select the pretty looking but otherwise functionally useless black/red dogs.

As someone stated above, HD/ED are the least of the problems in the showline GSD.
by old shatterhand on 06 September 2019 - 14:09
aakay you are pathetic. 99% of show line don't qualify for any work. tell me how many working line dogs are suitable for work ? I tell you there are show line dogs which are not worse than working dogs. The problem here is that show people don't spend enough time to work with those dogs. Their priority is showing and not training. Same like working dogs people pay all attention to training and little to showing. For example I sold a male pup from Chacco von der Freiheit Westerholt to a man in New York few years ago . This gentleman send this dog later to one of the best kennels in Poland for IPO training. Owners son is a Police officer specializing in training dogs for Police work, Government protection, Fire Departments and so on. After he title Ammo to IPO2 the owner wanted to bring Ammo back to USA, but the trainer told him. Mister I have never seen more stable and confidence dog in my life like Ammo. Man who is doing this for a long time and trained all kinds of dogs including Malinois and mostly working line shepherds. I would like to use Ammo for breeding to some of my females. The owner agreed and they bred Ammo to few own and also outside females before he brought him back to USA. Few dogs from these breeding went later to Police, Fire Dept. and do the job like they should. I have couple youngsters males from Aries ( Chacco grandsons) ,and I don't train nor show my dogs anymore ,but I can tell you the temperament is impeccable so is the conformation. They could do any kind of work. Both athletic, can jump ,run all day long. Both friendly, playful, lots of drive and also very calm when you need them to be. All I can tell you aakay most of Us breeders will lough at your post.
by apple on 06 September 2019 - 14:09
OS,
What percentage of GSDs working as police dogs are show line dogs and why do you think that is?
by Gustav on 07 September 2019 - 11:09
Apple, as a person that has been a broker, vendor, and breeder for police dogs from 1975 until 2017, I CAN tell you why you no longer see hardly any of these dogs doing police work, ( though they are the largest segment of GS in terms of type and lines) and its definitely not the lack of training....haha.
---
---
Contact information
Disclaimer
Privacy Statement
Copyright Information
Terms of Service
Cookie policy
↑ Back to top