by duke1965 on 09 November 2018 - 12:11
I know, but that is not what we are talking about now do we, dragging fearbiters, random agressive dogs etc into the discussion, has nothing to do with a dog that will bite without prey trigger,
Hans knows that, as Novotny is breeding tons of well balanced dogs that have no problem te engage without prey trigger, and at same time are social and easy to handle for owner and his family

by Vito Andolini on 09 November 2018 - 12:11
There is difference in training for sport and LE. Sports are filled with varying levels, goals, methods, etc. Some are trying to compete at the highest level, while others just enjoy their dog, training and hanging out at the club. Some handlers want to see a balance dog showing good aggression, fight and power. Some people want a dog that isn't going to lose you points. Others want a happy little dog that enjoys himself and carries that sleeve back to the car proudly. To classify all dogs, handlers and trainers in the same light, just shows the lack of experience in the sport. Anyone that has been to a few clubs and been around the sports for a short while can tell you that there is a wide spectrum of clubs, handlers, trainers.

But like I said, there are many little differences between the two in training. When your goals are different, you worry about some things and not others. LE doesn't lose points for shallow grips, calm buits, getting dirty in a blind, etc. Slipping a sleeve and running in circles isn't a thing. As many have said, most LE don't buy dogs that have sport background, but what is common between the two, is the pedigree. And the LE doesn't have to worry about a dog being sleeve happy through genetics, but whether or not he will bite and do the job. It would take 5 seconds to test and see where the dog is at. If this person can't properly test the dog, he probably can't properly train the dog.

The continued argument that sport is killing the breed is getting old. Most of these people, that claim such, are breeding the same dogs that sport people are. Look at some of these breeders that claim to breed the "real" or "not sport" dogs. They have West German SL and WL mixed in. Dogs with pedigrees that are sought after by sport people are being used.

Good breeders are producing dogs that can excel in both.
by apple on 09 November 2018 - 12:11
I think it depends on the sport and I do think that people breeding for top IPO dogs are doing a disservice to the breed. The traits that make for a podium IPO dog are not the same traits that make for a good police dog.
by Vito Andolini on 09 November 2018 - 12:11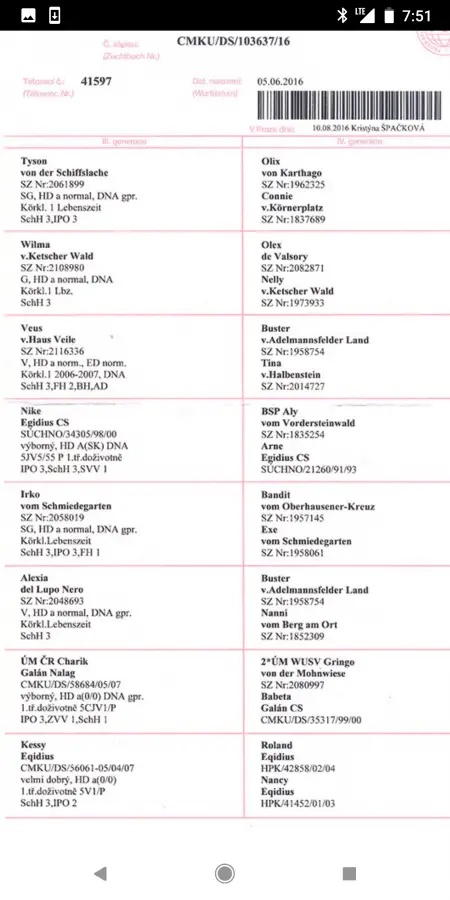 This is a pedigree of one dog being sold for LE on a prominent Breeders website. This is one of two dogs being offered for LE.
by Vito Andolini on 09 November 2018 - 13:11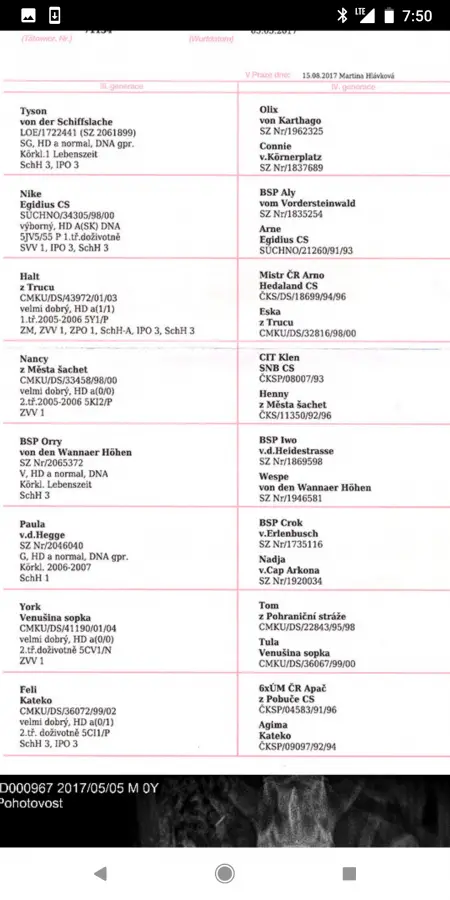 this is the other. And what they're breeding is the same.
by Vito Andolini on 09 November 2018 - 13:11
Apple,

Can you show me an example of this? I'd like to see a pedigree from one of these people ruining the breed for top IPO.

The Malinois is excelling in LE and Sport. Maybe they have better trainers that know how to utilize different drives.
by joanro on 09 November 2018 - 13:11
Duke: again not making sense Hans, how can you say that type 1 dogs are easyer to train, than say any untrained junkyard dog is type 1

than also state there is only 1to 5 percent of such dogs (type1) LOL


Me:. Thanks, saved me from typing that....first thing came to mind, tho, was prgre said the type1 dog can't be trained to do anything but bite...my dogs have been hat fit the category are all fantastic trackers and it is genetic! Pragre, genetics are what makes the gsd the the gsd...not training.


by duke1965 on 09 November 2018 - 13:11
vito, your info is off a tad, I can show you loads of pedigrees from dogs that do great in sport, but produce nothing suitable for LE, furthermore, the malinois is not excelling anywhere anymore,
malinois in LE are all mixes, dutch national championship of belgium shepherds had 8 malinois entered for a national championship, and to find a decent malinois for LE is hard, I have lined up some strong malinois females for breeding now from which NONE of them has any successfull IPO dogs up close in the pedigree
I went to malinois club korung few weeks ago and it was BAD, dogs are tested for ideal family dog, my bitch got points down for being to temperamentfull, the czech police got both of their females turned down completely
please tell me where the malinois, not the mixes, are doing so great in LE
by joanro on 09 November 2018 - 14:11
Vito, it's all about selection within the litter. A pedigree as you described that is behind both sport and LE dogs is easily explained with selection.
A pup in the litter that is selected for sport because of desired traits for sport competition, and that goes on to be a top sport dog will be bred.
Another pup in the same litter, turns out of have the exceptional traits needed for top LE k9.....that dog will likely never be bred.
Therefore, the traits of the sport competition dog are moved forward in the breed, while the exceptional pup with traits for top LE dog hit a dead end!
That is how traits which are sought for Sport, dominates the genetics in the breed!!
by apple on 09 November 2018 - 14:11
Vito,
Duke, Joan, Gustav and Prager could show you plenty of pedigrees that are planned for top sport dogs that would not cut it as police dogs. I don't have the knowledge base.
You must be logged in to reply to posts
---
---
---
---
Contact information
Disclaimer
Privacy Statement
Copyright Information
Terms of Service
Cookie policy
↑ Back to top