by KainVonDerKanisfluh on 08 July 2018 - 12:07
What are everyone's thoughts on direct import puppies from Vegas feetback? He is 7 years old but is an option for breeding with a daughter of Cronos Del Seprio IPO3, daughter is beautiful, black and red stock coat and completed BH, IPO1. This would be my first time importing an adult female who would be pregnant with the litter. The owners of both dogs have been great to deal with. I also had option to breed her with Brooklyn Rim trotter, owned but Fanino but declined because there are many Brooklyn puppies currently in the USA for sale. Was making the choice for Vegas Feetback and overall keeping it close to old school as possible a good choice? Many outstanding dogs come from the Vegas Du Haut Mansard lineage. I felt this was an opportunity to get some grand puppies from the stud who is retired from shows but his owners still post recent videos of him working with the tug and I think that's amazing. I thought it was a good choice to bring both lineages here for people who would be serious I'm training them.
by 2Cats on 11 July 2018 - 10:07
Hi Kain,

Vegas was bought by IVAN YONKOV...Vom Linde kennel...not great guy to do business with..Beware...they also do not give you the pups they say they are, we had one of our import pups tested, not sired by the male he promised it was. If you do go through with it, do a Blood test on the pups as soon as they arrive to confirm parentage.
Good Luck!

by k9neiko on 11 July 2018 - 12:07
Vegas was NOT bought by Ivan !!!!!!!!!! He is with Milos in serbia who is a very trustworthy man !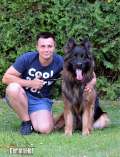 by alien123 on 11 July 2018 - 12:07
Vegas Feetback has no connections with Ivan Yonkov.
Vegas Feetback is currently in Serbia, in my kennel " vom Demina Hof ".
My name is Milos Stevanovic and you can check on my personal FB account, Milos Stevanovic ( Team vom Demina Hof ) .
Don't know where this bad information came from but Vegas is with me.


by mrdarcy on 11 July 2018 - 16:07
Would members, 2cats, please check information BEFORE posting here, save a lot of trouble!!!!!!!
by northernshepherdlady on 11 July 2018 - 20:07
Thank you k9neiko and everyone for reporting unethical, dishonest, breeders that are out there taking unsuspecting buyers money and not standing behind their guarantee, knowingly sending sick puppies/dogs etc. k9neiko, I am still waiting for my replacement puppy, or refund of purchase price for pick of litter show/breeding quality male puppy I purchased from you and your U.S. based kennel von Tannen Bluff German Shepherds. On Sept. 17, 2014 I sent you via Paypal $1,919.00 U.S. I knew there were issues with this puppy because vet wouldn't allow him to fly on two different occasions. I phoned vet but he said he could not disclose why. JUNO VON TANNEN BLUFF AKC # DN41846101, born July 14, 2014 finally arrived here weighing 8.6 lbs. and scratching non-stop. I knew he was in trouble and had vet appointment booked for him within hours of his arrival. We did OFA prelims at 9 mos. and he had ununited anconeal process left elbow (OFA APPLICATION # 1719762) - report dated 6/18/2015. I contacted you many times to resolve this issue; you having my $ and I had a puppy that is not suitable for show/breeding and perhaps not even suitable as a pet puppy. I ended up giving him away to lovely country home with the information that he may require surgery or euthanasia down the road. Buyers beware k9neiko is still selling dogs in the Netherlands; von Tannen Bluff German Shepherds (Megan Streussnig) merged with Netherland based Adri Phoelick and Tempelhoeve Kennels (merge news copied from their Web site). I'm still patiently waiting....no puppy; no $; no resolution. I have OFA report, paypal receipt, vet reports etc.


by Nans gsd on 12 July 2018 - 01:07
NO...
by 2Cats on 12 July 2018 - 12:07
Hi Guys, sorry if it is not true, BUT Ivan offered Vegas as stud to a female we wanted to buy from him, he said he Purchased Vegas from Megan after he sold Laszlo to Chantel in Canada..Laszlo he also Bought from Megan ... He even has loads of pictures on his facebook page Promoting Vegas as stud via his kennel...

by mrdarcy on 13 July 2018 - 08:07
I will be looking deeper into this, if I find any wrong doing members responsible will be banned.
You must be logged in to reply to posts
---
---
---
---
Contact information
Disclaimer
Privacy Statement
Copyright Information
Terms of Service
Cookie policy
↑ Back to top