by DavidDrena on 07 April 2018 - 19:04

by Sunsilver on 05 May 2018 - 08:05
Here's the kennel Jetta is from: http://felderhaus.com/our-german-shepherds/ They have very solid working line dogs, and I see nothing that raises any red flags. However, they obviously weren't happy with Jetta: she is not listed as one of their dogs anymore, though she does have her own page: http://felderhaus.com/dogs/jetta-vom-feldhaus/
I don't get why they would not do any training with her, yet use her for breeding. Since the kennel is in Kentucky, and she now has a CKC registration number, she obviously was sold to someone in Canada.
Her sire's line isn't very remarkable. Several of the dogs were likely well-loved pets whose owners took the time to get a few titles on them in obedience and schutzhund. I assume you're familiar with the abbreviations? Follow it back far enough, and you find some very well know East German working dogs, plus some of the very early showlines (Wienerau, Kirschental, etc.)
The dam's side has one untitled dog from Holland, then gets into really well-known working line dogs from Germany and Holland.
Both sides of her pedigree go back to Bosen Nachbarschaft dogs, and Fero, which are very popular working line dogs.
So, the pedigree is a bit of a mixed bag, but I'd say the good outweighs the bad. There are many well known working line dogs in it, and the although your dog's parents and grandparents aren't particularly well known dogs, the kennels they are from are making every effort to produce dogs that can really work. Even most of the owners further back in your dog's pedigree, who obviously weren't into breeding in a big way, still made some effort to work and title their dogs, even if it was to just get a CD obediece title (companion dog).

by UlrichGSD on 15 May 2018 - 02:05
Maybe talk to Ramona Mogan of Sapphire Shepherds. Jetta is a bitch listed on her page. http://sapphireshepherds.com/jetta.aspx
by Menee on 12 July 2018 - 21:07
Foxi was from a kennel in Belgium, several siblings obtained titles her full sibling Frodo is better known
Behind her you have dogs from the West German work line kennel Mohnwiese and other German work lines
Sorry dont know Jettas sire side until you get to the dogs pre show line work line split as many of these are in both lines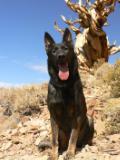 by Prager on 16 September 2018 - 00:09
I would not incorporate Jetta into my breeding program due to hips info starting with Xander most hips rating for generations are either mediocre or often missing. I would not breed Jetta nor Xander for that reason.
You must be logged in to reply to posts
---
---
---
---
Contact information
Disclaimer
Privacy Statement
Copyright Information
Terms of Service
Cookie policy
↑ Back to top