by apple on 13 February 2018 - 12:02
Titles don't change the genetics of a breeding. In Germany, all show dogs have a working title, but that clearly doesn't mean they are from true working stock.

by Hundmutter on 13 February 2018 - 16:02
Gustav, I was just about to make that point: that what you see when you look at a pedigree or list of dogs, is likely to be considerably more educated about them than the average puppy buyer.
by duke1965 on 13 February 2018 - 17:02
neither titles, nor pedigree will guarantee anything, look at actual parents of litter, look at healthrecords and do your homework

by DuganVomEichenluft on 13 February 2018 - 18:02
Overall, buying a puppy no matter what titles or pedigree is usually a crap-shoot. You really don't know what your end result is going to be.
However, if considering titles, it depends on the trial. Did the dog only receive the title from it's local club and nothing else. To me, that could be a red flag. If considering its pedigree, what titles and where did its ancestry receive titles. Even if a dog has its SchH3 but it only received them at their local club, that should make you think. I've seen dogs receive titles because they trialed on their local clubs field and had leeway.
My 1st working line GSD came from untitled parents. He could have achieved SchH or IPO titles had I had the money and time for training. However, we later became a successful Law Enforcement team. My 2nd working line GSD came from a very successful sire and the dam was a Certified Narc. Det. dog. However, my dog never took to SchH or bite work.
So, you really just never know.
In my opinion, it's knowing the breeder and playing with the pups. It's choosing the correct pup for you in hopes that that pup will grow to what you make him.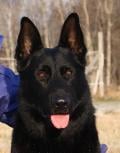 by arra on 13 February 2018 - 18:02
Duke you are right pedigree does not guarantee everything, but you just say it, look at the parents and maybe siblings and grandparents, health test, how do they work and so on.......so we still need the genetics and knowing how each dog produced and so on. If you say genetics is not important then why would we as breeder's spend so much time to study genetic and line breeding on certain dogs etc.
Of course we never know 100 % but at least we have a higher chance to produce "those dogs we want" knowing the genetics behind it.

As a breeder I am all about genetics and certain line breedings etc. but still I always tell my clients we can predict all we want in a litter knowing the pedigree, but most important I have to wait first, raise the litter then test and evaluate each individual pup and then I know for sure!


by DuganVomEichenluft on 13 February 2018 - 18:02
Very true arra.
by DeDe Lorson on 13 February 2018 - 20:02
Thankyou for the input. I get so tired of hearing that if someone has a great pedigreed litter but one or both of the parents dont have titles but the rest of the pedigree does they are a crap breeder. Dont get me wrong I like the fact that when looking for a pup that one or both parents are titled but I feel the pedigree has alot to do with they type of puppy you can POTENTIALLY get just the same as a litter that has titled parents.

by susie on 13 February 2018 - 20:02
Jkuja is spot on - you get 50% from the dam, and you get 50% from the sire - but you never know if you got the 50% you wanted to get without further proof...
That said - whenever you use unproven parents you won't know if those parents got the "good" or the "bad" 50 percentage out of their proven ancestors...
A good pedigree is able to give you a better chance, but good, prooven parents , followed by personal choice out of a litter will give you a way better chance
Besides that - in case I want to breed 2 working dogs, why not work them?

For me this has to do with respect for the breed and respect for customers.
by ValK on 14 February 2018 - 02:02
i guess all depends on what for been chosen particular dogs.
for breeding purpose, as arra said above, foremost is genetics, which provides health and temperament of future dogs,
without regards if dogs was trained/titled or not.
for consumers in present days perhaps most difficult part would be to find a reliable breeder who can be trusted and pick
the pups which will suit their needs and expectation. best way in selecting your pup would be to see the parents in some
kind of actions and if they meet expectations, take a few sessions observing the litter and doing some testing of prospective
pups. if that possible. other way you should talk and ask lots of questions to breeder, to see if there are understanding of your
needs and experience of breeder to do right pick.

b.t.w. i cannot agree with assertions that all pups are "crap-shot". at 5-6 weeks of age pups already showing behavior which
gives plenty of hints for temperament they will have in their maturity. only need to be watchful and know what you're looking for.

by Hundmutter on 14 February 2018 - 07:02
I don't think anyone has said - on THIS thred - "all puppies are a crap shoot". What you say about seeing some things early on is quite true. But "all puppies are a crap shoot" is surely still true in the wider context in which that phrase is normally used: every pup you buy could turn out to have something go wrong. Whether that is simply about its health, or its hip status, or that it later responds badly to poor training ... shit happens. Folk who buy a pup with their eyes firmly fixed on breeding with it need to be reminded of that, is all.
You must be logged in to reply to posts
---
---
---
---
Contact information
Disclaimer
Privacy Statement
Copyright Information
Terms of Service
Cookie policy
↑ Back to top