by petoasis on 30 January 2018 - 04:01
Anybody have 2017 JHKLR SG 28 Leiksaid Camelot critic in English?May I have it?
Where can I buy BSZS 2017 Ulm SV video?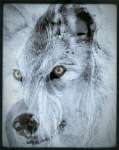 by Fantom76 on 30 January 2018 - 08:01
I got the German from the SV-doxs website (It did not give the judges name). It has been a couple of years since I did any translating so this may not be as smooth as it should be,
Team Leiksaid Camelot (FIN 11274/16)
Bundessiegerzuchtschau (JHKR) 2017
Camelot ist ein großer, gut mittelkräftiger, gehaltvoller, sehr gut pigmentierter, ausdrucksvoller, gestreckter Rüde. Gut geformter, ausdrucksstarker Kopf, mit sehr dunklen Augen, hoher ausgeprägter Widerrist, gerader fester Rücken, die Kruppe hat eine gute Länge und Lage. Korrekt gewinkelt in der Vor- und Hinterhand. Ausgeglichene Brustverhältnisse, gerade Front, hinten leicht eng, vorne korrekt tretend. Sehr gut und weit ausgreifendes Gangwerk, dass leider nicht bis zum Ende der Gangwerksprobe druckvoll gezeigt wird. Dadurch hat Camelot Plätze verloren. Er ist weitläufig auf Vegas und Quenn ingezüchtet. Im Vorfeld wurde Camelot 4 mal ausgestellt, davon 2 mal bei mir.
Camelot is a large, good medium strong, well proportioned, very good pigmented,, expressive,stretched male. Well shaped expressive head, with very dark eyes, high pronounced withers, straight firm back, the croup has good length and position. Correct angulation in the front and rear quarters. Balanced chest proportions, moves straight in the front, slightly narrow in the rear. Very good and far reaching gaiting, that regrettably is not shown until the end of the gaiting. Thereby Camelot lost placing (placed further back in the rankings).
He is linebred on Vegas 4 - 4,5 and Quenn 4,4 - 5. Prior to this, Camelot was shown 4 times 2 times with me.

by petoasis on 30 January 2018 - 10:01
thank you very much.
You must be logged in to reply to posts
---
---
---
---
Contact information
Disclaimer
Privacy Statement
Copyright Information
Terms of Service
Cookie policy
↑ Back to top