by Jessejones on 01 February 2018 - 20:02
Good luck to your little girl for the surgery and recovery.
The only given when you share you life with a pup is severe heartache, sooner or later. And often too, an empty bank account. My last heart-boy cost me as much as a new car in paying for a cancer diagnosis and therapy.
What I would do:
1.) If you do not already have a crate at home where the dog can look out 360 degrees and you can look in, buy one BEFORE your pup gets back from the vet. Should be large enough to stand in, turn around in and able lay sideways with stretched legs and head:
https://tinyurl.com/ycoysjgj
2.) Buy about 4 or 5 medium to large standard red Kongs.
You will need to try to keep her busy while healing in the beginning days in the crate.
These will keep your dog busy while in the crate and feed her at the same time.
You can stuff them with the Fromms dry food by soaking the kibble a few minutes in water and stuffing the kongs with it, as much as you can fit in. Measure out how much she needs per day so you know how much you are feeding her through the Kongs. Freeze them. Give them to her. one at a time thought out the day, as her meals (instead of in one bowl).
One Kong should keep her busy about 30 minutes or so. Make her work for the food and keep her mind occupied. When a Kong is empty, wash, refill and freeze so you always have some on hand.
3.) Iv'e already mentioned the amount of supplements for a 50 pound pup in a previous post here. Refer back to that. I do not use pet supply supplements, especially not ones that have lots of stuff on one pill or powder, I only use human grade brands like Now, Solgar or Thorne, in separate powders so that I can jiggle the doses.
Don't underestimate the vit. C sodium ascorbate. Even though dogs make their own vit. C, you will want to dose as high as you can to bowel tolerance. Goal is to keep inflammation down. Uncontrolled inflammation destroys joint cartilage.
4.) If you feed kibble, Fromm gold is one of the best as the ratio 1.2 Calcium to 1 phosphorous is correct and the protein level is not too high. Personally, I raw feed, but that is a whole other complex topic.
5.) The german produced Traumeel homeopathic tablets are a must. They keep inflammation down and help the body heal naturally. They can be found on amazon. You can not overdose on this and can give it as a supplement over long periods. But best taken about 3 months, then a months break.
Some vet are knowledgeable in supplements, but many are not and will not be able to advise with confidence.
6.) Keep her extremely slim. Really slim...depending on her fur type, you should see the last 3 ribs (at least definitely feel them under the skin) and a slight hollow behind the ribs and back legs. No worries, she won't starve and don't worry about other people saying she's too skinny.
7.) Weigh the pros and cons of all medications very very carefully. All Pharma meds do have side effects and you don't want to ruin a young pups liver unknowingly. Milk Thistle will help the liver.
8). Use organic Tumeric (make your own golden paste) as an anti inflammatory and mix with food (careful it can stain things yellow):
http://www.dogsnaturallymagazine.com/healing-with-turmeric-golden-paste-for-dogs/
Hope this helps you and other readers.
by junkmail2014nov on 01 February 2018 - 21:02
JesseJones: Thank you so much for the advice. I do have a 360 big crate and all of the other suggestions you have offered I will read/research and then most likely use them. Dr. Simmons did mention several times that "weight management" both as she grows and into adulthood would be key to keeping her healthy.

As an update to everyone:
I just got a call from the ortho just now. They were able to do her surgery at 3.She "came through with flying colors." He removed two small lesions he found on each knee and a floating "shelf" on the left. He did not see any other issues with the GP or anything else. He thinks she will be just fine if I follow good care after. He thinks she might be able to come home tomorrow late afternoon if she has no serious pain throughout the night.



by Hundmutter on 02 February 2018 - 06:02
Excellent result !
by junkmail2014nov on 02 February 2018 - 13:02
Good Morning! Yes Hundmutter! I am VERY pleased with the result. Albeit quite out of money now. I am attaching a link for her recovery pictures to this post if anyone wishes to view them. I pick her up at 330 today. This gives me time to grocery shop and get everything ready that I need to so I can stay here and watch her 24/7 while still packing and getting ready to move. And I have a very trust worthy high schooler who I will be paying to sit with her towards the end of next week for an hour or two at a time while I run needed errands. She has my cell and her mom is the apartment manager. I will be boarding her at the vet when I have to travel north in preparation for my move. They will provide her care and therapy while I am gone for a few days. We will begin work again at the end of March. At that time I will be able to review all medical information myself and, hopefully, the Breeder will have provided her AKC limited registration paper work. I'll have an outside, objective GSD breeder review all information and decide how I want to move forward at that time. My current out of pocket expenses after her purchase are now in the 9K range. For me, I could do nothing else. Especially now that I know she has a better than 90% chance at a long and healthy life with me. Here is a picture of this precious one. Its upside down. Sorry. I can't figure out how to get it rotated. Unfortunately for her BOTH legs look like the right one. She is on a Fentanyl patch and will be through Tuesday of next week. I will be stopping by Babies R Us to pick up a metal gate thing that forms a three way wall so that she can be in the living room with me during the day and my bedroom in the crate at night or whenever she needs to rest more. I guess thank god for plastic.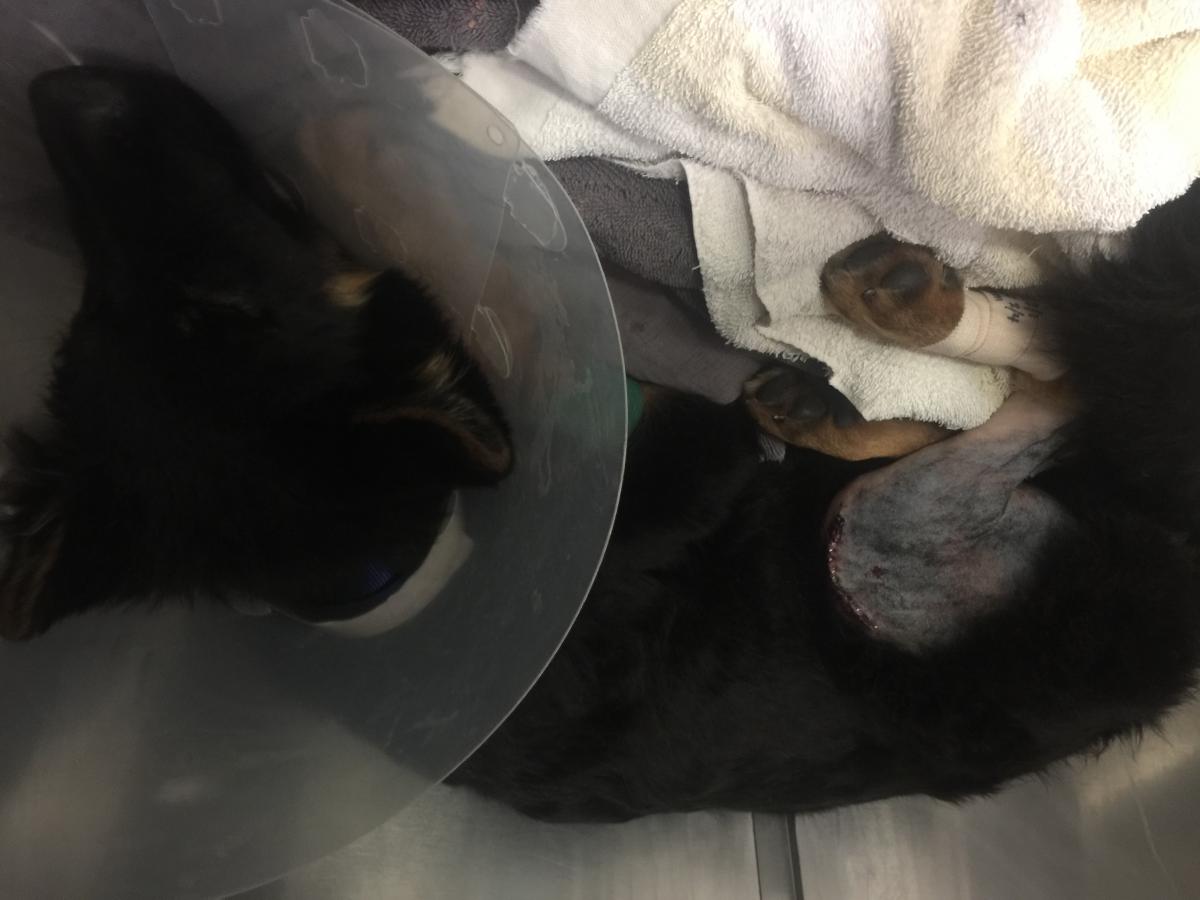 by Hundmutter on 02 February 2018 - 17:02
Sounds like a Plan !
Even upside down, she is a pretty girl.

by junkmail2014nov on 02 February 2018 - 19:02
Hundmutter: Yes. I know I'm biased but I think so too!
You must be logged in to reply to posts
---
---
---
---
Contact information
Disclaimer
Privacy Statement
Copyright Information
Terms of Service
Cookie policy
↑ Back to top