by srfwheat on 17 January 2018 - 20:01
A friend of mine has a litter of 10 puppies out of working dogs. She has two that are definitely sable with mask, three black and six that she isn't sure of color. I know temperament is above all things in choosing a puppy, but she is trying to determine what color the other six are. The sire is very dark sable with a mask and the dam is a very dark blanket black and tan. My question is can you pull the hair backwards on top of the back of a 5 week old puppy and tell if it is sable? Thank you for any responses in advance.

by Hundmutter on 18 January 2018 - 05:01
I should think the ones she cannot tell yet with are odds-on to be melanistic black & tans, or possibly solid blacks. If you / she have colours info for the grandparents it might help guide you. Pulling the coat back against the growth direction will simply establish how dark their undercoats are,(or not); it won't give you final guard hair colour (they have to grow into that !). Also, along the spine is the last place to look for clues, as in a puppy the guard hairs should be densest black there anyway, even in sables. Try lower down the body along the ribs to see if there is any lighter hair towards the roots of the guard hairs.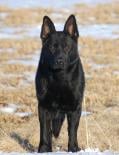 by Jenni78 on 18 January 2018 - 17:01
Post pics of pups. Or send them to me. You've got me curious. Never seen someone not know what color puppies are by that age.

by srfwheat on 19 January 2018 - 01:01
Thank you Handmutter and Jenn78 for your help and responses!


by srfwheat on 19 January 2018 - 01:01
I am getting ready to send them to you Jenni78. Thank you, as always, for your help.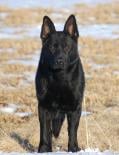 by Jenni78 on 19 January 2018 - 14:01
No problem. Pups are bicolor according to what you emailed. Did not receive the ones you said you were sending to my phone.

by srfwheat on 20 January 2018 - 00:01
Thank you again for your knowledge and opinion. You are always so helpful, and I really appreciate it. Also, thank you for letting me know you didn't receive the other pictures to your phone. At first, I sent them to the wrong number. Then I corrected the number and resent. Maybe they didn't send due to a bad connection, as I am a long way from you in South Mississippi.
You must be logged in to reply to posts
---
---
---
---
Contact information
Disclaimer
Privacy Statement
Copyright Information
Terms of Service
Cookie policy
↑ Back to top