by 12manydogs on 19 December 2017 - 01:12
We see now we aren't the only people waiting to hear from Ivan after taking large sums of money and then sending nothing.
He claims he is a breeder and dog broker but instead is only a liar and thief.

He has our two males in his kennel for three months now. He said he spent our shipping money on the hospital.

Our dogs are Tommy v Arlett and Leo von Diemel.

Ivan will soon be very, very sorry.
by 12manydogs on 19 December 2017 - 01:12
Ivan YANKOV and kennel name Haus Linde
by chamootzka on 19 December 2017 - 02:12
I am still waiting for a refund from a female I bought her and whom I never received. it's been 3 months and I paid for the dog and the plane. Many prayers of his pars but nothing. He is a thief and a fraudster. There are other people who were scammed by Ivan.

We must do everything to stop this guy. All together, perhaps we will succeed in a few things.

by Western Rider on 19 December 2017 - 03:12
Ivan Yankov and Haus Linde
There are just to many unresolved complaints about you at this time.
You need to think about getting them resolved or being banned from this site for scamming members.
Western Rider
by chamootzka on 24 December 2017 - 04:12
Indeed, he should be banned from all groups. He is a thief and a crook. I bought him a female and paid for the plane ticket and nothing! I have never received.....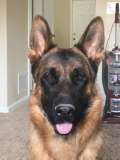 by jmcnees1 on 28 December 2017 - 00:12
Any news? Just spoke with him on FB a few minutes ago asking me to pay for the flight for a dog and once here pay for actual dog. Any one else have a similar convo? He says he needs the money to take car of other arrangements that have fallen through.

by Western Rider on 01 January 2018 - 21:01
I have heard from Ivan. He says that he has contacted most if not all of those who are waiting for dog/s or papers and that he will have matters cleared up by the end of this month.
As he takes care of you please let me know that he is doing as he says.

by gepard96 on 02 January 2018 - 02:01

Actually, we are late with the sending 3 dogs (2 males and one female) and the return of money for one female of which they gave up, as well as two export pedigres (for T. S.). All dogs are with us, they are not resold or offered to third parties!
I personally apologize very much, I hope I can quickly sell 1-2 breeding dogs. All money from the price will be given to transport the delayed dogs. I hope that by the end of January I can managed to transport all the dogs, and then I will send the money for the refused female.

Happy New Year! I wish a lot of health, happiness and luck to all lovers of GSDs in the new 2018 year!

Ivan Yonkov

To the attention of "chamootzka" >>
Misis S.P. I have a question! You write that you paid me a one female and you have not received anything. In this case, everyone will think correctly - to have a scam.
Why did not you describe the entire deal, please?
Why did not you write that you bought two females in this deal - the first female, which is most expensive (imports from Germany, SV papers, BH, IPO1) is fly 10 days after the deal. The second female (Bulgarian-Serbian blood) was not prepared for a trip - there was no official rabies vaccine, nothing! When all the necessary procedures are make and she can fly in November and I ask for reservation, but from the transport company said that Lufthansa had stopped the flights to Montreal from November 1st. Then the company's representative ask me whether to look for other transport options (more expensive for Montreal with another fly company or for another city). Then you gave up from the second female and I promised you within around a one month can send you the money back.
Why I not done this my promise? Because my emergency health problem that are. I did not want to be sick and I would not want anyone to have such problems.
You also did not mention that 8-9 months before the deal for both females, you bought a stud male from me, with price 5 times higher than the price of this female.
The other two dogs are sent to you within 10 days after the bank transfers!!!
I think before you blame someone is done deliberately scam, is better first little to thinking - why he did not do scam with the first money that you are sent for Lasslo, or with the total amount for the both females?
I'm disappointed with you, because my trainer in the kennel has told to you about my health problems. When you write someone that he has deceived you, describe the entire deal as it was.
A delay in delivery or refund the price after buyer's refuse may occur in anyone business. It does not necessarily mean deceit and write that I have to be stopped. But do not writed that I must be stopped when the another both much expensive dogs (imported from Germany) I sent to you within 10 days.
That's not good, but I sincerely hope you to be truly deceived by someone and after that you will can make the difference.

Ivan

by mrdarcy on 02 January 2018 - 11:01
I do wish members would think before coming here all guns blazing!!! Now we have the breeder/seller claiming something different!! Why can't members be 100% truthful about a deal gone wrong maybe then we could save some of the mudslinging that no matter the outcome...STICKS.

Unfair and totally unacceptable that all parties involved can't be fully honest and lay ALL their cards on the table. Also wish both parties could resolve issues like this in private before coming here and potentially publicly ruining reputations. And then, as some do, expect us to just delete it all if the matter gets resolved.

by Western Rider on 02 January 2018 - 17:01
And as a reminder we will NOT delete the posts. We will amend the title and thus show who was telling the truth. This will give an idea of breeders/brokers not to use and for breeders/brokers who not to sell to.
For those who buy imports you need to ask more questions, learn more before you buy and complain.
I would say that 90% of the complaints come from US buyers, the land of instant reward. Buy a dog here, seller takes care of everything, two days later dog is at the airport, US mail comes 5 days later with papers, send to AKC and in two months you have a new reg dog.
This is not how it works in the rest of the world. Learn the way it done in the country you are dealing with before you buy and then complain. Spend more time with your broker/breeder/seller if they don't have the time don't buy. Have them put it in writing and yet understand if something in their life goes wrong.
You expect them to understand when you call and change your mind and want deposits back etc.
---
---
Contact information
Disclaimer
Privacy Statement
Copyright Information
Terms of Service
Cookie policy
↑ Back to top