by 2Cats on 02 March 2018 - 11:03
Also, He sells all his new litters and dogs with his friend and especially this guy..Peter Djigovski
https://www.facebook.com/peter.djigovski.5


by gepard96 on 02 March 2018 - 17:03
2Cats, From what now are you not satisfied?

The papers are ready December 7th in the club, they are sent to you on December 27-29 (after Ivan go on from the hospital and take them from the club).
I personally sent the papers to you, but I was write a wrong address.
They are come back in Bulgaria in/after mid-Februar, and Ivan is sent back to you before the end of Februar?!
What is not done properly?

Sorry for this delay, but first I'm not a robot, I'm a man and any one man can make a technical error, and second I'm not guilty of the Post-office that sented the letters for 20-30 days in one direction (from Bulgaria to USA)! What can we to do?!
Now Ivan is sent them personally this week, and Monday when he returns from hospital, we'll give you the tracking number.
We also sent to you pictures of the documents, when are taked from the club.

What profit would I have if not send the papers and keep in us? Just to make a nervous - you and me?​
Tell me, for what reason these 2 documents should be stay in me, and I not send them to you?
For nothing, because all that we are done, is properly!

Ok, you write 10 time about this 2 documents that is delayed to be in you, because my technical error, but here do not write about the other dogs that you had previously taken from Ivan and everything was fine!​

And because this case with this yours both papers, that is already made and for second time are sent to you, you write that Ivan has lied everyone?

Tell me what exactly Ivan is lied you?​

Is give Ivan to you pregnant female, imported from the top-Germany Kennel "Holthamper Hof"? Did she come fast, on time, with all the papers for her (incl. IPO certifikates, breed survey etc) and all papers from the male with him she is mated?
The first female, which Ivan fast is buy for you from Serbia in heat, after that he is mated with his male and sent to you. Is he make all this very fast and send to you with the papers on in time (in total time - 2 weeks). Is and this true?
And now when Ivan have the healts problems, just you with this 2 papers can not write bad things about Ivan, because just you do not have a serious reason to complain (except my technical erorr in the adress of the first letter).
In our overall relationship, Ivan have a whole good attitude about you. On the contrary, your all attitude about Ivan is absolutely unfair, and he NOT deserve this attitude from you.

Ivan and I declare our firm resolve nevertheless to continue our work in breeding of the GSDs.
The first step is to send the all delayed dogs, according to the plan of Ivan: By the end of May - everyone will received his dog.
The another step is the launch of club events, particapetion in shows.
Still of the all problems, we are not a phantom, we are one from the big kennels with over of 10 imported from Germany top-breeding dogs (all are titled and with high dog show results), and we have many born in our kennel and preserved for us dogs. We continued training for the shows with our dogs, the training in IPO too.
For the second half of the year, we have planned at least 5 matings with some of the world's finest males, located in Germany.​


Peter Ivanov (Djigovski)
(this is not a secret, I have my kennel but we have united our work with Ivan in Kennel "vom Haus Linde"!)
We the people from Kennel "vom Haus Linde" are not hiding from anyone. We will not hide from anyone and in the future and all 3 people will receive his females by the end of May - this is what are delayed!
Kennel "Haus Linde" is registred in FCI 20 years ago. We have many dogs with one serious breeding program.
But in any business, there may be a problem, every producer or trader may need to delay delivery. Just do not allow this to become a practice! We not will allow this to be a pracice.
For this we stopped the import new dogs to make new mediatory deals befor all old deals to be finisched and we are stopped all ads in this site and in any other site for new mediatory sales. We want to start everything clean, when old relationships are finisched.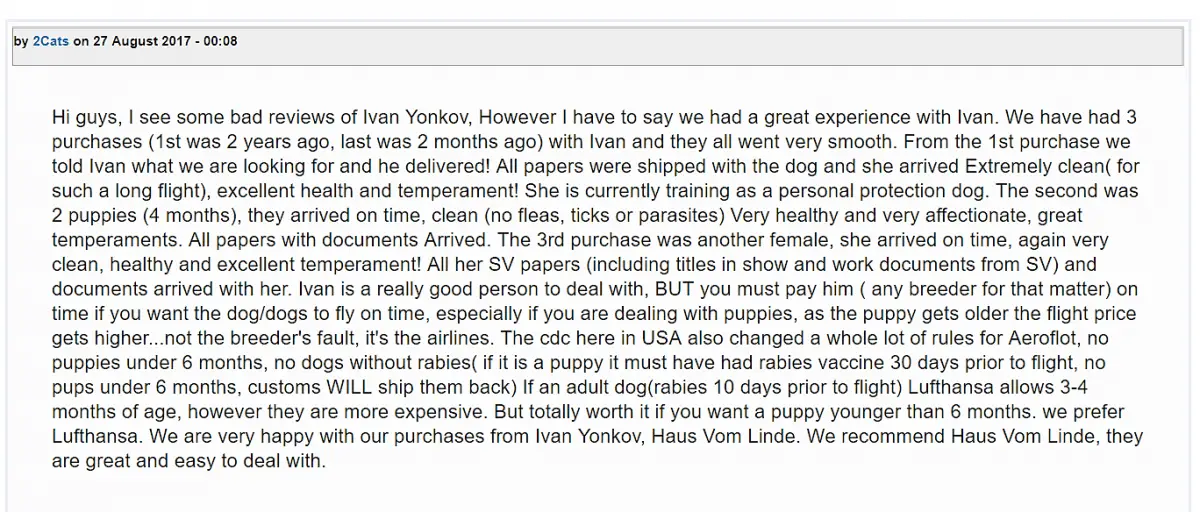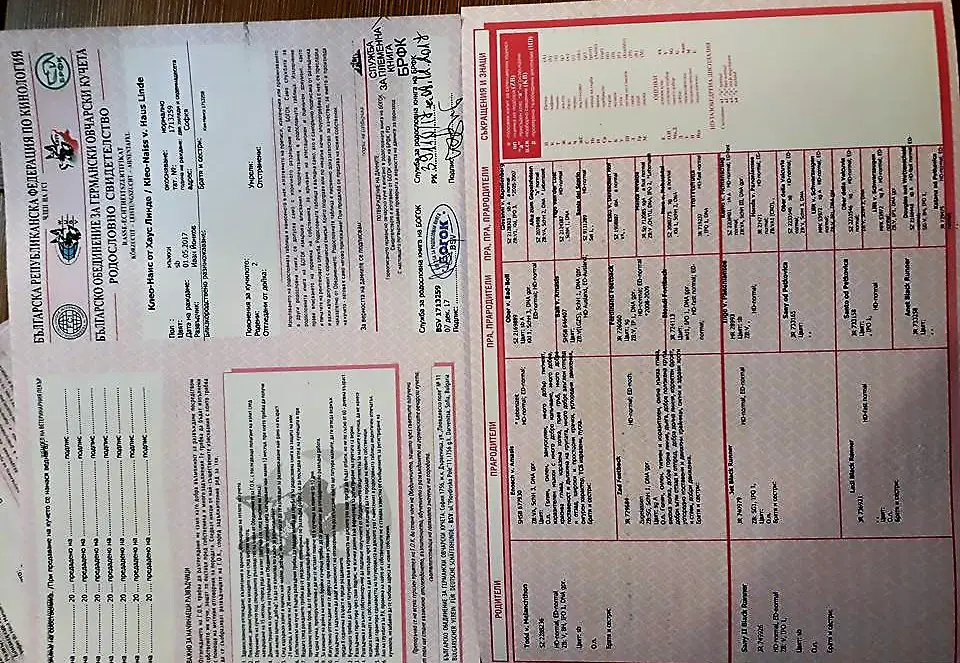 by 2Cats on 03 March 2018 - 10:03

Still no proof of sending papers
by 2Cats on 08 March 2018 - 13:03
It Is Thursday, I got excuses, again on Monday saying to wait till Wednesday...It is Thursday...Please could admin step in.


by Western Rider on 08 March 2018 - 14:03
2Cats please make a separate post with a time line of your problem
I am not sure what we can do but will look and see when you make a post that we can follow.
by 12manydogs on 08 March 2018 - 16:03
We have not received our papers either for a dog sent to us long ago.
Of course it was not the dog we purchased, Tommy Arlett was who we bought, I see he is being used in gepard96 icon. I find that very interesting.

I was sent a different dog, piece of shit dog, and was told Tommy was sick.
I'm not even sure what dog we have here. What I do know is he has a soft ear, very cow hocked, is fearful and won't take the sleeve.

So crappy dog with no papers and this has been going on almost a year now.

I get no updates or response to inquiries on papers.

Shady, shady business men.


by mrdarcy on 08 March 2018 - 21:03
I have messaged this member and I'm awaiting a reply. I have requested he come here and resolve these complaints.
by 2Cats on 13 March 2018 - 10:03
It's March 13...Still no proof of mailing the papers. Just more excuses.

by Western Rider on 13 March 2018 - 18:03
2cats I reread yout post about the three dogs that you bought and in that you stated you had no problems at all and that you recieved all papers for each dog you bought.
What papers are you asking for as you have already stated you got everything when you bought the three dogs.
Have you bought an additional dog since those three.
by 2Cats on 15 March 2018 - 09:03
Hi Western Rider,

He never sent the original pedigree papers for the 2 import pups. He only sent there passports and copies of the parents papers. I paid an extra $300 for DHL so he can send me the pedigree papers...then he damaged the originals, then he had to make new ones, then he said that they had no info on the parents and had to resubmit it, then he said they got the address wrong...now he says that due to family and medical issues they can not provide proof of papers being sent..
You must be logged in to reply to posts
---
---
---
---
Contact information
Disclaimer
Privacy Statement
Copyright Information
Terms of Service
Cookie policy
↑ Back to top