by hexe on 02 January 2018 - 19:01
AMEN, Western Rider & mrdarcy!

by Burg Wachter on 05 January 2018 - 15:01
Here is the truth. I've waiting over a year for a dog from Ivan.Always some excuse after another! I've tried to reason with him and give him every opportunity to make it right! I see where he had sold dogs and shipped them before mine! I believe he did this if he thought of getting more money from you and to fraud you later. I've asked for pics or videos of the dog to no avail,just more excuses! Just lately he said was shipping her and had my hope ready but now says he has no money that the shipping company wont deal with him and he wants me to send him more money to the shipping company! Now hes says hes bank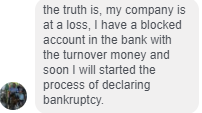 rupt!

by gepard96 on 05 January 2018 - 17:01
Yes, I'm not lying, I have blocking my 5000 euros in my account, to secure a court action against me. Until the court's decision I can not use my money.
I stop all advertising and selling dogs on this site. I've deleted all ads.
However, I declare that everyone will get what I due. I have over 15 highly rated dogs.
I'm late in sending 2 males and 2 females.
For the males we agreed with the new owners. They organize the transport, and for the difference in money (paid for transport for the two dogs) they will take another one 2 years old male. I hope next week the first two will fly.
For the female - indeed, he is waiting for her, first waited for the mating around 5-6 months, then the problems started. I suggest that for the cost of transport I to give another one female with a real price higher than the money for transport (1200-1300 euros).
And the second female - we were ready to send, but at the explicit request of the buyer (for his reasons) we postponed to November. In November, I no longer had access to my bank account and I'm late to the moment.
However, most dogs (90%) were sent quickly and on time.

There are moments in a person's life when the problems come one after the other.
Everything is came from a Charles Duran who filled lies here and ruined the business.
Second the problem, with the blocked my 5000 euro in the bank account money.
The both females I thing very soon I will send, we have a couple of litters at the moment, the puppies I will sell them to a place where clients come personally and within a month, at most two I can collect the money to send the both females and beck the 2000$ in Canada.

I did all my best to send the 3 dogs now quickly. I even offered an aspiring buyer to a pregnant female, not to send to me the money but to send the money to the transport company for two more dogs.
I had sure buyers for two expensive dogs (I had sold them - 30% at a real price) with total price of 10,000 euros.
Without selling at least one of the my expensive dogs, I could not pay for the transportation. And with only 1 this could happen.
But it is normal for everyone else to be afraid of being deceived. And I would be afraid.

If was not this post, now all the dogs - and that are late and the new ones would have been on their way or at the new owners.

Iv. Yonkov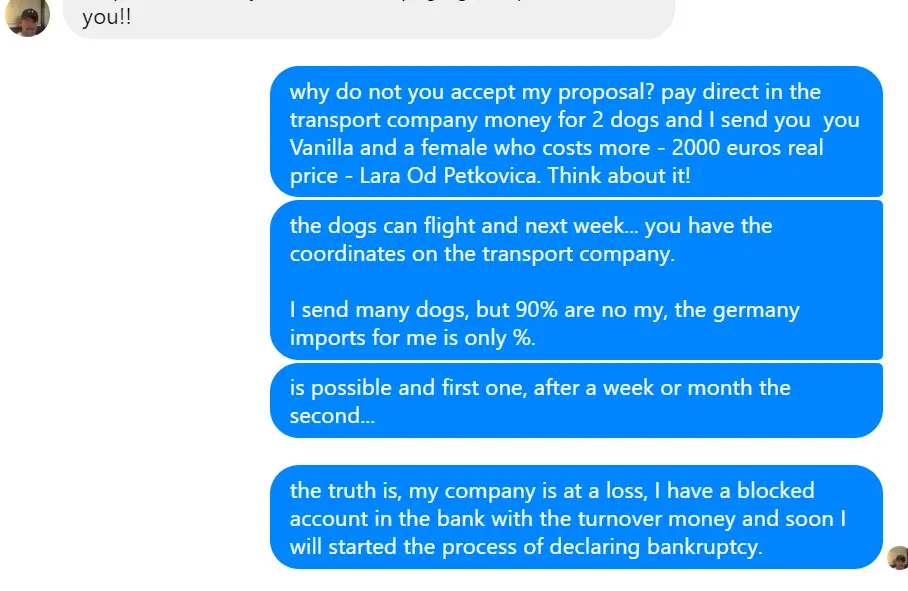 by gypsyrin on 18 January 2018 - 21:01
I am new to this website and am also looking to import a dog or 2 in the future. I would say I don't think a scammer would justify his or her actions this well. And I wouldn't want to be in the buyer shoes at all either. Its a shame this wasn't handled better.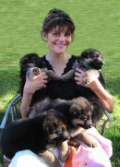 by Ron Hudson on 18 January 2018 - 22:01
All the excuses in the world doesn't wash away the fact this guy defrauded some if not all his customers at one time or another. The whole narrative sounds fishy to me. If Ivan doesn't do by the end of January what he has promised to do he shoulld be banned. The adminiters on this page have a moral and ethical responsibility to weed out crooks who are taking advantage of uneducated buyers who have gone to them in trust.

by gepard96 on 18 January 2018 - 23:01
The both males, for wich is make this post will fly on January 23rd!
To clear the amount that is sent from the buyer, we have contract to receive another one (third) dog and the customer will further specify when want to be transported (the third dog).

From my monthly income from February, March and April I will collect the money, that are need to can sent the two females, which I am late in transporting.

First for Canada, where from the deal for two females, the first one (imported from Germany) was sent a few days after the deal, the buyer has already received and all its papers.
For the second (Serbian breeding) I have a contract with my client to send all her papers (pedigree, export paper, exhibition papers etc.) and at the latest in March and the female must be with the new owner.
Im sold 3 adult dogs to this client (the other both are the female imported from Germany and one great Stud-male imported from Germany) and only for the third one there is a delay in the shipping.

The second female that is delay the shipping are for US and I will be able to send her at the latest in April (also from my monthly earnings).
Of course, if I sell a anyone adult dog earlier, and I will send the females earlier!

Nowhere in my actions did I ever think of any deception.
No one of the dogs that is already sold, Im not resold or offered to another customer or otherwise.
Just in the wake of a series of unpleasant circumstances - our only fault is the delay in the delivery.

I've stopped posted ads for dogs for sale in this site, until I clear my name.
Just want to say that before to be publised this post, I had a client to buy one of my top females (Zurka v. Huhnegrab) at a price of 4000 euros + transport. With that money, I had planned to pay for the transport of all the dogs, but my client was rightly scared and refused the deal.

We apologize to everyone for the inconvenience and worries and we will try to avoid repeating such unpleasant moments - delay transportation.

Ivan Yonkov
by 12manydogs on 12 February 2018 - 15:02
Ivan finally sent us dogs that we purchased 6 months ago.

He sent a dog that was not one we purchased. He said the dog we purchased, Tommy Arlett,
Had mange and he could not send him. So who has Tommy now?
We received a dog we dont even know who he is. I have requested a pedigree copy but have received nothing nor have I heard from him. He claims he is Onur v Alexander.

The dog we did purchase arrived with a chunk of ear missing and he claimed his mother let the dogs together and there was a fight.

We had to pay for a shipping company to retrieve the dogs and have them sent to us. An additional 3500Euro that we had already paid to Ivan.

He is a man of MANY excuses about EVERYTHING.

He still can not be trusted.
I will not write ANYTHING positive until makes our deal right!!!!!

by Vinny B on 13 February 2018 - 01:02
just a quick question, why does anyone purchase dogs overseas when there are perfectly good and quality dogs in the USA and Canada?

I don't get it

by gepard96 on 13 February 2018 - 21:02
Tommy von Arlett is not sold to another person, he have health problems with the coat and Tommy is in my kennel!
I tell you that I can send Tommy with this health problem (in the coat) or change Tommy with Onur. And you say OK!
Onur is nice dog (VA Fred v. Rumbachtal son), IPO titled, V1 rated in speciality show, SG3 from 9 dogs from Anual national show with german judge (Eugen Ecker), now I wait to be make in english the certifikates for IPO1 and the export pedigree. This week they will be ready and send to you!
Im very very sorry for this delay from 3 months (the dogs they had to come to you late October-November). I have a paid another one dog - son VA Marlo (which is still located in Germany), I have to pay now only that stay there this 3-4 months (for food) and the transport to Bulgaria and when he arrive in Bulgaria (March or april) I will send him as a compensation (you have to pay only the transport cost).
Leo came from Germany with healthy ears (obviously from the photos). While I was in hospital, there was a big fight with another male in the kennel (Tommy), and my mother's sister who cames every evening in the kennel to feed them and who soon will be 80 years old could not separate them quickly.
The little part that is missing from the ear does not interfere with partikapations in the shows or in the breeding.

I have not in me copie from the pedigree of Onur v.d. Alexandar, the only one copie Im give to the transport agent - ask him to send to you. The original pedigree is in the club with your names and I wait to be ready the export documents and IPO1 certifikates.
I promise to the end of this week - I will post here copies from the pedigree and from export paper and I will send the doc to you with Onur cups from the shows with post company!

This week should be ready and the duplicate of the export pedigree for the female for Canada (destroyed while I was in hospital).
Also the pedigrees for the two puppies (also destroyed) , puppies are sent in September in the United States.
To this my three clients, the documents will be sent by the end of this week!
Unfortunately, the mess that happened in only one month is huge and can not be fixed so quickly!

by gepard96 on 13 February 2018 - 23:02
Please, I not wants any positive comment from you because I don't deserve it.
And if I was to the place of this my clients, I would not give a positive comment.

On the other hand, my health is still not so good as to continue on regular trips to continue being an agent to my German friends and to offer their dogs.
In the future my work will be closely related only to breeding and dog training (as a certified instructor).
The only sales (except when I have puppies from my breeding) will be 2-3 females, which are superfluous and will be sold when they will be mated (pregnant).
You must be logged in to reply to posts
---
---
---
---
Contact information
Disclaimer
Privacy Statement
Copyright Information
Terms of Service
Cookie policy
↑ Back to top