by Nakilana on 04 November 2017 - 17:11
Oh and the Pedigree is what I've been doing, I've been trying to figure out how to do it and hopefully I'm doing it right! I'm honestly not 100% sure if it's all correct and I'm just putting what's on his Litter Certificate thing.

by Sunsilver on 04 November 2017 - 17:11
Ah, okay, thought it was Fantom, because she said she'd help out, and I didn't think you had much information other than the parents.
The litter certificate is issued be AKC, and therefore SHOULD be 100% correct. Yes, AKC does make mistakes sometimes - ask the Pedigree admins! - but most of the time, they are pretty accurate. They darn well SHOULD be as they are the official registry body for most dogs born in the United States!
Edit: listen to Western Rider!! The registration certificate looks like this: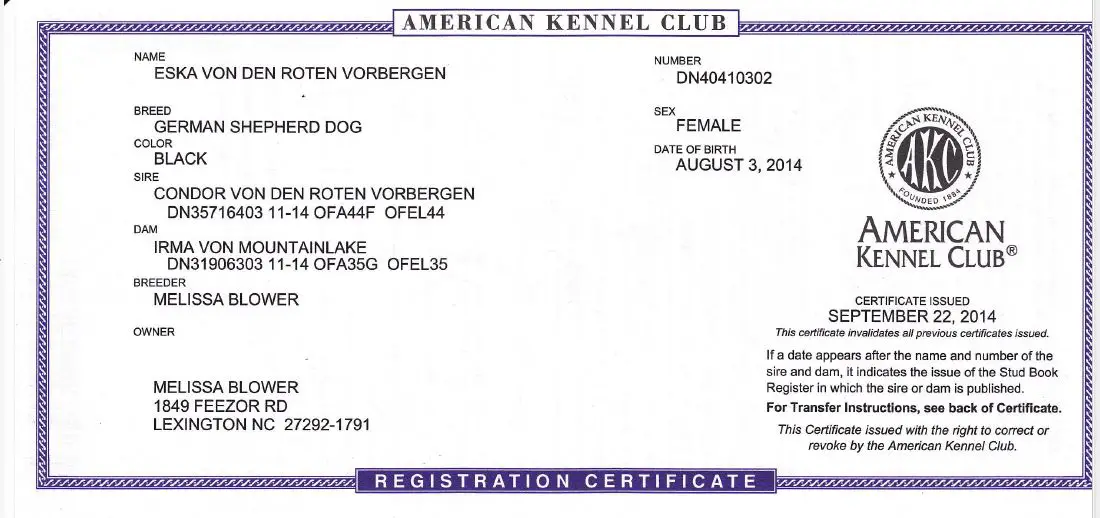 If you only have the litter certificate, your dog is not officially registered yet, and the longer you wait, the more it is going to cost. The AKC essentially fines you for delaying the registration!
Good job on the pedigree so far! If you go here, you can use the 'Dog Lookup' feature to get the registration info for the grand-parents. https://www.apps.akc.org/apps/store/?view=category&cde_category=COMP&isloggedin=yes&odt=1
Please enter as much information as you can (colour and birthdate as well as registration number). The more information the database has on a dog, the more valuable it is to people researching pedigrees.
You mentioned you were having trouble contacting the breeder. Well, their ad is still up, so just e-mail them! They'd probably be glad to help you fill in the details of his pedigree.
http://www.advertigo.net/advertisement-id-3093015-AKCGermanShepherdPuppies.htm

by Western Rider on 04 November 2017 - 18:11
Thank you Sunsilver I believe he has a Litter Registration Certificate as that is what he keeps calling it.
Make sure the breeder signed off on the back
Yes it will cost a lot more to wait to register the dog.
All you need it the basic package and answer no to the rest of the question Unless you want the litter pedigree then that will cost extra. This is not the same as a Certified Pedigree that cost a lot more and you will need if you actually show your dog.
Sunsilver has explained how to find all the pedigree information without cost so go that way, you will learn a lot more than just reading a paper. You may find it a real treasure hunt and enjoy it like the rest of us.

by Nakilana on 04 November 2017 - 18:11
Thank you and I do have that paper you pictured. The only pedigree I have says Litter Certificate at the top and is the only way I know who he has in his line.

And wow! How did you find that?! His breeder had messaged me first so I didn't even know he had any ads up!

And honestly thank you so much for all your help so far! It's really helping me.

by susie on 04 November 2017 - 18:11
I am glad you removed the ad...

I can't help you in case of AKC - but you should read about health problems, conformation, and proper temperament of the GSD breed.
Do not only research AKC, but SV, too.

In case of learning how to show and/or train, you need experienced people, neither Internet nor books will help.

Like others already mentioned, try to find a club in your area, be it AKC, SV, or something else.

Just have fun, and don't think about breeding until you learned a lot more.

by Sunsilver on 04 November 2017 - 18:11
Nakilana, no magic tricks involved - I just googled the names that you entered into the pedigree, and the ad popped up. Google makes finding stuff SO easy! :)

by Nakilana on 04 November 2017 - 19:11
Alright! Again thank y'all so much!!

And it is a little hard to do extensive research when I only have my phone, but I still try my hardest and I'm so glad I found this site as it has helped me a lot.

by Sunsilver on 04 November 2017 - 19:11
You're welcome!

If the breeder has more information, my first question would be 'what is the birthdate of Leo Topolounicki?' That would allow you to connect your dog's dam to the correct Leo, and fill in at least the sire's side of her pedigree!
Edit: okay, I'm pretty sure it's this one, because he has an AKC registration number! http://www.pedigreedatabase.com/german_shepherd_dog/dog.html?id=1346530-leo-topolovnicki But you can't enter him into the database until you know whether he was the sire of Dallas or Diamond. And my Google skills have drawn a total blank in researching those two dogs.


by Nakilana on 04 November 2017 - 20:11
Uh this might help a bit more Cash's mom side is MS Contessa of Darbyhaus DN40768005.

Her sire and dam are Dallas von Grigsby DN35110106 and Diamond Marie Grigsby DN35878606.

Dallas's sire and dam are Puncho XI DN25365502 and Kim Marie II DN28033506.

Diamonds sire and dam are Sir Buddy Phillips DN22952505 and Princess B Phillips DN29999806.

Cash's dad side is Cassius vom Luntal DN31156102.

His sire and dam are Quindt vom Alt-Ostland DN19139707 and Kenzi vom Banach DN07384507.

Quindt was easy to find on here but his sire and dam are Eik vom Clausberg DN11377202 and Venus vom Grafental DL91156203.

Kenzi sire and dam are C-Navar vom Holtzberg DL75467209 and Forta Z Danaru DN07220091.

by Sunsilver on 04 November 2017 - 20:11
Quote from the ad: dam is a gorgeous black and silver grand-daughter of leo topolounicki ( imported from yugoslavia).
So, the breeder LIED about Leo??

(Name is mis-spelled, BTW.)
You must be logged in to reply to posts
---
---
---
---
Contact information
Disclaimer
Privacy Statement
Copyright Information
Terms of Service
Cookie policy
↑ Back to top