by susie on 29 November 2017 - 20:11
Yogi, I said " most" , not "all".

I am well aware some North American breeders found their " own " way to test their stock.
There are 40.000 AKC registered GSDs/year- how many breeders do test their stock in case of working ability?
Those few are the ones I call "exception".

by KYLE on 09 December 2017 - 21:12
Should the dogs be titled? Yes. Can dogs be tested without being titled yes. Does life get in the way sometimes, yes. If the dog works well, has had its hips checked and the owner can't title the dog, and I loved the pedigree. I might consider a pup. There are plenty of dogs that barely passed a sch. exam with poor hips that are bred.
by Rik on 11 December 2017 - 00:12
KYLE, I pretty much agree with you. It's just that there is no way the GSD has continued to be a GSD as the founder intended by not meeting a "standard". And please don't think I am talking about every GSD in Germany.

When everyone sets their own standards, you end up with the ASL. When standards are not enforced, you end up with the GSL. But out there in the world are still real GSD doing real GSD work. And if you look into their background you will usually find real GSD who passed real GSD standards set by the real country of origin of the real GSD.

JMO,
Rik

by Q Man on 11 December 2017 - 01:12
There are organizations that believe that the German Shepherd gene pool is shrinking and a lot of very good dogs are being passed over just because they're not titled...
I'm not saying that good dogs shouldn't be tested but it more depends on who does the testing...As we all know there are many dogs that are titled that aren't worth being bred...But there are many that aren't titled that are worry to be bred and continue their bloodlines...

~Bob~

by Rik on 11 December 2017 - 02:12
Bob, that is very true. But who is to say what dogs are worthy or not. You, Me, the internet. I don't think so. The GSD in the country of origin has a standard to be met. The fake ones don't fool anyone.

Do you really think that the people meeting that standard don't (and there are a few posting on here) know what that that standard is.

Yes, there are untitled dogs worthy of being bred. They are being bred by people wanting to cash a check. Otherwise why would they breed?

Honestly, how many generations do you think these "untitled but worthy of being bred" (deemed worthy by whomever, me, Bob, PDB, organizations} would carry the GSD forward.

So I will only say this, If you are a novice looking for your first GSD, buy from someone who meets the standards of what you are looking for (and a good reputation).

Show Line, someone with a history of success in the show world.

Working line, someone with a history of success in working.

And anyone who wants to know who I would buy from (in the U.S. and Europe) can PM me.

And that's no guarantee, I've bought a few that didn't turn out. Just that all these folks telling you that nothing matters except their opinion I wouldn't go close to.

JMO,
Rik



by KYLE on 11 December 2017 - 03:12
This question really brings up more questions than solutions. The breed has deviated and morphed. Even the evaluation (schutzhund exam) has changed. Is there really a true courage test? Are some breeders putting pairings together for points dogs? How many of the high level sport dogs can make it on the street as a real working dog. If folks are only looking for dogs that are top BSP. You begin to create a genetic bottle neck. It amazes me how many really strong dogs with OFA "fair" hips don't get bred. I hear the audible gasps. You just need to pair it with a dog with excellent hips. Why not? You have matings where the sire and dam have Excellent hips and the progeny have weak hips. Genetics is not an exact science.

Depends on who is breeding the non titled female. Random Joe, no. Koos Hassing, yes.
by ValK on 11 December 2017 - 19:12
if breeder provides proofs of good health of parents and sufficient videos of their interaction with dogs during exercises (but without audio overlay with fancy tunes), i see no problems.
as alternative to see the dogs in real life, it gives more info about dog's capacities than bucket full of titles or countless words from internet experts.

by yogidog on 11 December 2017 - 20:12
The way I look at it is if you trust your trainer to train your dog in iPo, pp or whatever you train. his opinion on weather your dog is breed worthy should be taken into account. Most trainer's have been around the breed long enough to understand what the breed is all about and if your dog has the right genetics balance and drive and is healthy enough to bring strength to the breed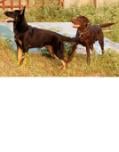 by aaykay on 12 December 2017 - 10:12
I care about the genetics behind the litter and if the genetics are good, and the individual dogs show the traits that I am looking for, I will buy them. Titles will not give me the genetics I want, but individual observations and opinion of trusted breeders is far more important. This formula has worked wonderfully for me till date, and my strongest GSDs have arrived via this approach.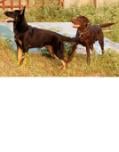 by aaykay on 12 December 2017 - 10:12
A title doesn't change a dog's genetics. Show dogs have titles.
Ouch.....sad but true !
You must be logged in to reply to posts
---
---
---
---
Contact information
Disclaimer
Privacy Statement
Copyright Information
Terms of Service
Cookie policy
↑ Back to top