by ValK on 12 September 2017 - 22:09
Entwerfer Haus perhaps would be nice if you did clarify what sort of DDR dogs you're looking for - dogs which looks alike DDR dogs or a dogs that acts alike DDR dogs?
by Gustav on 13 September 2017 - 10:09
Nice post, Sentinelharts!

by Reliya on 13 September 2017 - 13:09
ValK, I'm sure the original poster meant a dog with 100% DDR ancestry.
by ValK on 13 September 2017 - 15:09
Reliya
sure, but ancestry doesn't give guarantee that descendants of the dogs, bred for specific tasks, could 100% inherit such traits. particularly after 10 passed generation (thats' on condition of responsible breeding). there are too many variables, social environment in which and for which the dogs was bred isn't on the last place of conditions.

by DuganVomEichenluft on 14 September 2017 - 11:09
Kim has had very good success with her DDR lines. Her progeny is consistent and active in many facets of canine sports.

http://www.justk9s.com/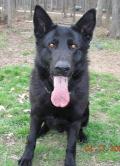 by Kelly M Shaw on 14 September 2017 - 21:09
For me personally I will look at the pedigree more so than if the dogs are titled. I do full DDR breeding's and I do DDR/West German Working line breeding's and have been doing it for 18 years now. I did schutzhund for 12 years but been out of it for awhile, so my dogs are not titled but I am also looking at getting back into it as long as my health permits it. My adult dogs are not titled but have produced working dogs. A few of them are training (1 will be titled this fall) with my old trainer for schutzhund and IPO. Others are doing nose work, being trained for PTSD for her Military dad as well as being trained for PPD, another being trained in PPD, APD and SDA. Others are showing and doing venues in AKC/UKC events and guess what?? These puppies parents are not titled. I'm not saying this to start a war on dogs being titled and dogs that are not so please don't take it that way. I'm just showing that there is another option.
by ValK on 15 September 2017 - 03:09
interesting development - DDR do not exist for 27 years but amount of east german shepherd's breeders hundred folds more than what it was in East Germany

by sentinelharts on 16 September 2017 - 01:09
ValK, I am not sure if that is actually accurate. In East Germany when the DDR was still functioning, there were quite a few breeders and they all titled their breeding dogs. If you compare the numbers of then to the amount of breeders today that actually title their DDR lineage dogs I would say the number is quite small.

I do agree that you can get dogs from untitled parents that can do the work. I have some dogs that I breed that are titled in other venues besides Schutzhund and I believe the Shepherd is a multi functional dog. I also bred a few dogs that never titled, so I am not throwing stones..

But, from my own experience in my own breeding program and from the dogs I have purchased- In the pursuit of a dog for the Schutzhund sport,I have been more successful with dogs bred from parents that are titled. I also like to look at the parents and relatives' scores to see where the dog was strong and where the dog was weak. For example, my male Bosco- He is a big boned, heavy male. He has extreme ball drive and this makes for enthusiastic obedience. His physical structure does not allow for the fancy front end prancing that is so pretty to watch but he is attentive and driven. He is a strong dog in protection and loves the fight as long as the helper is active but when the helper goes still, he tends to be a little less interested, so in short - he has a little less than ideal aggression I want to see on the trial field. I presume this comes from his police work and possibly being heavily corrected for not wanting to out at some point. He is a good tracker and does not give up but I have not been able to get consistent speed throughout the entire track, so we lose points there. I have learned that Bosco has full, genetic grips that he passes to his offspring but I was not so sure about his grip when I first got him. He was chewy and did not want to grip more than 1/2-3/4. Over time with working him I believe he developed his less than ideal bite after his first trial when he didn't want to out and his first handler put a lot of work into the control. We have brought his full grip back and he is pretty consistent with it.

My newest male Pepe von Weltwitz has really super aggression in protection and hard crushing full calm grip but he has only medium ball drive and lacks enthusiasm in obedience. He will be the dog I trial in 2018-2019 and I feel I have a lot more to learn about him thru our partnership in training.

My point about buying a puppy from titled parents / breeders that title was not meant to say that it is the only way to go. I just feel puppies are a crapshoot even from proven parents. I want to know as much as I can about how the parents were trained, what their strengths and weaknesses are in order to get the best idea of what the perspective puppy will be like to train.
by ValK on 16 September 2017 - 03:09
sentinelharts
my point was - east german shepherds as specific direction of development of the breed, now in the past. so called now "DDR GSD", disappeared together with DDR as a state. and there is solid reason for it. but lately, like mushrooms after rain, started to pop-up countless number of kennels and breeders, who's claiming to breed "pure DDR shepherds". i'm curious how many of them did owned and handled original, well selected and bred german shepherds from East Germany as they were, back in 70s and 80s.

by sentinelharts on 16 September 2017 - 03:09
People today can not possibly think the dogs we are handling now are the same as the dogs from 40 years ago, just the same as those dogs were far different from the dogs alive in the 40's We have tinkered with every single line, the winningest dogs in every competitive category are different than they were then, even the competitions have evolved from what they were before, we no longer have a low crawl in Schutzhund for example and there is nothing wrong with that.

Does not change where the bloodlines came from

We still call Bengal Tigers by their name even though the country no longer exists---Bengal: An independent kingdom from 1338-1539, now part of Bangladesh and India.

We still have human beings who call themselves Hawaiian as in of a Polynesian race even though Hawaii is no longer its own country ----Hawaii: Though a kingdom for hundreds of years, Hawaii wasn't recognized as an independent country until the 1840s.- annexed to the U.S. in 1898.

We still have Tibetan Mastiff's and people who consider themselves Tibetan and Tibet is no longer in existence----Tibet: A kingdom established in the 7th century, Tibet was invaded by China in 1950 and has since been known as the Xizang Autonomous Region of China.

This is an age old argument- I am ok with the idea that none of our shepherds are exactly the same as they were 40, 50, 70 years ago and I actually believe some of the changes have been for the better


You must be logged in to reply to posts
---
---
---
---
Contact information
Disclaimer
Privacy Statement
Copyright Information
Terms of Service
Cookie policy
↑ Back to top