Spanish National IPO3 and FH Champion Sired Male
Sent by dancingnib
United States ←→ Posted from United States
Updated: Apr 03, 2019 09:21 PM (inserted 4 months ago) -> 3964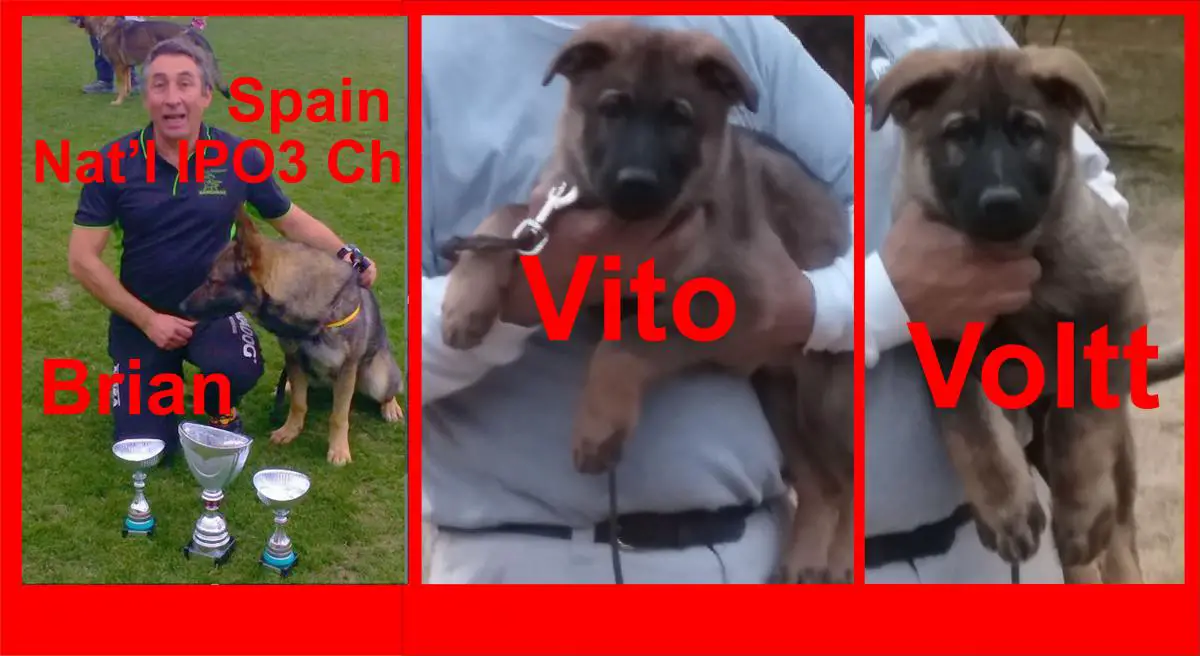 Offer for Sale
Vargas Lektro offers to qualified Working Dog Homes the opportunity to purchase one male from our V2 litter at the price of $1,000 with full AKC registration.  We offer Vargas Lektro Vito solely to qualified experienced working dog handlers.  Vito is a clear crowd quality dual purpose K-9 candidate.  He has situational awareness and strong investigative drive.  He has a nicely balanced prey and defense drives with active social aggression.  In addition, Vito has excellent pack, willing to please, play and food drives.  He loves to work.  
Since we are retiring this year and will rarely breed pups, we are not offering a long-term warranty with a replacement pup.  We warrant that the breeding pair are healthy, sound, superior working dogs with super nerve and active social aggression.  All the pups in the litter were definitely imprinted by the sire's stamp.  The pups were all very uniform, healthy with no genetic faults.  Since we offer no other warranty, we have backed off the price that pups from such quality competition dogs can command, but we do guarantee the pups to pass a satisfactory vet check within 48 hours of arrival or pickup.  
We have video posted of the pup on DropBox.com.  Please click on the link to Vito.
We offer handlers a chance to purchase top blood stock from Working Dog competition parents.  Our breeding goal since the mid 1980's is to produce dogs that have exceptional Working Character and Universal Sieger Conformation with calm super nerve, full calm grips and active social aggression.  We only select breeding partners that have those qualities and an on/off switch.  That switch when turned on, the dogs go into activity with full throttle and maximum velocity.  This litter loves to work and need that outlet.
V2 Littermates are all in training.  Venus, a female, is in a detection home and is described by here trainer as a "whole lot of dog".  Victor Hans, a male, is in an AKC Competition home where he is exceling in early training.  Another male, Voltt, is in obedience training and will be employed as a home area perimeter protection dog.  The two pups we kept are Vonn, a female, and Vox, a male.  Our pups will be trained up as competition IPO and FH working dogs.
V2 Litter History
The litter of 4 males and two females was whelped on October 21, 2018.  At Vargas Lektro, we took our time with the V2 litter to select which pups to grow out.  The selection was difficult because the pups are very uniform and have the stamp of their sire. 
The litter has not presented any disqualifying genetic flaws at 22 weeks of age, March 20, 2019. 
In the V2 litter there were no hernias, no off-bites, and all testicles descended.  All ears are showing good action and sets, strong powerful heads with pronounced stops, powerful strong bone, excellent dry ligaments, high withers, strong backs with flowing topline and croup, long underlines, good tail sets, and nice tight feet. 
The pups have all their shots, including a later start of Lepto which we started after 12 weeks of age, and rabies.  The pups and dam have been wormed from conception, whelp and now every month prophylactic worming with Panacur and Ivermectin.  The last fecal float showed no eggs. 
The pups are now 21 weeks of age.  They are crate trained.  As far as early expression of working character, the pups are calm with excellent pack, food and prey drives.  
The pups are black sables.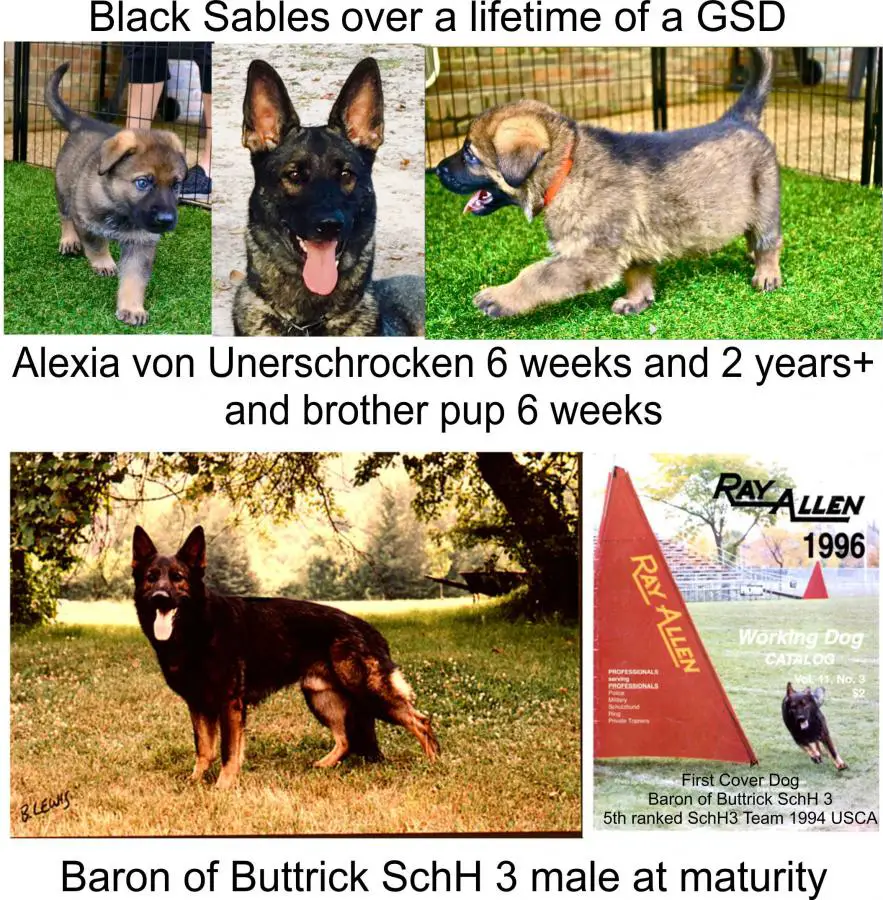 Sire of the V2 litter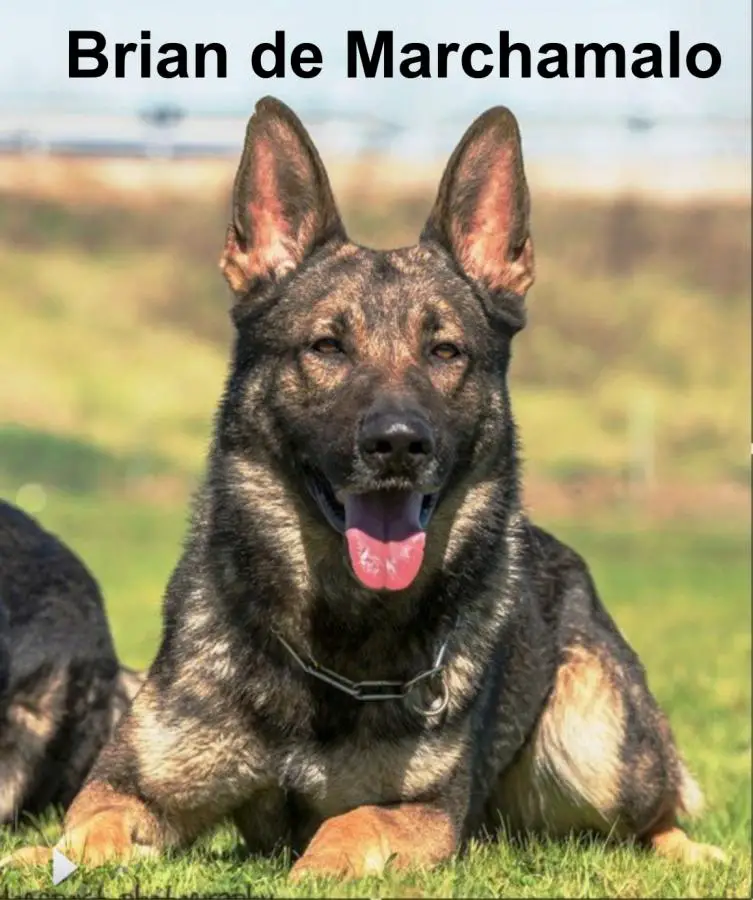 Links to Brian's videos, pedigree and breed survey in Blue
Sire:  Spanish National IPO 3 & FH Champion Brian de Marchamalo
RSV2000 Breed Survey
HD a normal / ED a normal Spain
Brian earned the highest RSV2000 Breed Survey
rating for nerve: 1,000 points out of 1,000 max
conformation rating of 961 out of a maximum of 1,000 points. 
Full text of Breed Survey
Video of Brian's Obedicence and Protection Competitions in EU:  Brian Video
Photo highlights of the 2015 IPO 3 Spanish National Championship:
Protection (C)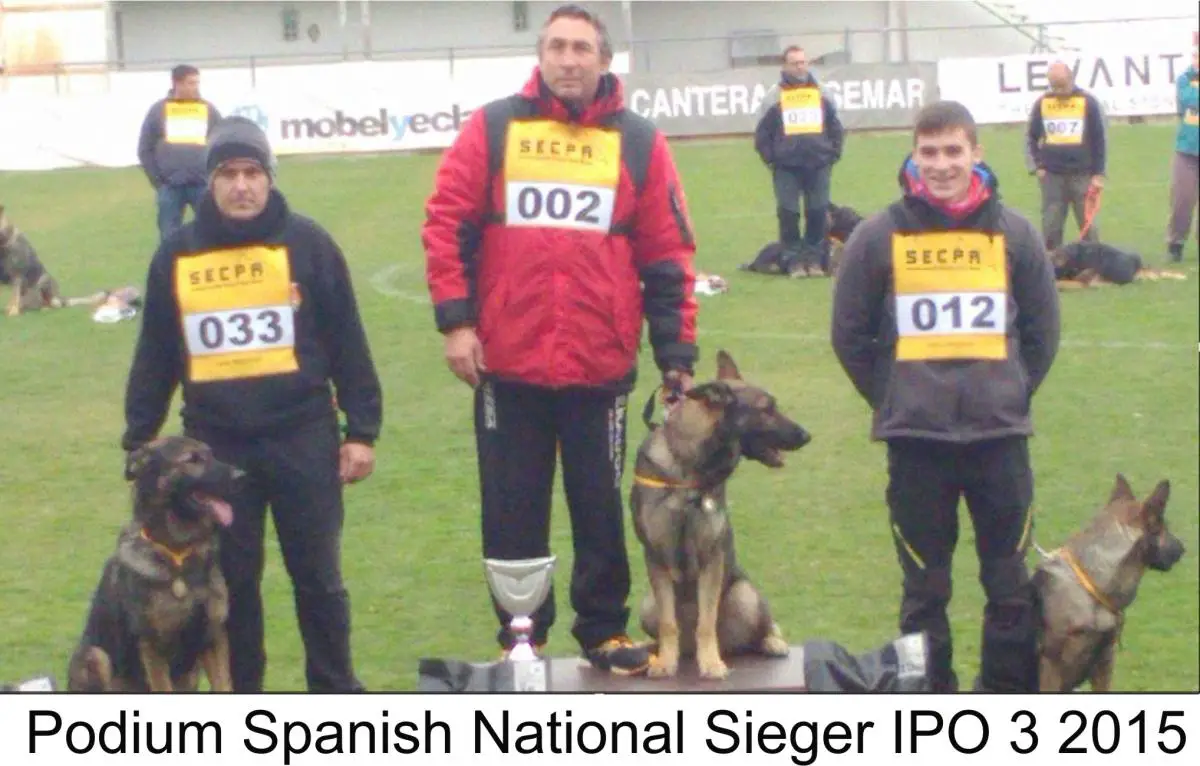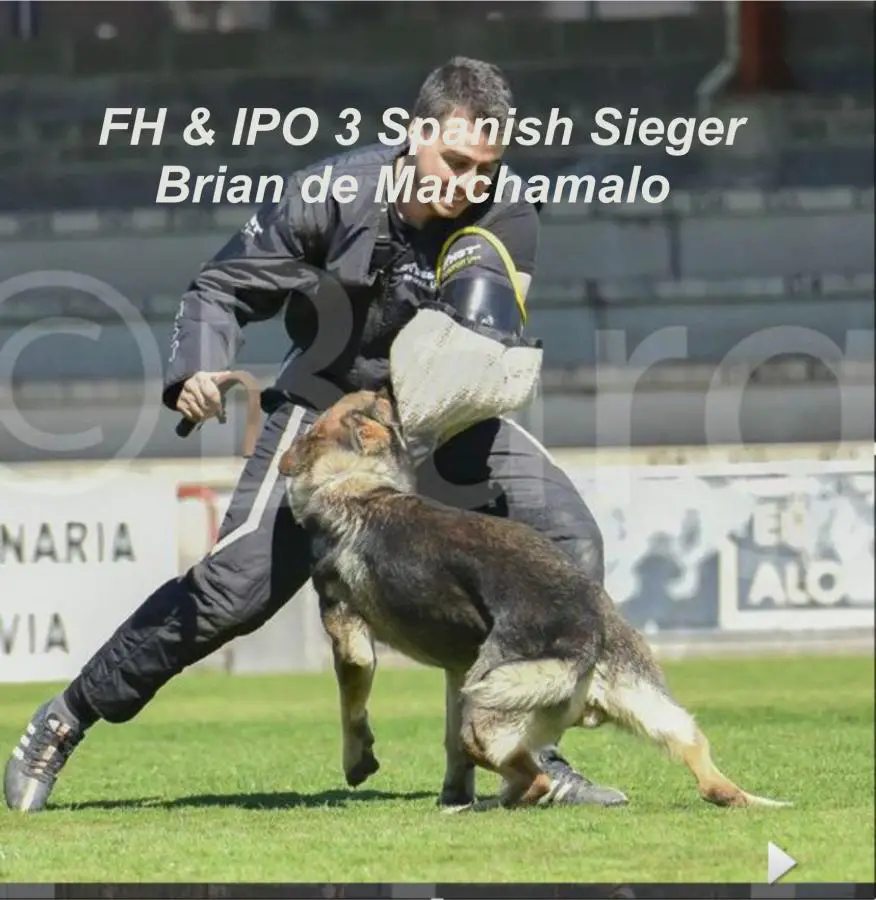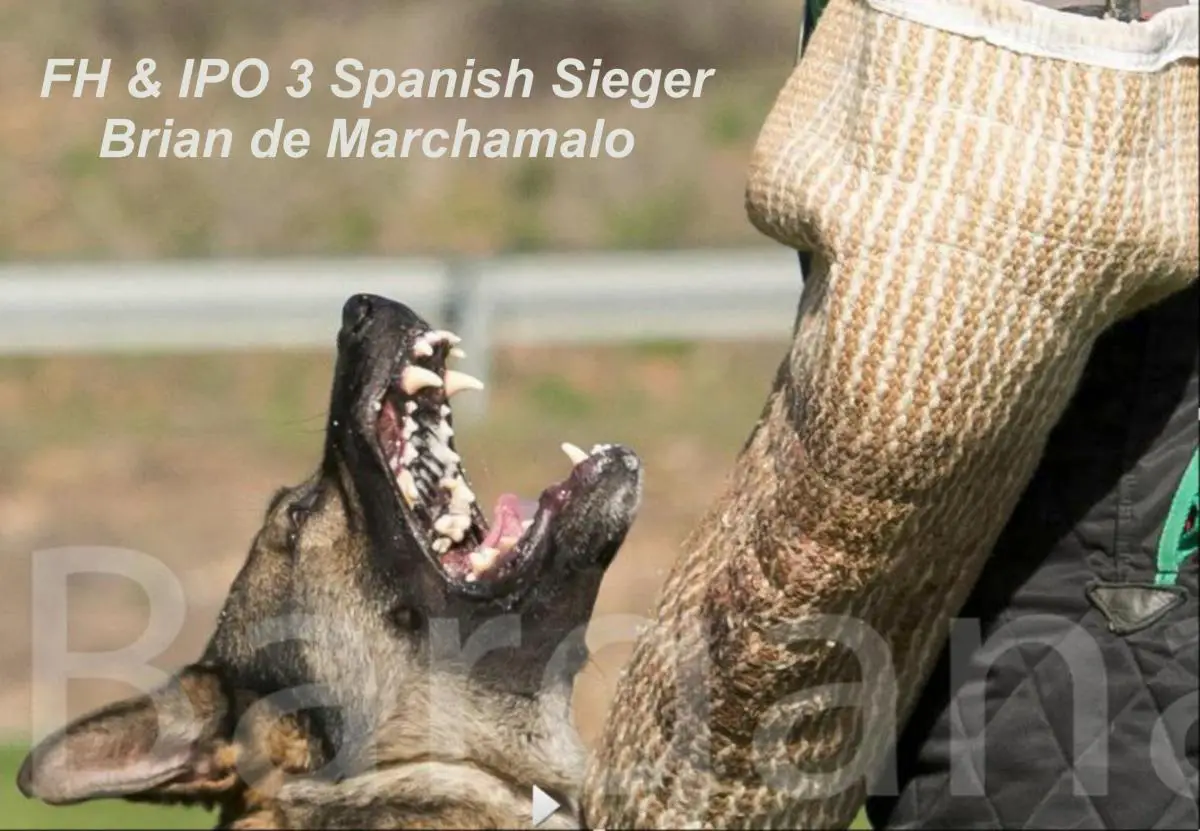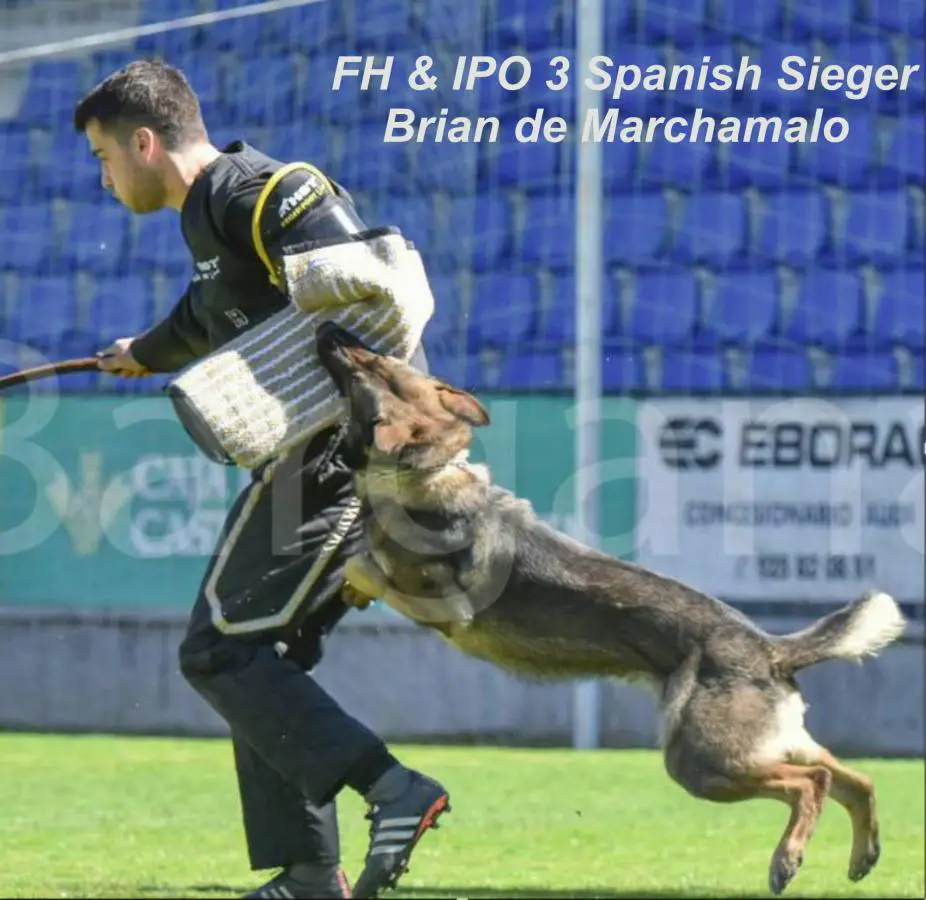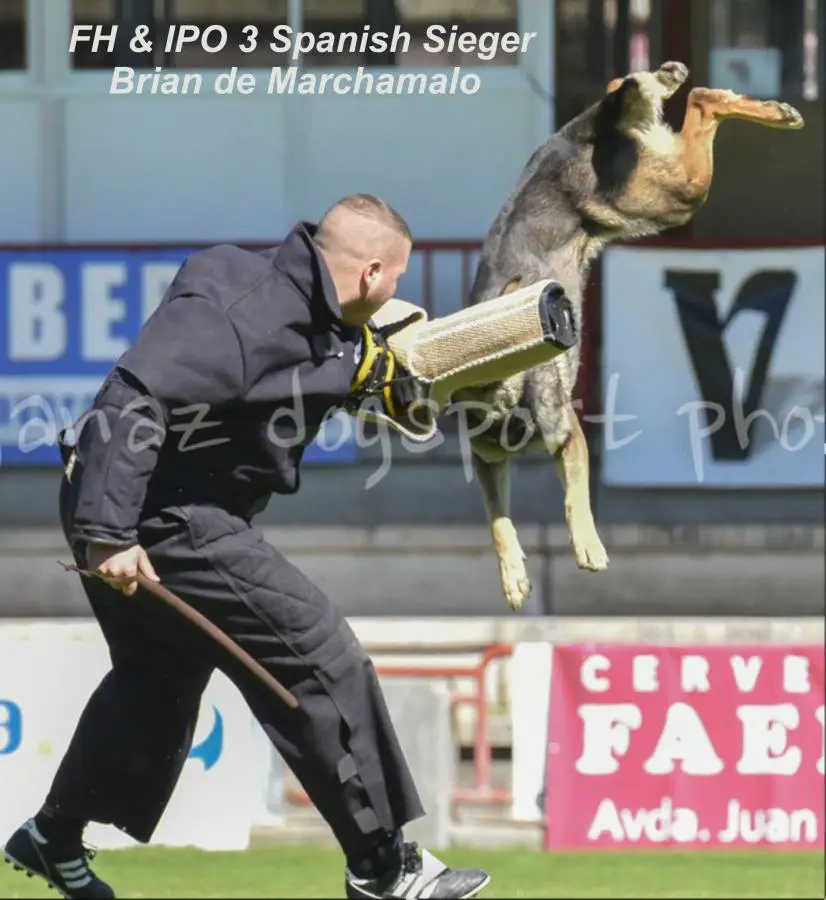 Obedience (B)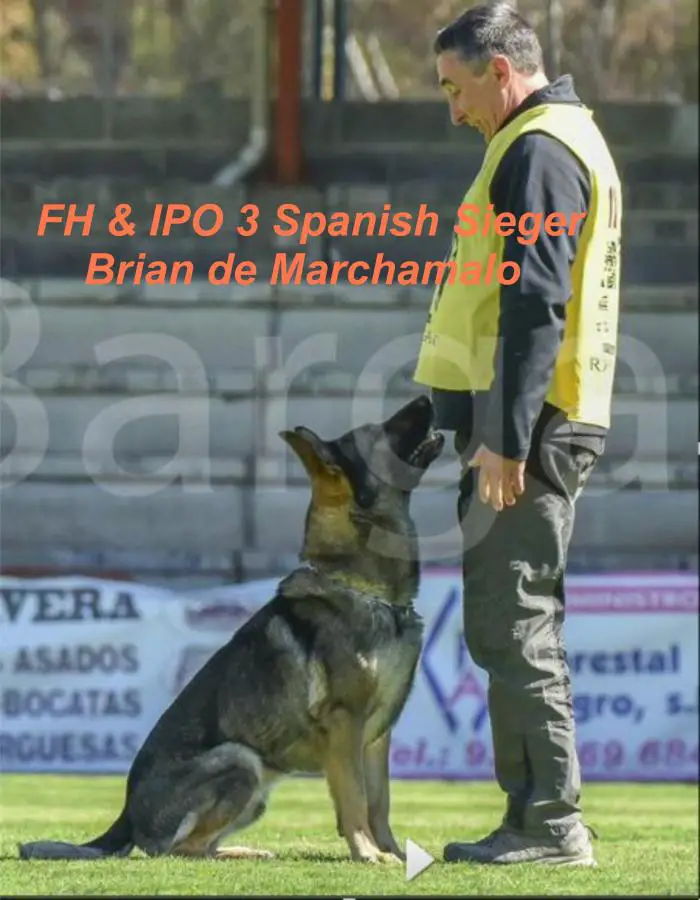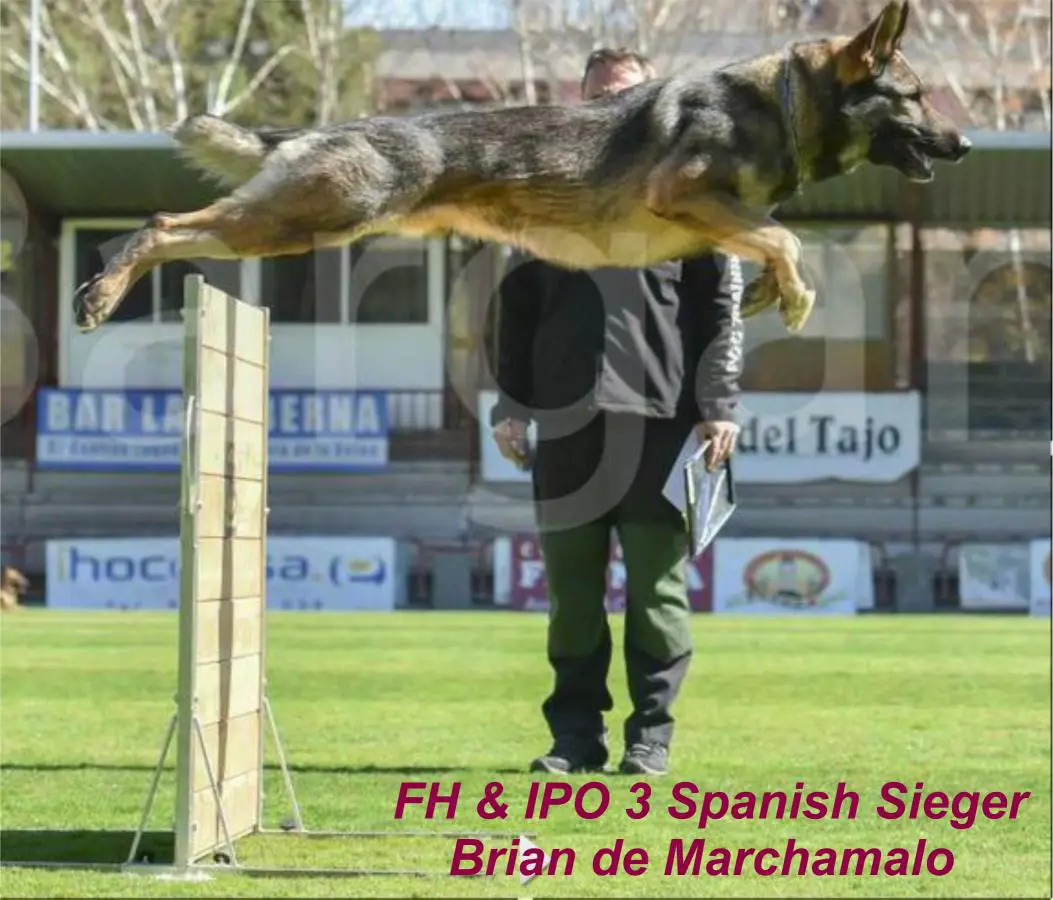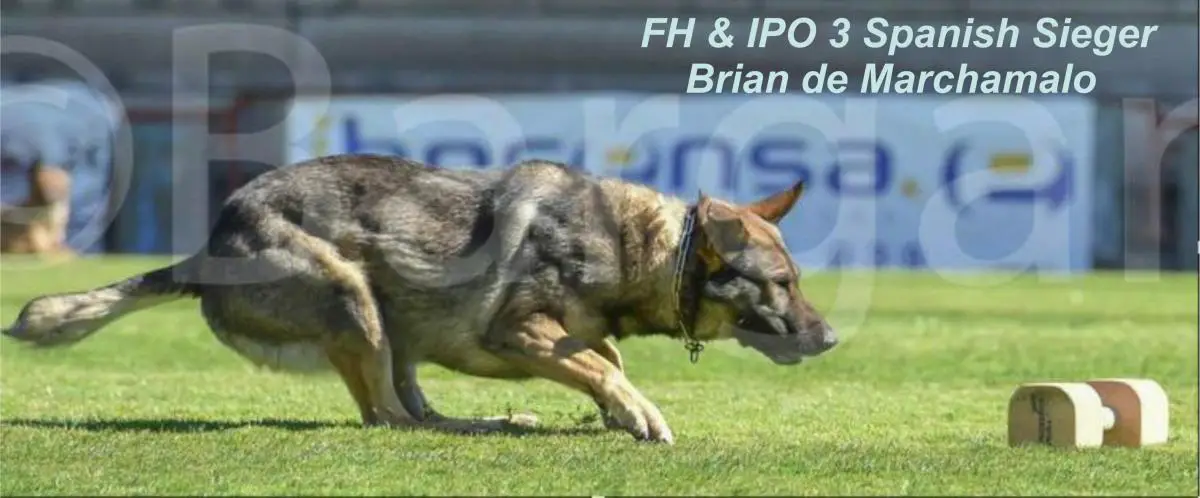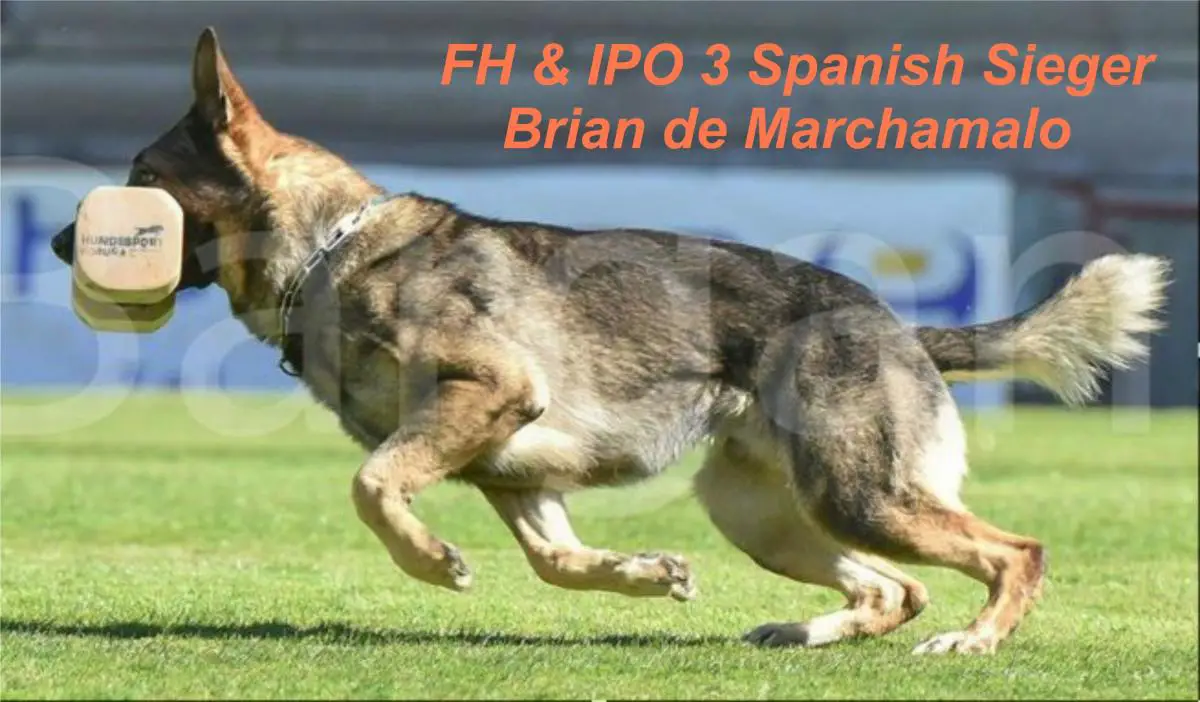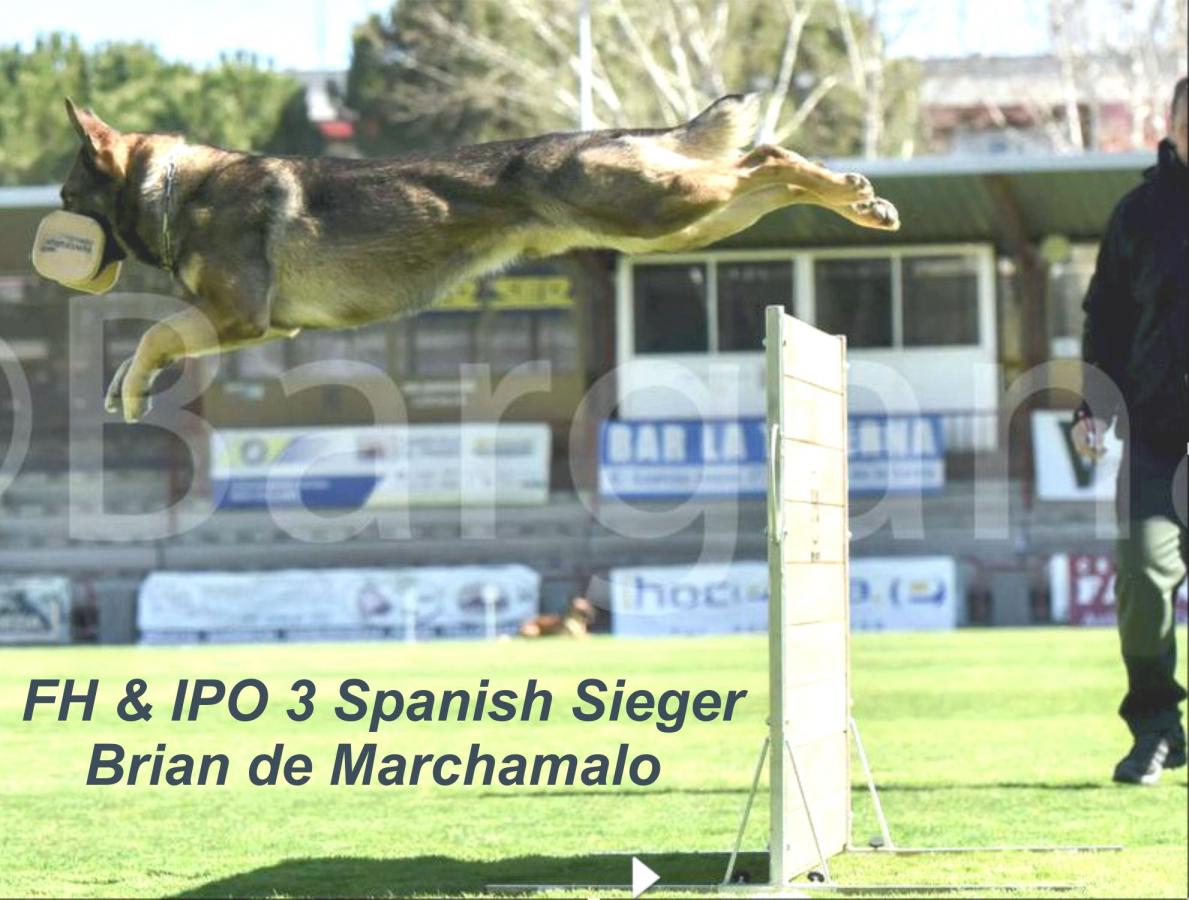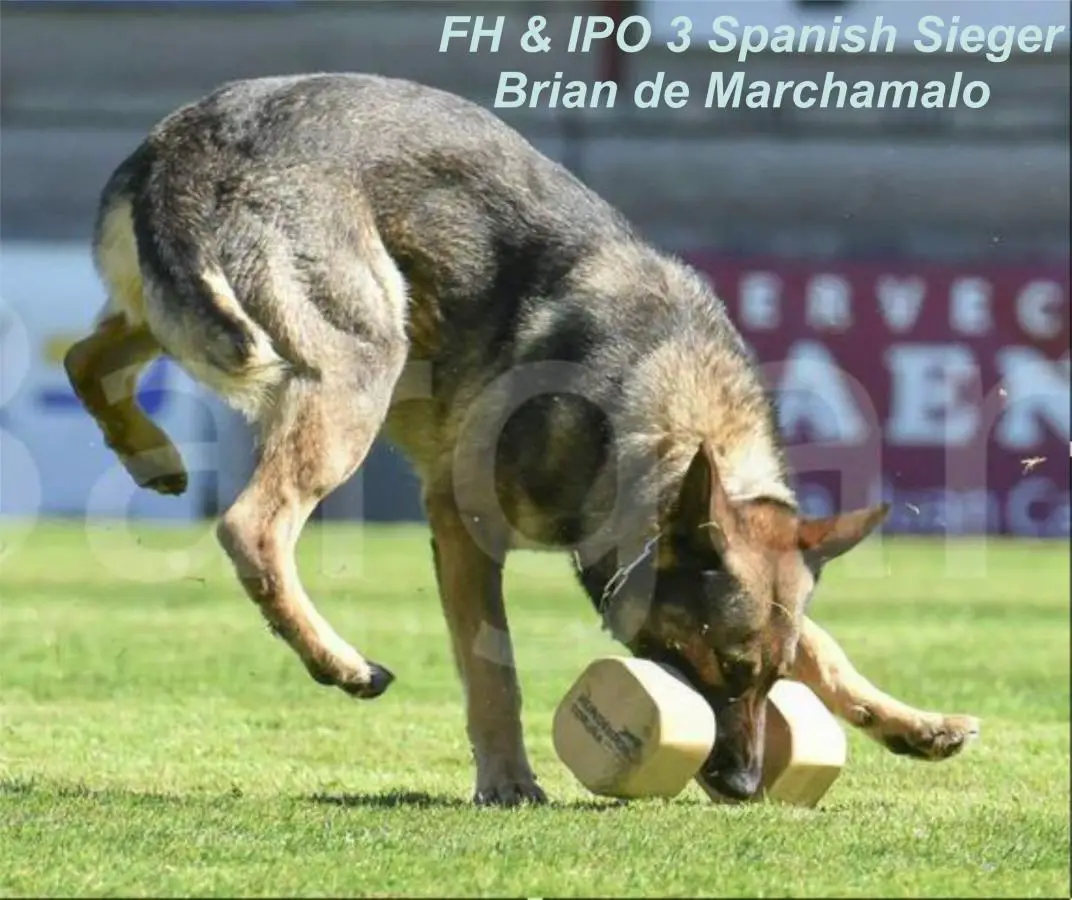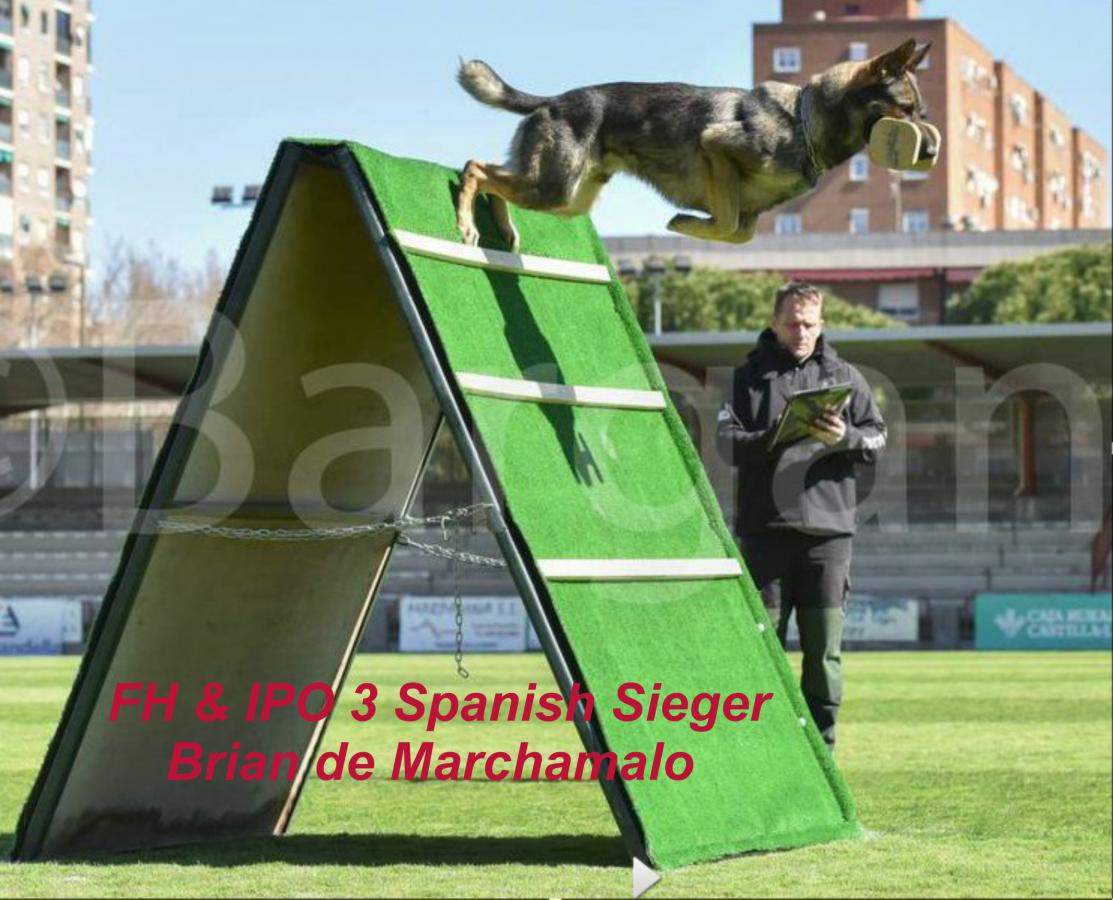 Brian is an exceptionally strong nerved dog with great impression, all male.  He catches the eye.  He is a power dog that has a switch.  Calm, until he is given a command; and, then full throttle with maximum acceleration.  He is an enthusiastic precise working partner.  Very clear and clean in the head; he is trustworthy.  Athletic, well built, powerful bone, naturally dry and firm.  Beautiful strong head, dark eye, a striking handsome dog. 
He has no hole in his character and is certified as such by score of 1,000 in the RSV2000 Breed Survey, which is the maximum a dog can be scored and remarkable.  Dr. Helmut Raiser personally expressed to me his great delight at Brian's extraordinary nerve score, not knowing that I had a litter.
Brian, to my observations, is a producer; stamping his puppies.  His litters are consistently homogeneous.  Amazingly, when he was in Spain, they never bred him.  He was strictly a competition working dog, period.  No inbreeding is needed for him to pass on his superior characteristics. 
Links to Teil's videos and pedigree in Blue
Dam:  Vargas Lektro Teil IPO 2 FH 1
OFA: Hips good  Elbows normal
Videos of Teil in Protection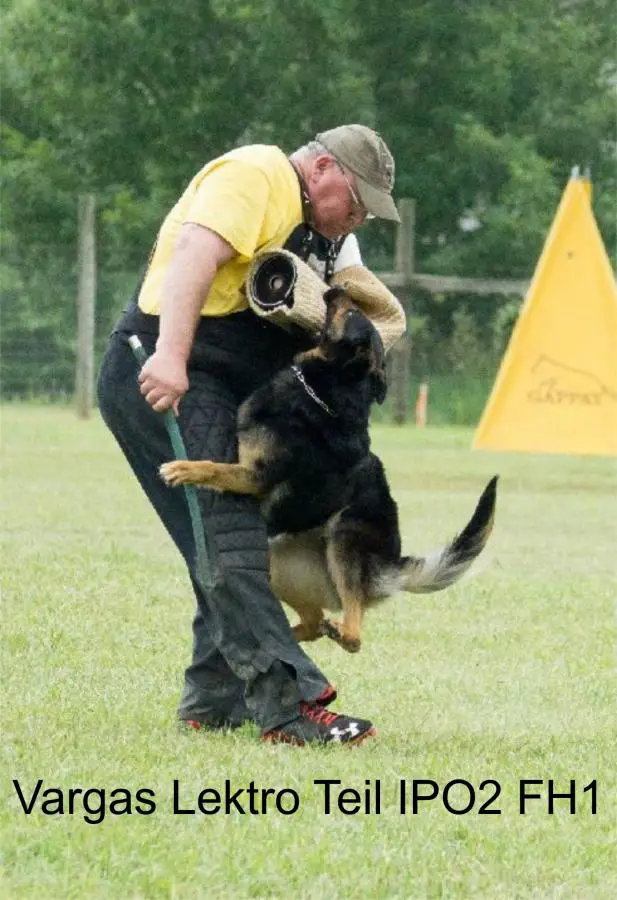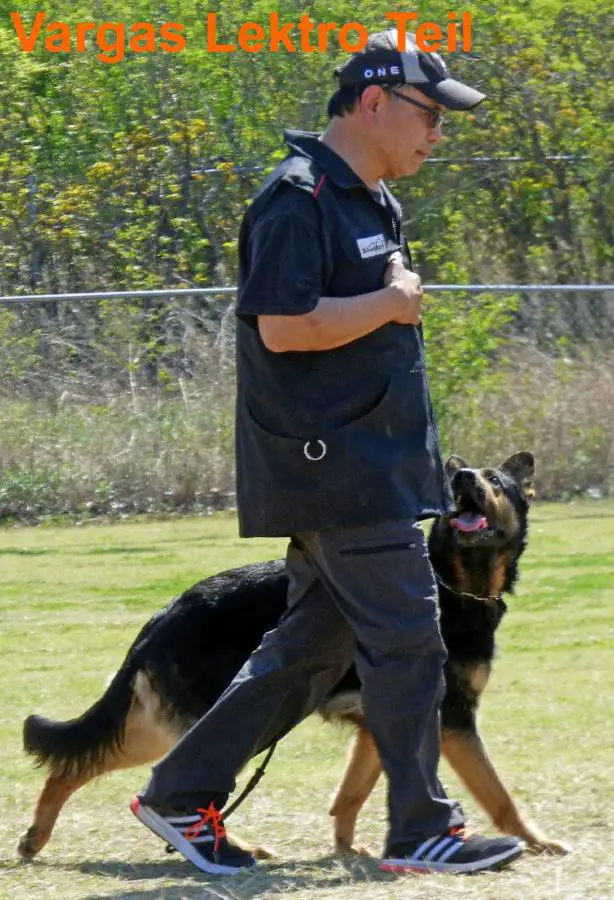 The dam, Teil, needed to be proven before she started this 2019 training and competition season.  The offered puppies are from her first litter and my V2 litter.  Both sire and dam are very smart focused working dogs.  We expect nothing less from their pups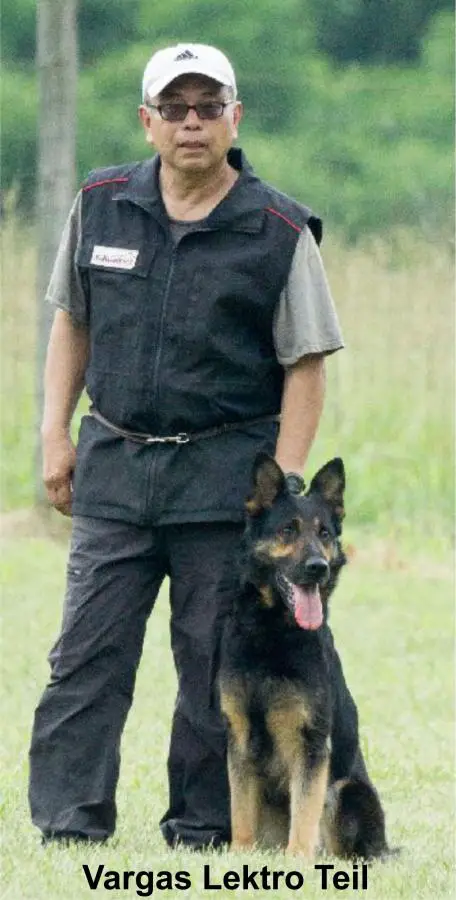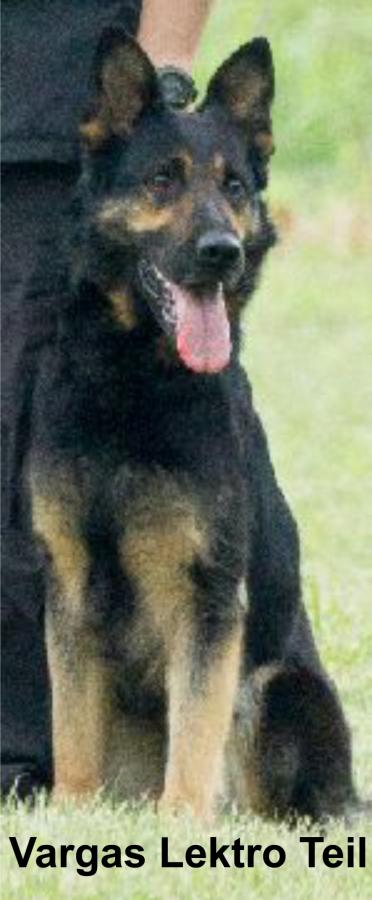 We are a small hobby kennel in NW Arkansas, USA.  We are long-time established breeders, trainers and competitors since the mid 1980's.  We originally started in Washington State and later, California.  We breed German Shepherd Dogs (GSDs) for ourselves.  Herman trains and competes with the dogs.  Patti researches the bloodlines, manages the breedings and produces the paperwork. 
We only breed strong healthy balanced dogs that present great impression.  We personally aspire to produce power dogs with a switch.  To qualify as breeding dogs for our program, both dogs must have the potential to produce power, super nerve, clarity, with tractable calm eager working character.  We observe and screen for partners with those desirable qualities.  Generally, the sire and dam cannot give traits to the litter that they do not possess. 
We avoid inbreeding since that practice brings faulty genes forth to the litter.  Most breeders do not know how to breed type to type dogs with open pedigrees.  We do and have practiced producing healthy pups since the 1980's. 
Most breeders are ruing the breed.  They defend inbreeding by claiming that it is the only way they know how to produce genetically similar pups.  Inbreeding to compensate for breeding partners that are not prepotent producers is a definite losing proposition and a poor excuse to breed.  Ask the animals in Africa that have lost habitat and are now suffering their physical demise from inbreeding. 
Our practice of combining producers with open or near-open pedigrees invigorates the blood of the progeny.  The breeding pair must be handsome with correct functional structure.  We are proud of the dogs at the end of our leash and our puppies. 
We are very selective in choosing partners and do not breed dog's with known faults or known producers of genetic faults.  After all, we are breeding for our own blood stock and do not want to corrupt our gene pool. 
We breed working dogs that can do the Schutzhund sport, but our dogs are able to answer to a higher calling of service.  We are working dog breeders, not sport dog breeders.  To us, the beauty in the GSD is best presented in the dog's ability to calmly work with enthusiasm.  We do not find great working character in high prey dogs bouncing off the walls or high defense dogs that overreact to situations with their low threshold.  Our breeding goal is to resurrect and preserve the working character of the GSD through the Universal Sieger type.  We do this in conjunction with a small group of breeder/trainer/judge friends around the world that have similar goals.
We are old enough to remember progeny of the post-WWII Pillars of the GSD Breed.  At that time, there was no differentiation between work and show.  Those Pillars are the progenitors of the Modern GSD Breed.  The Pillars' strong working character and producing blood is still carried forward and expressed in very special working dogs.  We still view Schutzhund as a breed test for entry into the gene pool of qualified breeding dogs. 
http://www.pedigreedatabase.com/german_shepherd_dog/dog.html?id=2829969-vargas-lektro-voltt
---
---
---
Contact information
Disclaimer
Privacy Statement
Copyright Information
Terms of Service
Cookie policy
↑ Back to top