GERMANY IMPORT, IPO1 V1 MATED female
Sent by gepard96
Bulgaria ←→ Posted from Bulgaria
Updated: Dec 07, 2017 08:19 AM (inserted 9 days ago) -> 223
<< SUPER BREEDING FEMALE FOR SALE - МАТЕD >>

For sale : Zurka vom Hühnegrab

Zurka is V1 show rated, BH & IPO1 titled and have Kkl1 (breed survey)!
She have make: by SV in Germany DNA testing for origin and HD "normal", ED "normal".
Zurka is born in one of the best Germany Kennels - "vom Hühnegrab" (owner Heinz Scherer).
From this Kennel is the World Champion 2017 : VA1 SV BSZS 2017 Gary vom Hühnegrab
and many others VA and high rated dogs in the last over of 30 years.
Zurka have gorgeous blood & pedigree - her both perants are with best BSZS rating :
Father is the legend: V1 SG3 BSZS Tyson v. Köttersbusch SchH3, HD/ED normal, Kkl
Mother is the famous: V1 SG8 BSZS Zaida v. Hühnegrab SchH1, HD/ED normal, Kkl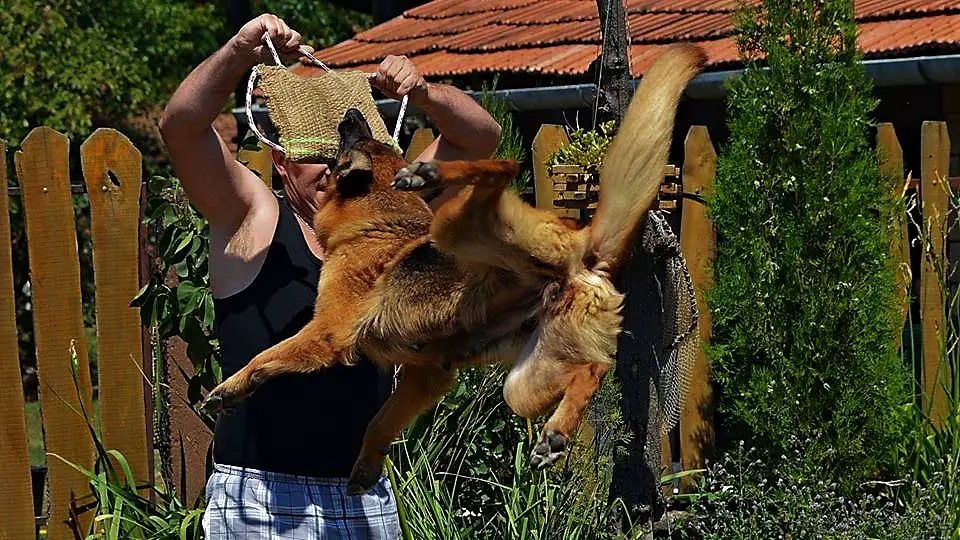 In Zurka, we have one female with high show rated, with excellent anatomy, brought from the most famous German kennel in the last 20 years and her parents also are ranked in the top ten of BSZS in Germany (many times winners in shows in Germany).
Very rarely breeding females with such parents and from such famous kennel is offered for sale.
She is the female with the best blood and from the best kennel that is for sale in this moment!

Kennel reduce! The price is very good for female with this top-quality!

Zurka is mated with:
V1 SG36 BSZS 2014 PAKI TOPOLOVNIKI [3xSG1]
(IPO3, BH, SV: KKL* 2017-18, HD-ZW 76, HD/ED normal, DNA gepr.)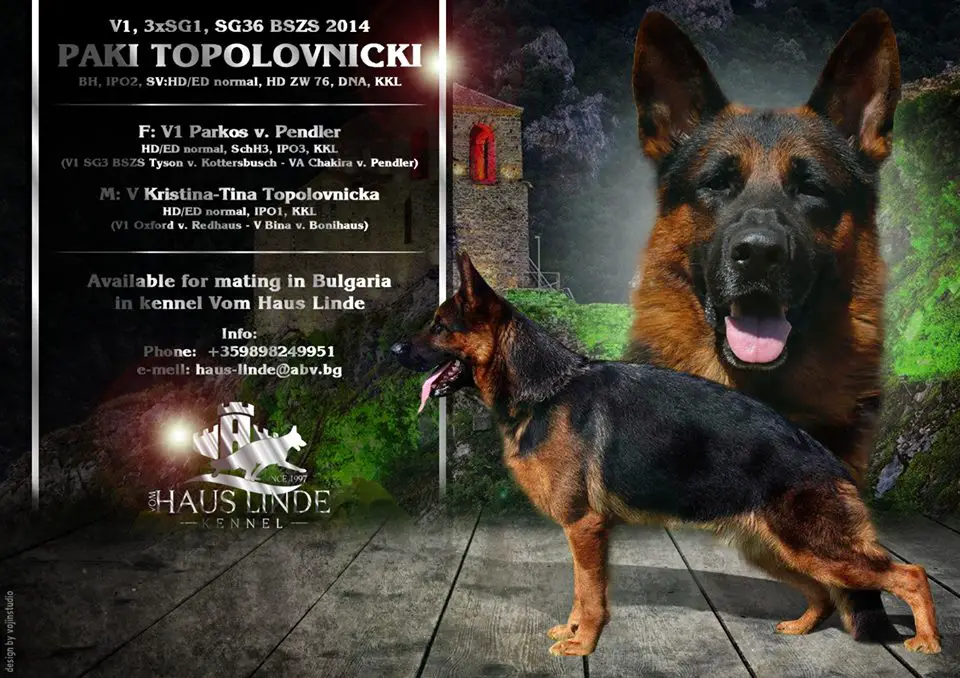 > Father: V1 Parkos v. Pendler : SchH3, IPO3, HD/ED normal, Kkl
(V1 Tyson v. Kötersbusch - VA Chakira vom Pendler)
> Mother: V Kristina-Tina Topolovnicka : IPO1, HD/ED normal, Kkl
(V1 Oxford v. Radhaus - V Bina vom Bonihaus)
▶ Paki have very good performance > he is among the first in different speciality shows for GSDs in Germany, Holland, Bulgaria, Croatia, Bosnia etc. - here some of them:
🏆 The best TSB test & V-2 (GHKL) : BULGARIAN SIEGER SHOW - 2017 am 21.10.2017 (judge: Gerd Reims, Germany)
🏆 V-2 ViceSieger (GHKL) : Annual club speciality show for GSDs in Asenovgrad, Bulgaria am 16 september 2017 (SV judge Nancy Herms, Germany)
🏆 SG-1 Sieger (JHKL) : III Speciality show for GSDs in Prujedir, Bosnia am 19.10.2014 (judge: D. Shule)
🏆 SG-1 Sieger (JHKL) : XII Speciality show in Osjek, Croatia am 27.09.2014 (judge Heinz Scherer, Germany)
🏆 SG-36 (JKL) : SV BSZS 2014 (The World Championship for GSDs) in Nürnberg, Germany (SV judge: Hans-Peter Fetten, Germany).
In this most elite race for GSDs Paki is rated in the Top 30% in JKL-R in one competition with around of 120 participating dogs from all the world! In this top show Paki is ranked befor many club champions (JKL & JHKL Siegers) and many "VA" rated dogs in different local sieger shows, incl. befor VA4 (US) Taifun v. St.-Michaels-Berg, VA4 (US) Lingo Feetback, VA2 (Pol) Hunter v. Haus Tchorz, VA2 (Spa) Cristiano Ronaldo de Los Madriles, VA2 (Rom) Milton Vac-Vagvölgyi, VA2 (Lat) & VA4 (Rus) Xedgehog Solo Rigoletto, etc.
🏆 SG-2 Club ViceSieger (JKL) : Clubmatch Friesland "De Walden" 2014 in Burgum, Netherlands (judge Hans-Peter Fetten, Germany)
🏆 SG-3 (JKL) : SV LGZS (LG05) in Voerde/Ndrh, Germany am 15.06.2014 (judge Hans-Peter Fetten)
🏆 Repeatedly Excellent 1st/V1 in working class : FCI Dog-shows (2016-2017)!

The litter Paki x Zurka is breed with linebreding 3-2 of the legendary dog Tyson v. Köttersbusch!
Linebriding type 2-3/3-2 (allowed from FCI) are fundamental to transmit the genotype of a prominent progenitor for the future generations.
Of course such inbreeding must be thought very carefully. Must be done Linebreeding of this type only to the proven as a prominent producers for which we have adequate data for the offspring (which should be carefully examined).
In this litteer and the father, and the mother have been proven in breeding and have so far been excellent offspring. The both parents are with made in Germany HD and ED research with the best possible results HD + ED "normal". They are repeatedly winners in different shows.
More info:
e-mail: haus-linde​@abv.bg
working-dog: https://www.working-dog.com/user/Ivan-Yonkov-186523
---
---
---
---
Contact information
Disclaimer
Privacy Statement
Copyright Information
Terms of Service
Cookie policy
↑ Back to top