World Class Working Line German Shepherd Puppies
Sent by JustaGrinder
United States ←→ Posted from United States
Updated: Jun 06, 2017 08:12 PM (inserted 2 weeks ago) -> 1405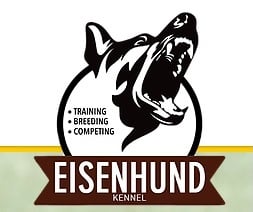 We have two nice big boned males left out of our Brian/Kora litter born on 03/28/2017. Both have super drives. One is high energy all the time and loves to bite anything in sight and will only be sold to a working home. The other also has great prey drive, but he has a calmer side and loves to hang out with my daughters and chill. He would make a great personal protection or club level dog.
SG Brian de Marchamalo IPO 3, KKl 1, Hips/Elbows Normal is an international competitor taking 1st in the SECPA National Championship in Spain in 2015 and 3rd in 2016. In 2016 he also took 6th in the GSDCA National Championship and 13th at the RSV2000 World Championship in Korbach Germany. Brian is the fastest, hardest hitting, most athletic dog I have ever seen. There is something special about the way this dog works and competes, and boy does he love to compete. When Brian comes on the courage test the decoy knows he is about to be hit by a freight train. He has taken out 2 different decoys during competition with injuries.
SG Kora vom Lehrbacher Schloß IPO 3, KKL 1, Hips Fast Normal Elbows Normal, is also an international competitor. She was the youngest dog to compete in both her LG and LGA competitions in Germany. She then competed at the GSDCA Nationals in 2016. Kora is the type of female everyone is looking for. She is built more like a male with a big head and broad shoulders. Kora loves to compete and when she walks on the field she is all business. She is one of the few females I have seen that shows serious aggression and unmatched courage during protection work. She has the closest guard of any dog I've seen (even costing me a point at Nationals for wrapping her leg around the helper) and will not back down no matter how big the decoy is.
These puppies have proven world class genetics and superior intelligence, nerve, courage, athleticism, and health. With proper training they will excel at any task you give them whether that be competition or protecting your home.
Puppy Pedigree:
http://www.pedigreedatabase.com/breeding.result?father=2424491&mother=2180743
Parents Pedigrees can be found here: http://www.pedigreedatabase.com/german_shepherd_dog/dog.html?id=2424491-brian-de-marchamalo
https://www.working-dog.com/dogs-details/978562/Brian-de-Marchamalo
http://www.pedigreedatabase.com/german_shepherd_dog/dog.html?id=2180743-kora-vom-lehrbacher-schlo
https://www.working-dog.com/dogs-details/2524906/Kora-vom-Lehrbacher-Schlo%C3%9F
For more information check out our website: Www.Eisenhundkennel.com
Our Facebook page: https://m.facebook.com/EisenHundKennel/
Or contact Sean: Eisenhundkennel@gmail.com 417-529-5006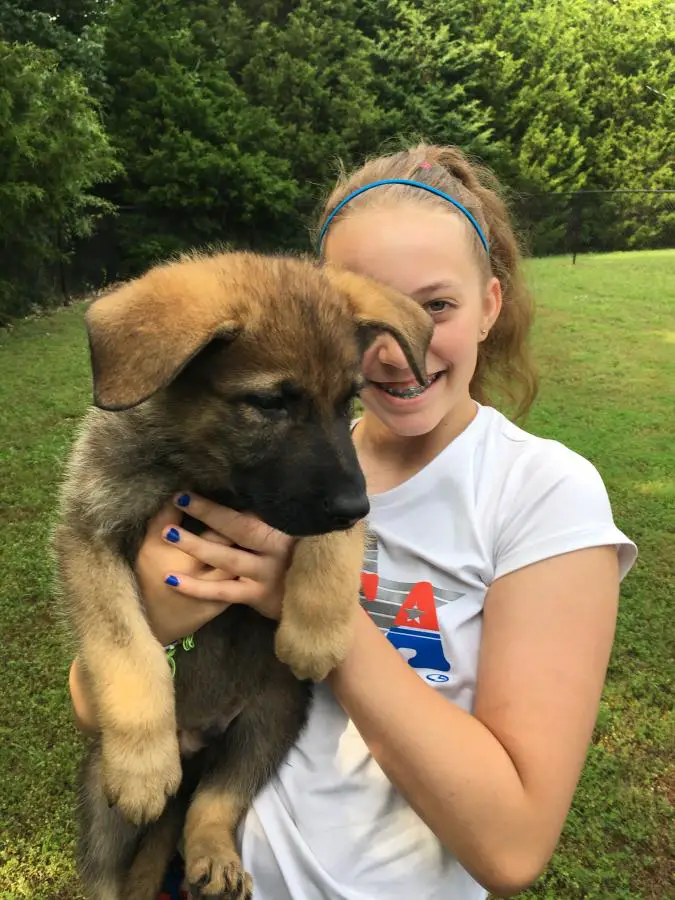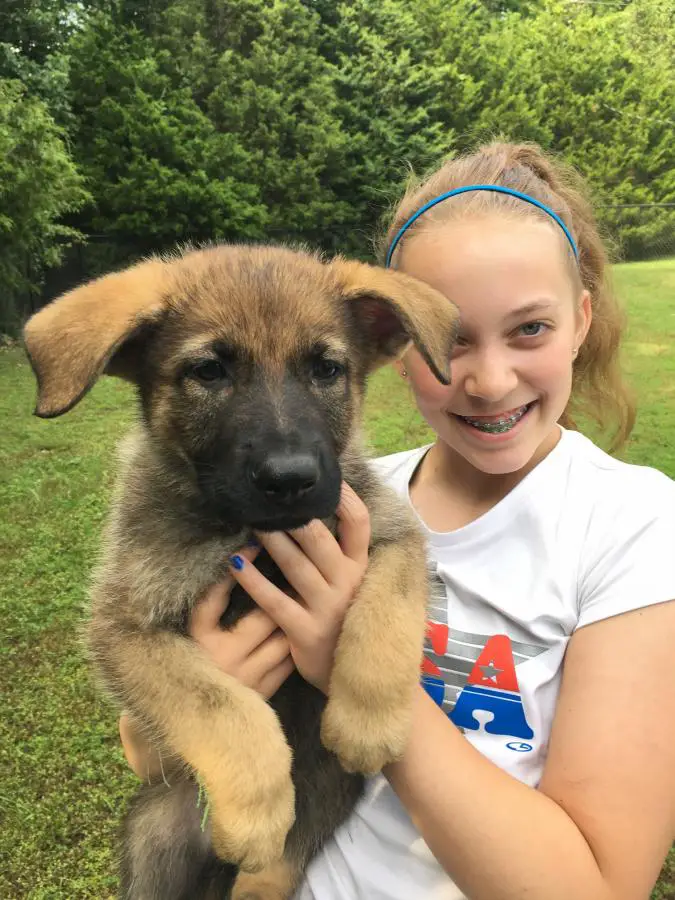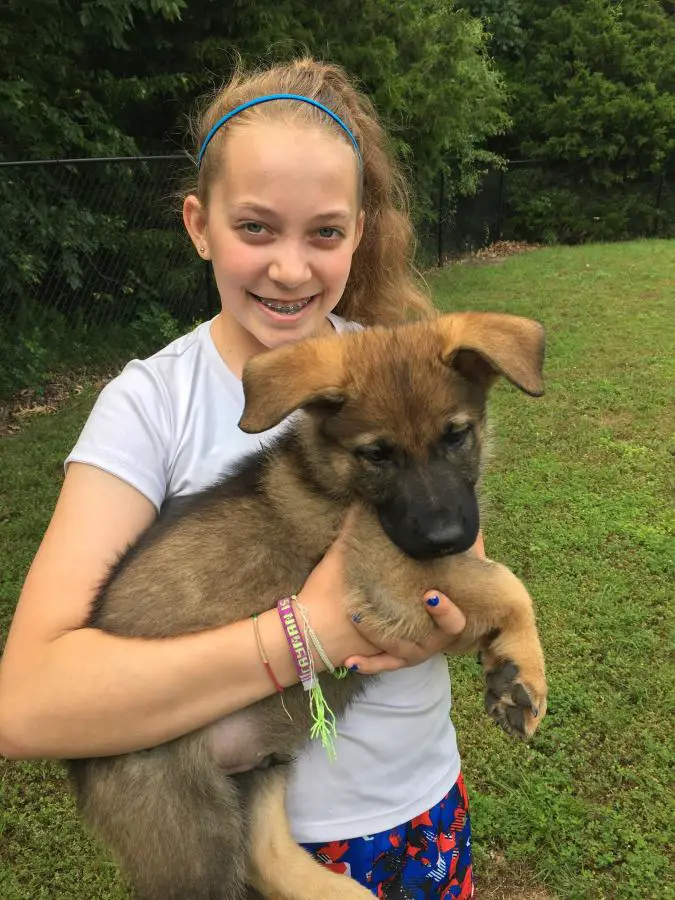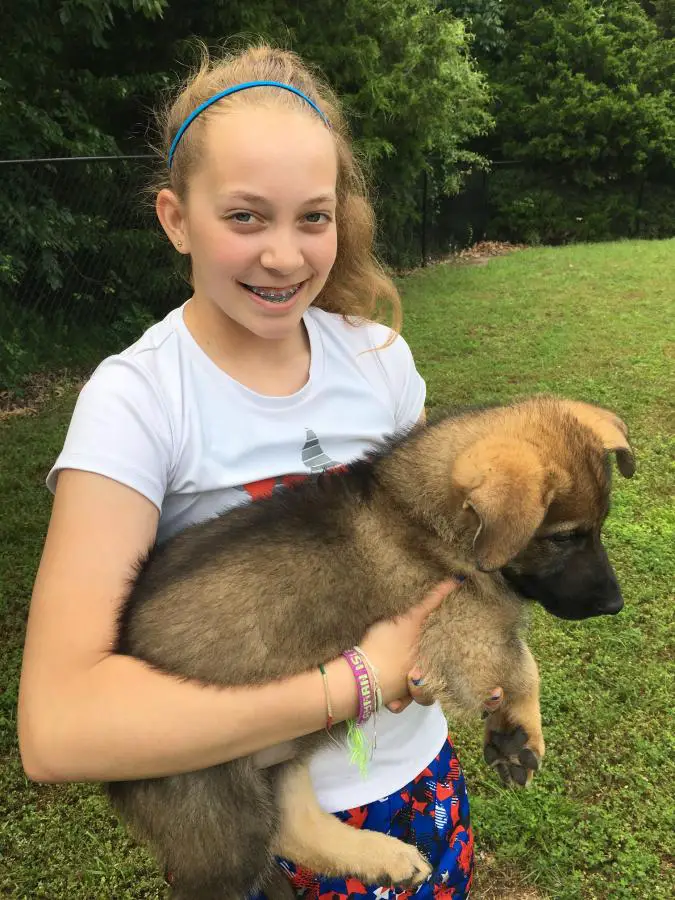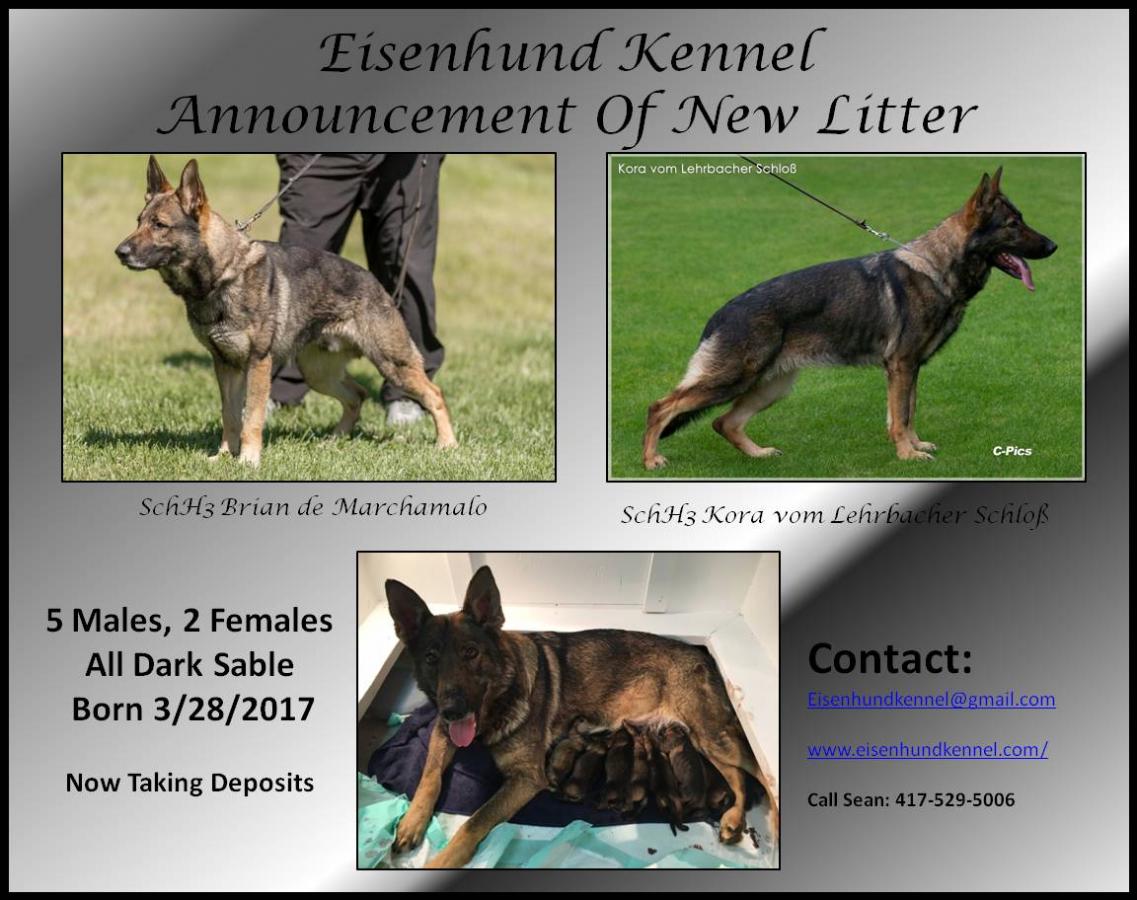 ---
---
---
---
Contact information
Disclaimer
Privacy Statement
Copyright Information
Terms of Service
Cookie policy
↑ Back to top