by Lleigh on 24 April 2018 - 12:04
I had someone ask me if he was "one of those elusive black Belgian Mals" the other day while out on a walk. At least they were in the ball field.. kinda!
by ZweiGSD on 24 April 2018 - 13:04
I've had many people ask if my dogs were actually GSD's and some saying they didn't think they were purebred. I have black and red West German showline. If they can't recognize them as a GSD I'm sure a black or sable would blow their minds.

I think some people just want to sound like they know what they are talking about.

by Hundmutter on 24 April 2018 - 18:04
ZweiGSD:



by Sunsilver on 24 April 2018 - 18:04
Don't remember where I found this picture...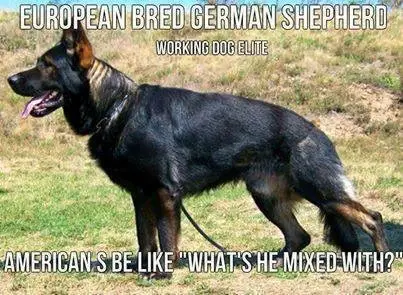 by Hundmutter on 24 April 2018 - 18:04
Sunsilver :




by susie on 24 April 2018 - 19:04
Don't care ... 😎

by Hundmutter on 24 April 2018 - 21:04
Yes Susie, much the better attitude to take towards anyone who tells you that your dog isn't the GSD you think it is because its the 'wrong' colour, or shape, or whatever !


by GSDguy08 on 26 April 2018 - 03:04
Just start telling people that they are a "Portuguese Water Jumping Dog." .. Imported over in the late 1800's and very rare, only a couple hundred left. When they ask you his name, tell them "Hoof Hearted." Okay, sorry, my sarcastic five year old self came out there. I'm quite surprised lately at how many people know what my black sable female is; In fact, I'd overheard numerous parents tell their children don't pet the "police K9" or the "military dog." I'll take that haha. The solid black Shepherd I have (10 months old) people aren't quite sure what he is sometimes. He has ears that could detect a gnat landing from four miles away, but they don't know what he is. He's almost completely West German working lines with just a little Czech in there. Solid working dog to say the least, and a joy to train.

by DuganVomEichenluft on 26 April 2018 - 10:04
Many many years ago, when I took Dugan (sable working line) puppy to a herding event, I had a lady ask me what breed he was. I said, German Shepherd. She was in utter disbelief and semi disputed it, telling me he wasn't a pure bred! And guess what? She was a long time German Shepherd breeder! I just stood there, speechless. Lol

Your pup is gorgeous BTW!

Brandi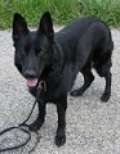 by Lunastar on 26 April 2018 - 18:04
Apparently I am secretly a wolf whisper and can go out into a forest and collar and leash wolves to act as my pets. Seriously, people claim Sasha is either a black wolf or a wolf hybrid. Doesn't matter how many times I tell them she is a purebred black German Shepherd, they think I'm lying. People are just too use to seeing the red or tan black saddled show bred GSDs, that they think anything else is a mutt or something else entirely. Sasha is a Czech working line GSD so she has a straight back and thinner build than the show line GSDs. I know working Neapolitan Mastiff people have it bad too, as their dogs look like Cane Corsos compared to the severely unhealthy show bred Neos. I still say they had to cross bred with some other breed, to go from the original Neo Mastiff which is the working line now, to that wrinkled slobber monster used in dog shows. My money is on Shar Pei to get such excessive wrinkles like that.
You must be logged in to reply to posts
---
---
---
---
Contact information
Disclaimer
Privacy Statement
Copyright Information
Terms of Service
Cookie policy
↑ Back to top