That's true, Hundmutter, but it is much more common now than it was. I forget the exact figures, but around the time hip x-rays were started, a VERY high percentage of GSDs were dysplastic. (And of course, the x-rays were being done because they were the only accurate way of diagnosing dysplasia.) I think a large part of the cause was breeding to popular sires that were either dysplastic or carriers of dysplasia.
Yes, I know, even that is an oversimplification. Diet and exercise also play a role.
As for outcrossing to other breeds, I can tell you why it was done with the Shilohs, since I'm familliar with their history. When all the dogs out there that are available to breed to look like this: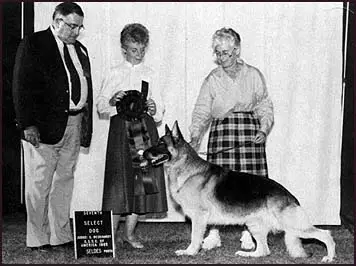 yeah, you'd be tempted to outcross too! If you blow up the photo a bit, you will see the dog went 'Excellent-select".
The American shepherds from this era were small and lightly built. I've heard of one breeder who got out of the breed after her future champion broke its leg running down a hill.
Both Tina's father and grandmother had bred GSDs in Europe. Tina quit school, and began working for a show kennel when she was just 16 years old. She then went on to purchase her own kennel. During the '80s, she saw everything her favourite breed had become and hated it. She wanted big, strong dogs with good bone, good hips, and solid temperaments. She wasn't seeing that in the American show lines.
She tried to bring in German lines, and paid $5,000 for a promising, well-bred young male. He turned out to have just about the worst hips the vet had ever seen.
She also wanted to preserve the distinctive look of her dogs. That wasn't going to happen unless she removed them from the AKC gene pool.
Finally, she decided to take the leap, and outcrossed to a dog that was part giant malemute and part American GSD (Secret Samson Woo).