Never in the history of the KNPV: 2 dogs champion with 440 out of 440 points!!
In a spectacle with 30 other very good Malinois and Dutch Shepherds, Tom Verbruggen with the German Schaferhund "Edo van Brandevoort" got the championships title of the Dutch KNPV National Championschips policedog1. He won absolutely flawless with a maximum score of 440 points out of 440!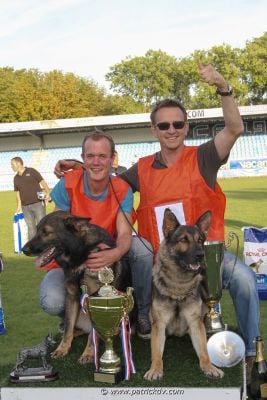 Rob Cordong with his German Schapherd "Assan van Casinohof" also got with 440 points the first place.
"Caro van Brandevoort" got with 440 points, the 7e space at the police dog 2 (max 455 points). In his spectaculair attacks Caro made ​​no mistake: score 100%!
See also:
www.van-brandevoort.nl
Dolf van Brandevoort
will be titled KNPV PH1 in oktober 4th and is for sale. See
working-dog.eu