Does this look normal?
by
minro
on 02 July 2012 - 01:01
I have a 9 month old pup who has always sat and laid on his back in a weird way. I never thought anything of it, but people have mentioned that maybe his hips bother him so he compsenates. He has had bouts of Pano for a few months now, but that seems to be it, that I've noticed. I've posted some photos of him to get some opinions... thank you!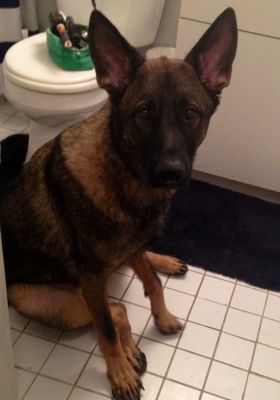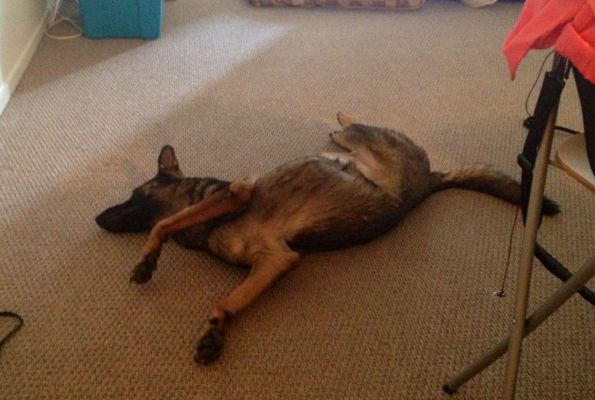 by
EuroShepherd
on 02 July 2012 - 01:16
it is a little bit of a funny way for a GSD to sit, I've seen a couple of my small dogs sit like that though. As far as how he's laying, well two of our GSDs do funny contortions like that while napping, lol.

The way a dog sits isn't necessarily an indication for any problems, the only way you'll know is by having his hips x-rayed. It could be that he's totally fine and thats just the way he likes to sit.
by
PINERIDGE
on 02 July 2012 - 01:24
hmmmmm -- I don't think "bouts of Pano" would be a reason to sit like this. Has he been encouraged to sit "straight" ? -- If you never told him you expect more - then it may be just some weird comfortable position for him -- but I would keep a close eye on him -- odd gait - whatever, and hopefully your competent vet has had a good look at him (more than once) and might suggest x-rays at the time anything becomes more suspect. "A picture" is still worth 1000 guesses......
There is a big difference between "CAN't" sit straight - and "Won't" sit straight. I'm just sayin......

by
kitkat3478
on 02 July 2012 - 01:48
I just read somewhere, while I was reading about HD, that people claim the sidewards sit is an indication of bad hips, and that ,that is totally untrue. He just is relaxing is all. Funny, but I don't think it's to worry about. I could be wrong, but I hope not.
by
CMills
on 02 July 2012 - 01:57
Pano usually doesn't affect the way they sit, I've had several dogs about that age with pano, and never noticed them sitting funny. If he were mine, I'd take him in for pre-lim OFA's. Then you'll know for sure at least!
by
macrowe1
on 02 July 2012 - 02:37
My 20 month old sat like that when she was a pup, and I encouraged her to sit straight and normal. Never been like that since. Her hips don't seem to bother her. Maybe encourage him to sit straight. When you say "sit" or whatever you use, and he does that, correct him into a good sit and then praise praise praise. That's what fixed my girl.
by
Niesia
on 02 July 2012 - 02:55
It may - or may not be an indication of hip problems.
Ask the puppy to sit 'correctly' (maneuver manually if necessary) and see how he reacts - will he be OK to sit like that for a while or will he become uncomfortable, whine if you put him in the 'perfect position' and try to change it immediately. If that's the case, X-rays would be well worth doing.

My male puppy liked sitting 'strange' (however he was always 'able' to do regular sit)

(photo at 14 wks)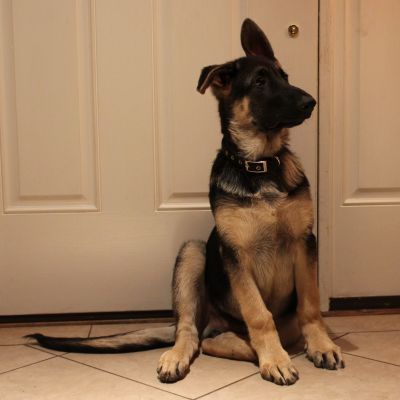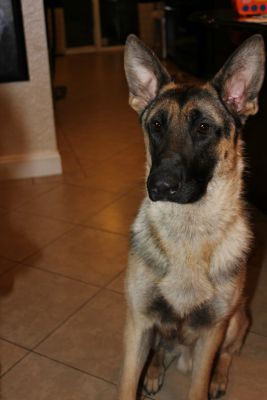 but when he started to grow up he started to do 'perfect sit' (photo at 10 months)



by
dogshome9
on 02 July 2012 - 04:06

It's called a puppy sit ~~~~~ not unusual for a puppy that has not been shown how to sit up straight.

Correct him and show him exactly how he should sit ~~ easy fixed . Not HD.

Take him to a training class and see how the other puppies sit.





by
TingiesandTails
on 02 July 2012 - 04:08
totally normal for a puppy...I'm sure they enjoy going back to the position they had in utero when sleeping...
a straight sit can/ should be trained...
by
yellowrose of Texas
on 02 July 2012 - 04:32
Yes, Totally normal sit for a puppy and the laying on back like that is never stopped.

Chelsi sleeps like that with her back legs completely wide open head back.. I will try to get a pic in the morning..she sleeps like that every night

nothing wrong

but it is called a "lazy sit" and you have to start changing it to : Sit Straight"


just put her on leash and do her obedience beside you ..when you tell her to Sitz hopefully she already knows it...and if she sits lazy just step forward with Hei or heel and walk two steps and resitz.// you keep doing it fast two forward sitz and do not let her sits sideways..you may have to caoz but the stepping forward and saying sit straight several times and reward her for good sitz...

It is hard to tell you ....find a schutz trainer somewhere in your area and visit the club and ask how to do it.

YR
by
Bhaugh
on 02 July 2012 - 04:47
I had a rescue dog that sat like this....she had a knee problem only found by manipulating the knee head
by
EuroShepherd
on 02 July 2012 - 07:12

Bhaugh, it crossed my mind when looking at the OP's photos that it might be a knee issue, given the awkward look of the lazy sit. My GSDs sit lazy all the time (like Niesia's pup) but not like the OP's pics. But I've never heard of (and didn't know) knee issues effecting a dog's sitting position so I didn't mention it.
by
Abby Normal
on 02 July 2012 - 08:15
We always call it a 'puppy sit' too. I have dozens of photo's of different pups, all in the puppy sit that grew up perfectly normally and had perfect sits.
He may just be a bit lazy growing out of it. Usually once you start training, moving from one position to another I have found that they usually start to naturally move towards a correct sit, as it puts them in a position of readiness for the next movement, rather than the relaxed puppy sit.

I also had a dog (not a GSD) which used to lay in a similar position, it looks crazy but is obviously comfortable LOL. They can be contortionists when young! But she kept it up her entire life having said that.
by
mirasmom
on 02 July 2012 - 10:15
This is Rollie when he was 11 months old,
he has since been hip certified OFA good!
Just a sloppy sit.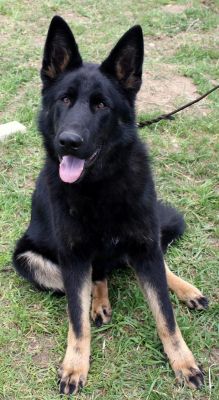 by
minro
on 02 July 2012 - 15:22
Thank you everyone. When we're working/doing obedience for his tug or ball, his sits are straight and normal. But when we're lounging around the house and he just happens to sit, it's always this weird frog position that he seems to like. I figured it's because he is most comfortable that way, but didn't know if there was a reason beyond that. I'll be taking him in for prelims at some point soon, I just wanted some opinions beforehand. :)
You must be logged in to reply to posts