Main > Seminar opportunity in St. Louis (4 replies)
Seminar opportunity in St. Louis
by
Hedi
on 01 July 2012 - 11:34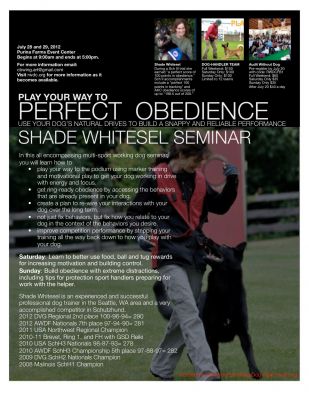 Stay cool with Shade Whitesel and Riverfront Working Dog Club on July 28-29 at Purina Farms. Shade is an experienced and successful professional dog trainer in the Seattle, WA area, and she is coming here to help you bring out the best drive, obedience, focus and energy of your dog in this 2 day seminar. For more information, contact me via PM here or at cbwing.art@gmail.com There is a short turn around so act fast. The price is sporty as well! Hope to see you there!

Full weekend: $150
One day only: $100
limted to 12 working dog teams

Unlimited audit spots
Full weekend: $60
One day only: $35
After July 20 add $5 to each price.


by
Hedi
on 03 July 2012 - 17:04
The response had been very favorable with this seminar. Wow! There are only a few working spots remaining. It should be a nice seminar. Dogs will be able to be kept in the event hall a Purina (out of the 100 degree heat). Great price, great people, and a good time! Can't wait!
by
Hedi
on 05 July 2012 - 12:47
I do believe that all the working spots are taken at this point. If you are still interested in a potential working spot please forward your name and you will be put on a waiting list (someone might bail). The audit spots are unlimited. This should be an awesome time! For those who are coming once the registration form is approved we will be sending it out. We also hope to accept payment via paypal as well.
by
Hedi
on 08 July 2012 - 00:49
Registration for audit spots has opened (audit spots are unlimited), while all of the working spots are filled if you have interest in a working spot we will take your information for hold/waiting list in the event someone else is unable to keep their spot

http://www.rwdc.org/

events.html
by
ShelleyR
on 09 July 2012 - 04:55
Great place to hold the event. Have fun!
You must be logged in to reply to posts