Main > T Still Doing Fine (22 replies)
T Still Doing Fine
by
ShelleyR
on 29 June 2012 - 21:26
The old dog is doing dang well over a year since the spinal embolism that paralyzed him for a time last year. He is thriving at our new place in he country, as are Bijou and my little Chee monster Xena. Rabbit and squirrel chasing are a daily joy, and swimming in the freshwater canals that surround the 45 acre orchard we live in the middle of keeps Bij fit and trim.

My employer now allows me to work from home, no more commuting to the office every morning before going out on sales calls anymore, which is great. I can work in shorts a couple days a week.

by
ShelleyR
on 29 June 2012 - 21:48
T can jump on and off the bed again. Xena's toys are no longer safe!
by
hexe
on 29 June 2012 - 21:52
Always makes my day to hear another senior dog is still doing well, even more so when they've had an obstacle to get past like T's FCE episode. Old dogs rock!

And yes, there is much to be said for teleworking from home...not hooking up the webcam, though, since there's times when I end the day in the sweats I put on when I got up that morning!


by
ShelleyR
on 29 June 2012 - 22:06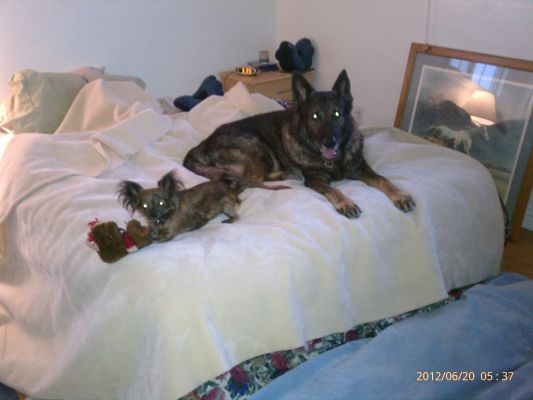 by
ShelleyR
on 29 June 2012 - 22:20
The views are gorgeous out of every window. T can jump on and off the bed, into the backs of my 2 Volvos, and navigate the wood laminate floors of the whole 1200 sq. ft house. Farm life is suiting us all very well.Having a nice home where I can have all the animals I want, do anything Ilike whenever I want, living alone and 100% independent, has been a long time in he making, a dream come true at last. The little picture in the upper right corner is the view from my kitchen anining room (read office) windows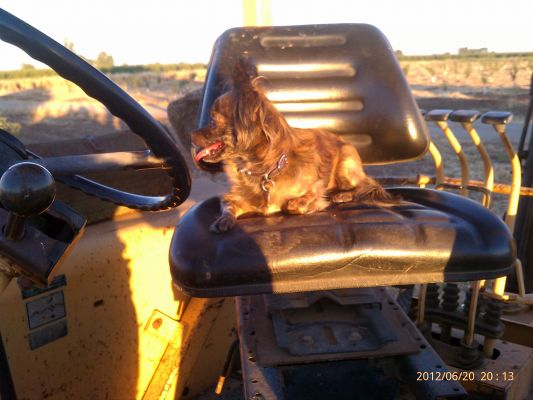 by
beetree
on 29 June 2012 - 22:29
Awesome Shelley!


by
ShelleyR
on 29 June 2012 - 22:42
I have never been happier in my life. T will be 12 in August. Been a long, bumpy road, but we made it... together.
by
hexe
on 30 June 2012 - 02:10
Glad to hear you've gotten the bugs out of life now, Shelley, and are embracing being the only person responsible for yourself and your happiness. It generally does take a long trail that's full of potholes and washouts to get there, but it's certainly worth it when you get there, isnt it? I just wish I had figured that all out about ten-fifteen years sooner than I did!

T's being able to handle jumping on and off the bed again, combined with keeping his footing on wood flooring is an accomplishment for any dog of his age, and a near-miracle for one who a year ago was couldn't even stand up so he could urinate away from his sleeping area...you did a terrific job of nursing care and rehabilitation for him!
by
Kalibeck
on 30 June 2012 - 19:32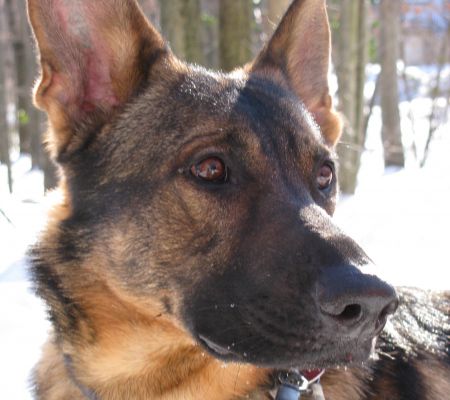 This is T's son Beckett vom Frauengarten.....saying "Hi!" Sorry I couldn't get a more recent photo to load, but he's doing great! He got a wonderful compliment from Charlotte Williams of Char-Will Kennels, who said Beckett is one of the nicest GSDs she's ever seen, with the best temperment & conformation- "He's that old German type, nice & sturdy." I had to kennel him with Charlotte for 4 days while we visited my ailing mother, & she had nothing but praise for Beckett, calling him the nicest dog she's seen that was bred locally.
Just thought you'd like to know, & I'm glad you're happy & that T is doing well.
jackie harris
by
ShelleyR
on 01 July 2012 - 05:23
He looks great Jackie. Thanks for the update. Tell Charlotte I said hey. I believe Beckett's lil sis Diva got her SchH 2 recently, and his half bro Epic is training with Willie Ortner for all his titles. Take care and God bless, and if you ever get out this way, I have a guest room & I'd love to have you visit.
Shell

by
ShelleyR
on 01 July 2012 - 05:41
BTW Hexe,
Its only been 2 weeks since this company went office-less and we all hate Skype. Add the GPS locating capability of our company-issued Sprint cell phones and MiFi (read: ankle bracelets, accurate to about 10') and the uber-poor coverage we have most places, and our employer is facing a mega-revolt within the sales force.
Remarkable how easily the batteries fall out of that equipment... never does that with our own personal stuff though. One of these days our manager is going to hear calls coming into the back seat of his car every time he dials one of us, cuz all our equipt is in a bag in HIS car.
by
Kalibeck
on 01 July 2012 - 17:53
I may be out a bit further north in August, trying to hash out the details of a visit to Portland to see my son, but sadly I only have about 5 days to play with & a super tight schedule already. NEXT summer I'm planning on renting an RV & making the trip with my dogs & maybe my husband, (I'll have to tie him up in chains & drag him along, heh-heh, the stick-in-the-mud!)
so that'll be a better opportunity!
But I'm glad you're happy & safe, that's all that matters!
jackie harris
by
yellowrose of Texas
on 02 July 2012 - 04:59
Great news but I already have a pic of you and B not T...so send it to my email...okey dokey..

One of these days I am gonna get there and you and J and Mahons brother and Adrian, bytw , how is he? can go sight seeing.
Gsdtravels needs to come be my guide for the rest of the Western USA>

lol

I must give him a ring a ding.....

Later

How is tracking going??


WITH ms. Professor??


Email me

YR
by
Abby Normal
on 02 July 2012 - 08:29
Wonderful to hear how well T is doing, such a credit to your care and his spirit.

Sounds like you are all happy and at peace with the world. Enjoy, and long may it continue.
by
ShelleyR
on 02 July 2012 - 20:31
HEy Ladies (and gents)

I have plenty of space for an RV AND hookups. Several of them in fact. It would be great to see you and Carl, Jackie, and BECKETT! YR, it would be my pleasure to show ya'll around northern California. Plenty of room here at the inn. ;-) I don't have a recent pic of myself and T, but I'll try to get one next time someone comes out and I have clean clothes and make-up on. :-) I haven't seen or heard from Rita or Adrian in 5-6 years. Woodside is about 3 hours from here, on a good day, but when I finally make that bucket-list run over to the beach and the Bay Area I'll try to meet up with them.

By fall I hope to have the place landscaped with lawns and some nice outdoor furniture and more shade. Its a long, slow process, starting over with nearly nothing on a tight budget, in a place that hasn't been lived in in 3+ years, but the whole inside of the house is brand new: doors, windows, floors, kitchen, bathrooms... everything. There is no high-speed internet in this area, no cable just satellite TV, but my Verizon MiFi works ok most of the time. I think that's the phone line laying in pieces about a third of the way down the 1/2 mile driveway. LOL Who needs a land line anymore anyway?

I am not involved in dog sport right now, just doing some tracking workshops with the odd person wanting to resolve the odd issue or start a youngster, and for fun with Bijou. My work schedule and the distance to the nearest club that accepts new members just isn't condusive to a regualr training regime. Perhaps when/if I start my own business I will be able to get away more, that's a ways off so for now I'll just focus on helping out rescues when I can, fostering, training, providing layover for transport.
The sport will still be there when I get back to it.




Shell


by
gsdsch3v
on 03 July 2012 - 03:26
I am so glad to hear that you are doing well! Glad to see the old guy doing so well also.
by
ShelleyR
on 15 July 2012 - 02:56
My job is very stressful, high-pressure for little pay, but the rest of my life is VERY good now. This house is plenty large for one person, 3/1.5, huge living/dining room, My only neighbor is a sheriff's deputy about 100 yds. back up 1/4 mile long driveway, (I'm at the dead end) nothing but orchards (45 acres) on all 4 sides and a nice, clean canal around the whole place. The dogs and I are in heaven here. The view from every window is incredibly peaceful.

And one of the best things about it all? I finally have a place for my GSD Rescue efforts. I pulled the first sick little gal out of the Carson kill shelter in LA 10 days ago.



by
hexe
on 16 July 2012 - 07:24
Shelley, I hope things continue to go well for you, and you are able to enjoy a long, satisfying, stable and drama-free life from this point forward. Sometimes it just takes a bit longer for some of us to stop trying to swim upstream...this being said by one who fought the current for far too long before wising up, too.


by
kitkat3478
on 16 July 2012 - 09:53
Very happy you and your dogs got a place of your own. Sounds like a dream come true for you.The dogs must be loving it. It's nice when you can open the doors and windows and breath fresh air. Keep going up Shelley, we knew you would get there.
by
Mystere
on 16 July 2012 - 12:49
Good to hear that you are doing well, Shelley. Hope it continues indefinitely.
You must be logged in to reply to posts