Off Topic > What the hell is this doing on the PDB?! (18 replies)
What the hell is this doing on the PDB?!
by
DDRCzechFan
on 27 June 2012 - 10:53
Um, not sure why I gave the impression I was not only "available" but also evidently interested in females, but seriously, did I just get one of THOSE kind of messages on the PDB?

I blocked this person, obviously but how freaking weird...I've been on the PDB for a while now and have NEVER recieved a message like this before, so my question is "why"?

I didn't realize that a website about DOGS (NOT a dating website, mind you) would mean I'd be getting "solicited" for lack of a better word.


Anyone else getting these weird PMs? Not just from this user, but from ANYONE?







For those of you unable to view the screenshot I took of it, it says this:

hello -send reply

Sent June 27, 2012 09:49AM from prettyangel

Hello.
My name is Miss Minnie Sankawulo,iam an africa girl,i read your profile today it was so good to me.i feel you are the only one missing in my entered life so i desided to stop on it and let
you know i am interested to be a friend first.i also believe that coming to you will be a probability of meeting that very thing has been lacking in my entered life.please contact me at my email address (minniesan3030@yahoo.co.uk) i am a girl with respect and responsible,i respect people also and believe if you contact me,i will give you a full introduction of my self okay. i hope to hear from you soon. Remember, all the darkness in the world, can-not put out the light of a single candle as long as the light of love shines bright in your heart,and (Remeber the distance or colour does not matter but love matters alot in life)
cares for my future love Minnie
by
Kaffirdog
on 27 June 2012 - 11:32
Congratulations DDRCzechFan

You've pulled



Margaret N-J
by
GSDguy08
on 27 June 2012 - 12:32
I got that too.
by
dogshome9
on 27 June 2012 - 12:58

Me too.


by
mrdarcy
on 27 June 2012 - 13:17
This Spammer is now blocked. mrdarcy.
by
DDRCzechFan
on 27 June 2012 - 14:54
Margaret, I must've! Sheesh!

MrDarcy, thank you, I had already blocked them but I'm also surprised to hear that others had ALSO been solicited by the SAME person. Again, how weird!
by
beetree
on 27 June 2012 - 15:33
I didn't get one! They must have known I'm a B"EE".

LOL

P.S. DDRczechFan, if you want to know "WHY me?". I'll take a shot in the dark and say it was that post you made.... someting about "cheating on your husband", all in jest of course, because you were talking about your new puppy. LMAO
by
Ninja181
on 27 June 2012 - 17:15
Can you un-block her until I get one. LOL
by
dogshome9
on 27 June 2012 - 23:59

Too funny Ninja.
by
Niesia
on 28 June 2012 - 05:07
Looks like Minnie really needs you... You know, for her entered life...
by
DDRCzechFan
on 28 June 2012 - 21:01
LOL, yes, I'm positive it is ME who could change Minnie's entered life...Me, my husband, my two dogs and all of our nonsense!

Bee, guess when I implied I was "that" kind of girl, THIS is what I should expect LMFAO
by
yellowrose of Texas
on 29 June 2012 - 00:17
How Funny and you know what dating sites produce...???? lol we both know...lol


remember you told me also on line here, as a joke , I could keep your hubby...but what most did not know it was a joke lured at SLAM DUNC about Jan meeting her dates at a cemetery..

Never know how what we say enticeds the DEVILS HORNS>...


OH by the way, I took a date to the Cemetery last Sunday....He had never seen such a huge Magnolia tree and he was so glad we stopped there.....SLAM DUNC>>>>come to Texas on your GOLDWING and I will take you to the Cemetery....

Oh my...ARE WE HAVING FUN YET.....

I laughed when I saw your POST>>> This Pic is for DDRCzechFan: *I stole another man to the cemetery......LOL
My pic is dated so you know it is true..lol FUNNY but hope Minnie sees this and knows I do not need her...or him or whoever the NIGERIAN scam artist is who invaded our base. LOL Ninja be ALERT ...all they want is MONEY>..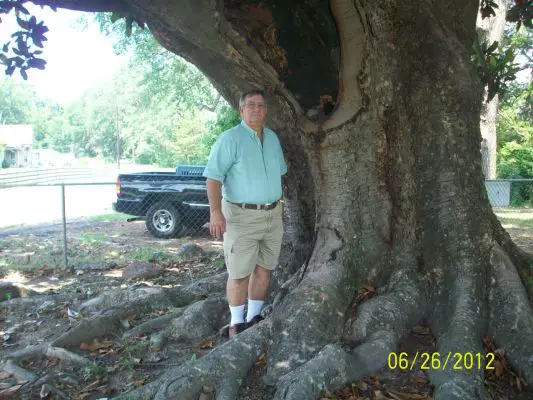 YR
by
DDRCzechFan
on 29 June 2012 - 03:07
Hahaha, YR, you've claimed another man eh? You Southern Siren you!




So...Nick's been pestering me lately, mind if I send him back down there for you to whip him back into submission? He's been mouthy lately! LOL


Glad to see you around YR!
by
yellowrose of Texas
on 29 June 2012 - 05:48
DDR: Just send BEAU with him/

YR
by
ggturner
on 29 June 2012 - 13:21
YR you really need to find another place to take those men! A cemetary is kind of morbid. Maybe a park or botanical gardens! LOL
by
yellowrose of Texas
on 29 June 2012 - 20:28
GG : Do not worry we went to all those places too..

BUT the largest Magnolia in Texas is not at the Historical Azalea Trail Gardens where my two beautiful cocker spaniels live..Yes we went to the Rose Garden etc.

If you do not care for the fella you take them to the cemetery....lol with exception of Beau's dad.......


This guy is all about historical markers and he like all the 1835 markers that were very different...\so he was very much liking this place..Everyone has an awe for that huge tree.


YR


by
ggturner
on 29 June 2012 - 22:00
Historian buffs do like to visit cemetaries. That is one big magnolia tree!
by
yellowrose of Texas
on 30 June 2012 - 05:08
I have gathered enough brown leaves to make me new Christmas wreaths next year...lol

YR
by
Ibrahim
on 30 June 2012 - 22:43
If she sent you a picture with that PM let me critique her for you

You must be logged in to reply to posts