Conformation Showing > Opinions/critique welcome! (5 replies)
Opinions/critique welcome!
by
LukasGS
on 25 June 2012 - 16:31
I've posted Jaxon several times asking opinions/critique as he's grown. Now seems like a more appropriate time to ask as he is starting to look like a dog now. :) I've seen a lot of changes take place.
I have my own thoughts, but I wanna hear what others have to say first. I love him, his temperment is rockin'. But for my own pleasure, I'm always curios.

He weighs between 70-75. Havn't weighed him recently but certain he's not over that. 26.5 tall.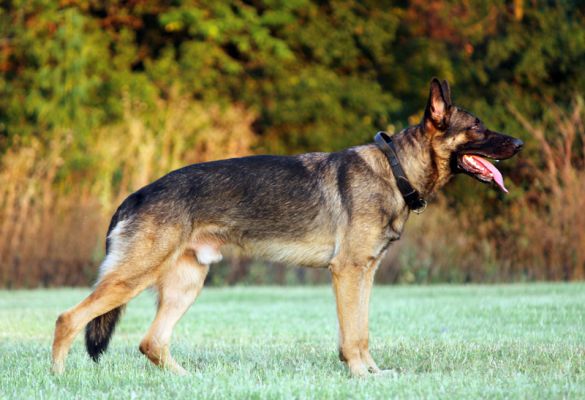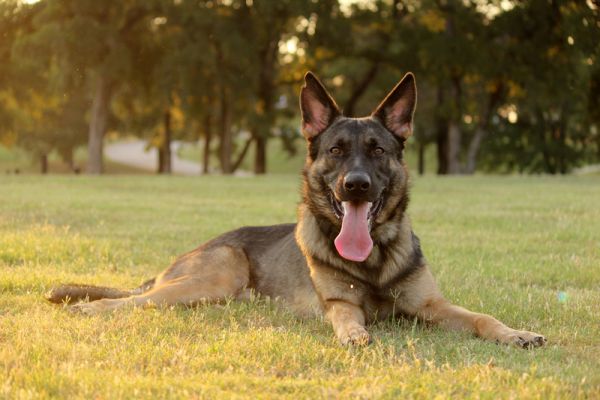 by
Ibrahim
on 25 June 2012 - 18:05
Dry sable male of strong expression, big size, correct height to length and chest to leg proportions. Strong head of good proportions, medium dark eye, ears pointing outward. Good length of neck. Flat withers, a little dip behind withers, long back, long loin, a little steep and short croup, correct tail and tailset. Strong hind, strong hocks, stifle needs more turn. Straight clean front, needs more front chest development and rib spring, steep front upper arm, shoulder a little forward pushed, does not stand with his arms under his withers, strong pasterns, feet are not visible to comment on. Normal pigment, good dark mask, intelligent expression in the eyes.
by
Rasenhof
on 25 June 2012 - 18:37
The previous critique is great. But should you show him in conformation? Why not? AKC - Cost is about $30 a class. Two shows in one weekend. Put him in his age class, or novice, or if you want to show him yourself (why not?) amateur-owner handled. Unless he is an Import. Then Open class is the only one you can enter. An all breed show will have very few entries (So. Cal) so you can have fun, get a ribbon, talk to any other GSD owners, see how he compares with the other males (and/or females). Gait is most important. A picture doesn't describe the gait. If you belong to the GSDCA, a ribbon in necessary for him to qualify for his parents to be in the ATAA. (I hope you will do performance, SchH counts, possibly AD and BH too. Of course most AKC titles count) If possible show him yourself, cost is time and energy. I have shown my dogs if I am not trying to get a Ch. title. A handler will do awsome things with your dog, but the cost is a bit much just to show him once or so. The German conformation shows insist on a lot of gaiting. The Judge will critique your dog out loud, and perhaps in German! (A translator is there). Also a gun test. See if you can get a gun test, probably at a SchH training facility. ahead of time. There you enter your dogs in an age class or 2 yr+ without a SchH1, or 2 yr+ with a SchH title. Not much choice. You will get a rating. Have fun Alice
by
LukasGS
on 25 June 2012 - 21:01
Thank you Ibrahim, I was hoping you would post. :)

I really would not mind trying to get him into a show for a rating. But honestly, everything goes right over my head. I do not know a thing about it where to even begin. I'm here in Dallas, TX. I guess I will just have to find some to go and watch. :)



He is in PSA training and doing fairly well. We at least hope to go for our PDC this winter.
by
Ruger1
on 26 June 2012 - 04:52
IMO he is a handsome athletic looking male ..He looks tall, lean, and nicely muscled ( I hope thats a word lol )..I like his coat color and markings ,,,
He has a nice mask and a handsome expression,,
He looks built to get the job done!..Enjoy,,
by
sonora
on 27 June 2012 - 03:14

Hi ,

Large, medium strong , grey dog f good proportions.
Good head and expression, Withers could be higher, a long ,
firm back with a sl. short and sl. steep croup.
a good depth of chest, prefer better forechest development.
Good front angulations. the hind is strait and lacks angulation.
he should not get any taller.


You must be logged in to reply to posts