Off Topic > Our new truck is wrecked, but the dogs weren't with us! (13 replies)
Our new truck is wrecked, but the dogs weren't with us!
by
DDRCzechFan
on 22 June 2012 - 20:15
Okay, finally settling down, took some pictures and more than anything, I am beyond thankful neither Lilah or Beau were in the truck with us.

Why am I on PDB after suffering a car accident? I'm trying to raise awareness.

Nick and I were driving through a green light, when a red, Chrysler 300M blew through her red light. We t-boned her, she was on a cell phone, and as per 4 witness statements and the police report, she did not hit her breaks nor attempt to stop, and was driving distracted; on her cell phone.

Please, people...hang up the damn phone. You can text people later, you can have your passenger call them for you (she had a passenger with her, neither of which were hurt) or call them later.

Apart from bruises and a few cuts, I was the only one damaged. Woman we t-boned and her passenger were okay and declined treatment.

Our vehicle is the white F-150, their vehicle is the red Chrysler 300M.

Please, please, this could've been YOUR son or YOUR daughter. My father had to get that phone call today that his daughter was being taken to Hurley Medical Center because a MVC (Motor Vehicle Colision). Please, none of you owe me anything, but please, I beg of you, consider making a call later. No one needs to get hurt because of a text message or a phone call that could've waited...


by
Hutchins
on 22 June 2012 - 20:33
Sorry to hear about your accident. I hate it when I see people talking on cell phones while driving. When I am a passenger I always look at the driver in on coming cars. I have always noticed that outof every 10 that we meet, you can bet at least 7 have cell phones to their ears. Makes me shiver. So unsafe. I am glad you are all ok and the dogs weren't with you.

I have tried with 2 diffferent browsers neither one will allow me to view the picture. Not sure if its on my end or on the PDB end.
by
GSD Admin
on 22 June 2012 - 20:58
No pictures, try resizing them before you upload. Glad everyone is alright and driving on a cell or texting should be illegal.
by
Red Sable
on 22 June 2012 - 21:40
Glad everyone is OK.
It is illegal here.
by
beetree
on 22 June 2012 - 23:09
Thank goodness everyone is OK! Yes, distracted drivers are a scourge on our roads today. No argument here.
by
swingfield
on 22 June 2012 - 23:39
Are "you" ok ??? days after an accident are the most crucial.. glad you are 'here' and feeling ok.. but listen to your body too!! :) (coming from an EMT) We have to drive for everyone out there these days.. !! sherry
by
Jyl
on 23 June 2012 - 01:13
Glad you are ok.... It is illegal to talk or text on a cell phone here in California. I have had several close calls because people were talking on their cell phones and were not paying attention.

I couldnt view the pictures either..
by
DDRCzechFan
on 23 June 2012 - 01:38
Lets try this again, shall we?

Lemme know if you can see these ones, please.

Yes, thank goodness, all parties were okay. TECHNICALLY, our F-150 pushed her 300M into a Dodge Sprinter, but there was only a little fender damage to his car. He didn't get hurt, thank goodness, but left one heck of a witness statement with the police officer, "I don't know what the hell that bitch was thinking! (refering to driver of 300m)"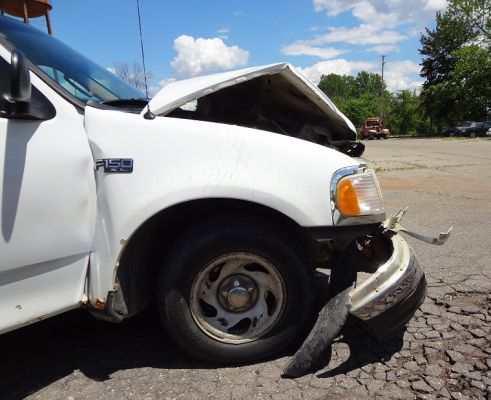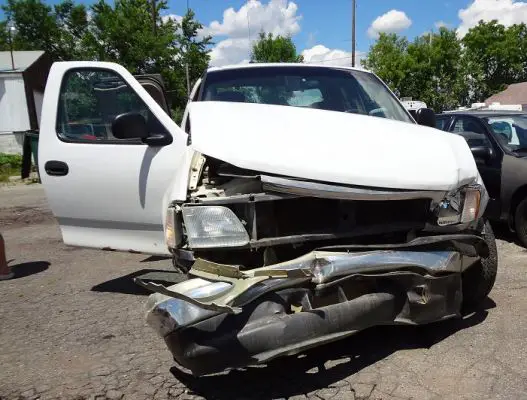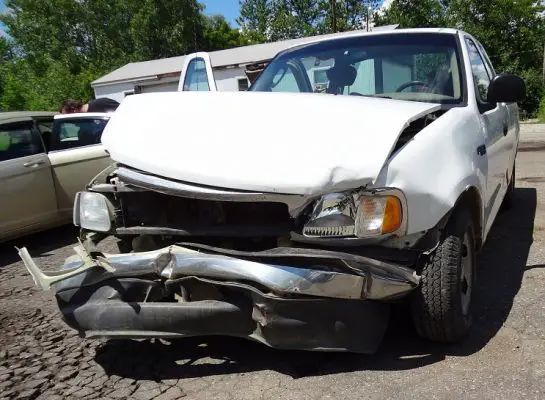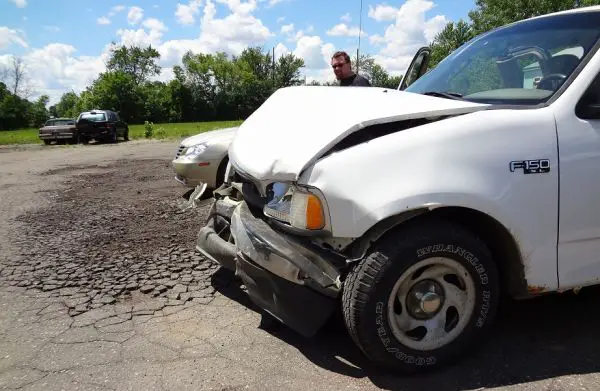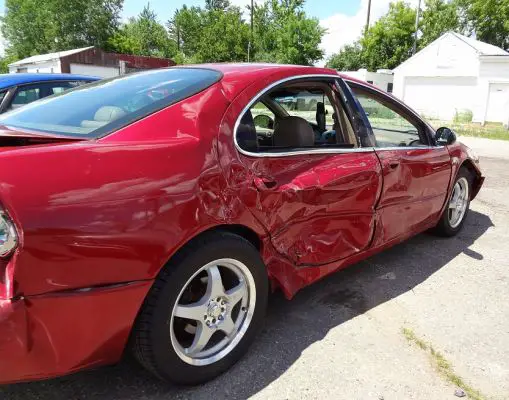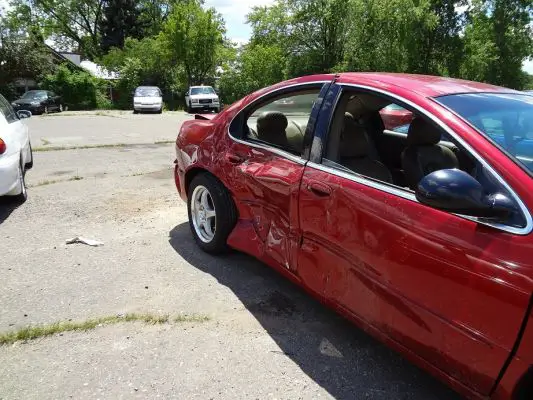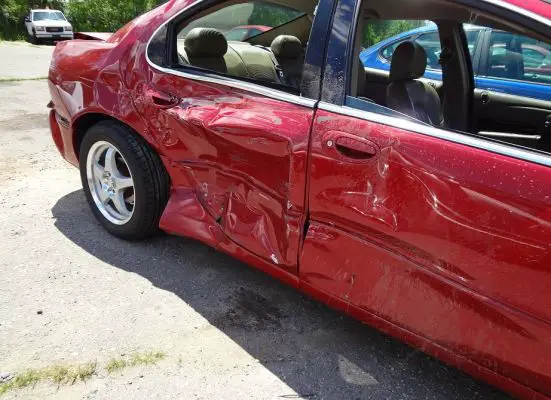 by
Jyl
on 23 June 2012 - 02:17
WOW, it could have been alot worse. At least you are not injured to bad.. or worse not here to post these pictures..

THANK GOD YOU WERE DRIVING A FORD....lol

by
swingfield
on 23 June 2012 - 02:33
yeah right!! big truck all the way!! I love my old Dodge too... little cars scare me to death.. coffin with wheels.. especially stupid drivers on cell phones...! argh !!
by
Ninja181
on 23 June 2012 - 12:28
Wow that was a nasty hit. They may both be totaled.

Did the airbags go off in the F150?

I've had one go off in my face, not a very pleasant experience.

Lucky no one was seriously hurt.
by
hunger4justice
on 23 June 2012 - 13:45
WoW...Thurday driving my brand new 2012 Santa Fe, at a stop with my turn signal on and a DRIVER ON A CELL PHONE, plowed into me hard enough to throw my SUV 14 feet into the other lane. His car was total loss with air bag deployed and parts of the engine all over the road. I agree GET OFF THE DAMN PHONE and don't text and drive.

Glad you are ok and glad your pups, like mine, happened to be at home.
by
DDRCzechFan
on 24 June 2012 - 00:40
Well, I made it through the first night. My husband luckily is still not feeling any pain what-so-ever. I woke up with a pounding migraine (probably from blacking out when the back of my head hit the headrest) my wrist is so swollen I cannot move it, and it is braced, my body looks like someone beat me with a 2x4, I'm purple and bruised over a good portion of my body and in general I am having aches and pains.

The Tramadol is not helping with pain, I have a Lidoderm patch on my wrist underneath the brace, that is helping. Nick's taking me to a different hospital tomorrow, to do a follow up. (I don't have health insurance but Allstate is covering any and all doctor bills, so why not go?)

Nick and I WERE saving up to move, so we had $1000 in our bank account, my father loaned us another $600 and we bought a new truck today. A 1997 Dodge Ram 1500. Two tone paint job, all custom redone interior, it was a Texas truck, so it has NO RUST from any Michigan winters (all the salt we use on the roads).

Nick went to the auto salvage and rescued my F-150's grill and the blue oval for me. I'm not a Dodge girl, but so long as it's not a car, and I feel safe, that's what counts, right?

Here's the new truck: Not bad for $1,600 eh? About 180k miles, V8 engine, everything works on and in it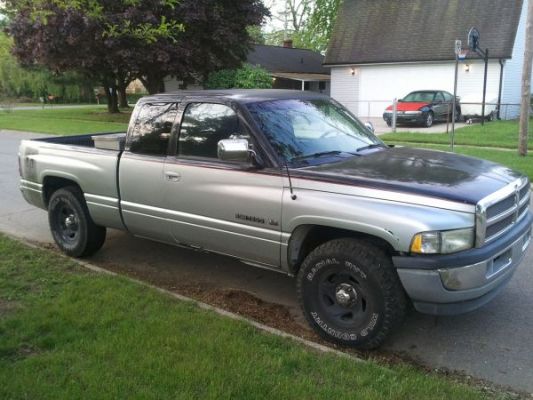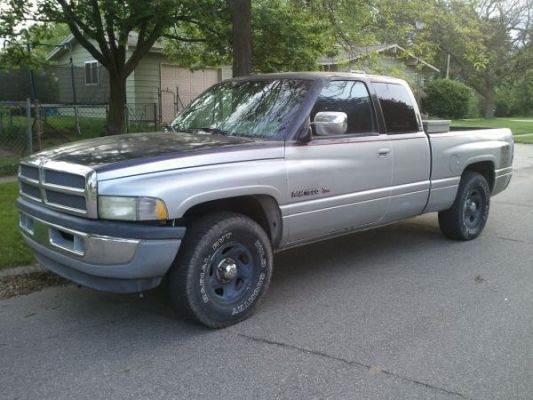 OH, EDITED TO ANSWER QUESTIONS: No, the airbags did NOT deploy, EMTs were quite surprised. My husband and one of the EMTs had to actually throw themselves into my door to get it to open to get me out.

Hunger: Thank god you were okay! We were knocked three lanes over, but luckily no one rolled! I swear, what the hell is wrong with people, is a phone call THAT important?
by
Kalibeck
on 30 June 2012 - 19:49
My husband was T-boned by a woman on a cell phone several years ago, she pulled onto a busy 6-lane highway from an on ramp with out even looking....hit him in his big old heavy Capri station wagon that he used for work in the city in the passenger side back seat door....pushed him into the next lane of traffic where he was hit by some guy in a minivan. And then SHE tried to sue him!!! Thank God he was in that huge old wagon, lots of protective metal, heavy as a tank! He was not injured at all. The woman claimed all sorts of injuries, although she refused care at the scene. When that woman's case came to court the judge threw it out, but it still cost us time off work & travel, etc. ARRRGH!
Glad you & yours were OK! jackie harris


Edit added....NICE truck, great price! Hope you're feeling better soon..try a nice hot bath with Epsom salts to relieve the aches & pains! jh
You must be logged in to reply to posts