Main > Advice on new german shepherd puppy (7 replies)
Advice on new german shepherd puppy
by
aonyoung
on 14 June 2012 - 03:27
Hi, I'm thinking of adopting GSD to my family, here'ss the picture: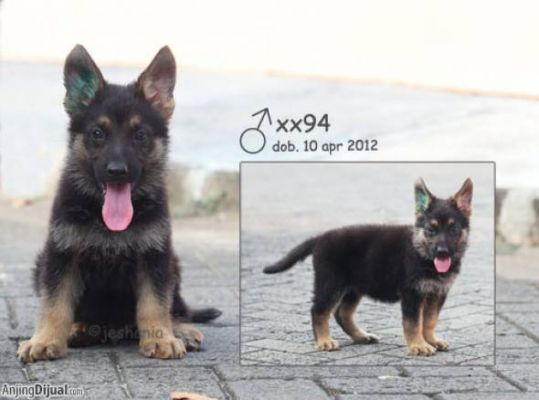 what do you guys think? the price is US$ 700 and he is only 2 months old..
i am a newbie about GSD and can u guys please give me opinions?
does this puppy have a good quality of GSD?
thanks,
Andreas
by
LOVE THY SHEPHERD
on 14 June 2012 - 04:49
I NEED MORE INFORMATION ABOUT YOUR PUPPY. HE DOES HAVE HIS EAR TATTOOED.
DO YOU HAVE PICS. OF THE PARENTS AND A PEDIGREE YOU CAN POST.
by
Abby Normal
on 14 June 2012 - 23:03
What is AnjingDijual.com? It looks like an 'online' puppy mill to me. They have every breed of dog known to man listed. If I have it wrong and they are reputable I apologise in advance, but hey, the pedigree should be interesting. OP what is the status of the parents health tests etc?
by
macrowe1
on 15 June 2012 - 02:07
I'm with Abby about the website. What's the pedigree? What are the parents like? Are their hips certified? Are they titled? Are they raised around people or just out in the yard or kennel? There's a lot to think about. And this website makes me feel iffy on the situation.
by
EchoEcho
on 15 June 2012 - 15:53
There is little you can tell from a picture of a puppy. How do you know that this is the puppy you will receive? What about the parents? Are they OFA and DM tested? What other genetic screening does this breeder do? What are the temperament of the parents. Temperament and health are genetic and will be what determines if you are happy with this puppy long term. I would want to know WAY more about the parents and be able to meet them if possible. $700 sounds a little on the inexpensive side for someone who does all the right screening, good diet, and socialization for the puppies. Ask a lot of questions and if the breeder can't answer them to your satisfaction then MOVE ON. Can't stress this enough. All puppies are cute but the heath and temperament problems you may have with a poorly breed GSD puppy aren't.
by
yellowrose of Texas
on 15 June 2012 - 20:22


I would not take a puppy from this kind of place..sorry but read all the stories of what happens when you DO NOT KNOW from whence the pups come from

YR
by
Abby Normal
on 15 June 2012 - 23:06
Poor little guy.
by
Jersey Girl 22
on 17 June 2012 - 03:00
i strongly beleive before u get the puppy to add to ur family i would investiagate more on. who his parents are and if they are truely OFA certified and if they are tattooed and also not to mention u should actually go and see him and see how his personailtiy is like u never know what a dog looks like if u are having him shipped or if u just out right buy him or her. I learned my lesson the hard way without investigating on who i got my shepherd from i actually have a post up on here about my dogs story is is truely very sad what has happend to him and never trust a puppy mill never w..e u do. I would personally looking for breeders and actually get to know them and go to their kennel and get to know their dogs and breeders and get some advice. Sure yea the puppy looks so so cute in the picture i thought the samething believe me i did and boy was a rong not that it was his fault but it was the breeder i didn't knwo her from adam and i didn't know the parents at all and if they were 100 percent certified for OFA. i am only telling u some advice to help u from making the rong mistake as i did i am triuly a big animal lover and i love german shepherds but there are cruel breeders out there that dont' care about the breed they care more about the money than anything else. My poor shepherd when i first got him was infested with parasites and just it was sooo horriable he was skin and bones it was like he was amciated but if u want to read my thing about my dog u can plus his hips are just soo bad he has hip dyplasia and he was only 1 year and 5 months. Also a german shepherd is great for the family they are very protective over u and ur family and they absoutley love kids and they just love to please there owner i always loved the breed they are the best breed i know i wouldn't want any other breed to be honest with u but just make sure u get the know the puppy and the breeder before u get him or her and dont rush to get one thats another mistake i did i was wanting one so so badly and i rushed to get my puppy i coudlnt' stand to wait and i basically screwed myself which not knowing all the problems my puppy had and the breeder doesn't care and will not. I hope that was helpful for u and if u need any help at all finding a right puppy for u let me know bcs i can help u if u need it bcs i don't want anyone to go thru what i had to go thru or anything like that. If u dont' need any help i hope u find ur right puppy for u
You must be logged in to reply to posts